Houston sees glimmer of hope after Harvey but threats loom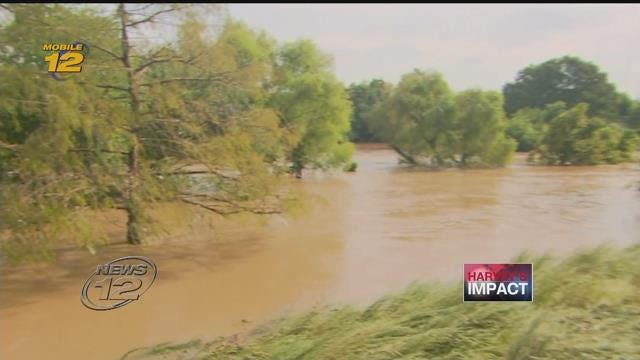 HOUSTON (AP) - Harvey's floodwaters started dropping across much of the Houston area and the storm weakened slightly Wednesday but major dangers remained for the U.S. Gulf Coast area, including the threat of an explosion at a stricken Texas chemical plant and major flooding further east near the Texas-Louisiana line.
The scope of the devastation caused by the hurricane came into sharper focus, meanwhile, and the murky green floodwaters from the record-breaking, 4-foot deluge of rain began yielding up more bodies as predicted.
The confirmed death toll climbed to at least 31, including six family members - four of them children - whose bodies were pulled Wednesday from a van that had been swept off a Houston bridge into a bayou.
"Unfortunately, it seems that our worst thoughts are being realized," Harris County Sheriff Ed Gonzalez said after the van that disappeared over the weekend was found in 10 feet of muddy water.
As the water receded, Houston's fire department said it would begin a block-by-block search Thursday of thousands of flooded homes. Assistant Fire Chief Richard Mann said the searches were to ensure "no people were left behind."
While conditions in the nation's fourth-largest city appeared to improve, another crisis related to Harvey emerged at a chemical plant about 25 miles (40 kilometers) northeast of Houston. A spokeswoman for the Arkema Inc. plant in Crosby, Texas, said late Wednesday that the flooded facility had lost power and backup generators, leaving it without refrigeration for chemicals that become volatile as the temperature rises.
"The fire will happen. It will resemble a gasoline fire. It will be explosive and intense in nature," said Janet Smith, spokeswoman for the French company.
The last of the plant's employees evacuated on Tuesday and residents within 1.5 miles (2.4 kilometers) were told to leave, Hill said.
Arkema submitted a plan to the federal government in 2014 outlining a worst-case scenario that said potentially 1.1 million residents could be affected by such an event over a distance of 23 miles, according to information compiled by a nonprofit group. But the company said Wednesday that a worst-case scenario was "very unlikely."
Another threat was emerging east of Houston where weather conditions deteriorated close to the Louisiana line.
Beaumont and Port Arthur, Texas, struggled with rising floodwaters and worked to evacuate residents after Harvey completed a U-turn in the Gulf of Mexico and rolled ashore early Wednesday for the second time in six days. It hit southwestern Louisiana as a tropical storm with heavy rain and winds of 45 mph.
Forecasters downgraded Harvey to a tropical depression late Wednesday from a tropical storm but it still has lots of rain and potential damage to spread, with 4 to 8 inches forecast from the Louisiana-Texas line into Tennessee and Kentucky through Friday. Some spots may get as much as a foot, raising the risk of more flooding.
For much of the Houston area, forecasters said the rain is pretty much over.
"We have good news," said Jeff Lindner, a meteorologist with the Harris County Flood Control District. "The water levels are going down."
Houston's two major airports were up and running again Wednesday. Officials said they were resuming limited bus and light rail service as well as trash pickup.
At Hermann Park, south of downtown, children glided by in strollers and wagons, joggers took in midday runs and couples walked beside cascading fountains and beneath a sparkling sun. People pulled into drive-thru restaurants and emerged from a store with groceries.
At the same time, many thousands of Houston-area homes are under water and could stay that way for days or weeks. And Lindner cautioned that homes near at least one swollen bayou could still get flooded.
Officials said 911 centers in the Houston area are getting more than 1,000 calls an hour from people seeking help.
In Houston's flooded Meyerland neighborhood, hundreds of families emptied their homes of sodden possessions under a baking sun as the temperature climbed into the 90s. They piled up couches, soggy drywall and carpets ripped out of foul-smelling homes where the floodwaters had lingered for more than 24 hours.
The curbs were lined with the pickup trucks of cleanup contractors and friends.
For Harry Duffey, a 48-year-old computer security specialist, this was flood No. 3 in as many years. Just before the flood, he got a notice that his flood insurance premium had nearly doubled to $5,300 a year.
"Everywhere we look this water has cost me money after money after money. It just does not end," he said. But he said he has no intention of moving: "This is in my blood. This is where I'm from."
Altogether, more than 1,000 homes in Texas were destroyed and close to 50,000 damaged, and over 32,000 people were in shelters across the state, emergency officials reported. About 10,000 more National Guard troops are being deployed to Texas, bringing the total to 24,000, Gov. Greg Abbott said.
Confirmed deaths from the storm include a married couple who drowned after their pickup truck was swept away while they were on the phone with a 911 dispatcher asking for help, officials said.
Others among the dead include a woman whose body was discovered floating in Beaumont, a man who stepped on a live electrical wire in floodwaters, and a woman who died after she and her young daughter were swept into a drainage canal in Beaumont. The child was rescued clinging to her dead mother, authorities said.
When Harvey paid its return visit to land overnight, it hit near Cameron, Louisiana, about 45 miles from Port Arthur.
Port Arthur found itself increasingly isolated as floodwaters swamped most major roads out of the city.
More than 500 people - along with dozens of dogs, cats, a lizard and a monkey - took shelter at the Max Bowl bowling alley in Port Arthur after firefighters popped the lock in the middle of the night, said the establishment's general manager, Jeff Tolliver.
"The monkey was a little surprising, but we're trying to help," he said.
In Orange, Texas, about 30 miles east of Beaumont, residents of a retirement home surrounded by thigh-deep water were rescued by National Guardsmen and wildlife officers, who carried them from the second floor and put them aboard an airboat.
Harvey initially came ashore as a Category 4 hurricane in Texas on Friday, then went back out to sea and lingered off the coast as a tropical storm for days, inundating flood-prone Houston.
Harvey's five straight days of rain totaled close to 52 inches, the heaviest tropical downpour ever recorded in the continental U.S.
Copyright 2017 The Associated Press. All rights reserved. This material may not be published, broadcast, rewritten or redistributed.