Prosecutor: MS-13's 'Reaper' ordered murders, directed drug operations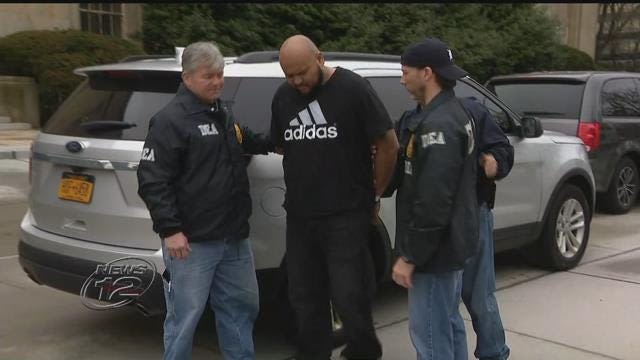 A man prosecutors called one of MS-13's highest ranking leaders in the country was arraigned Thursday in a Mineola courtroom.
Miquel Angel Corea Diaz, 35, also known as "The Reaper," is believed to be the regional director for the Sailors clique of MS-13 for the entire Northeastern United States.
Diaz allegedly communicated directly with MS-13 members in El Salvador, and then told lower level members in the tristate area what to do.
News 12 Long Island reported that Diaz was one of 17 alleged gang members indicted in January. He was arraigned after being extradited from Maryland.
"'Reaper' ordered murders and beatings and directed the gang's drug operations in New York, New Jersey, Maryland, Texas and elsewhere," says District Attorney Madeline Singas.
According to the indictment, Diaz on two separate occasions sent lower level members to both Maryland and New Jersey to start planning murders.
"Two of the gang's members, including a Nassau-based gang member, were dispatched to scope out a location where a murder was to occur," says Singas.
She says they tried to determine if it was an "appropriate area to kill and dump a body."
Diaz pleaded not guilty to multiple charges, including drug trafficking and conspiracy to commit murder.
Prosecutors say they have "overwhelming" evidence against him, including hours of wiretaps obtained during a seven-month investigation.
"When you take down someone of his level, it has a significant impact on the daily operations," says Singas. "If you imagine any corporation, if you take out the CEO, the corporation will suffer – it's not so easy to step into that role."
Authorities say Diaz is not a U.S. citizen and illegally came back into the country after being deported. He was held without bail. His court-appointed attorney did not comment on the case.
Meanwhile, a person described as a "credible informant" has warned police that MS-13 is looking to shoot a police officer on Long Island. Nassau police are among the agencies issuing an internal memo to its officers warning them of the threat. It states that MS-13 believes police are making too many arrests and want to take back the streets and take out an officer like in El Salvador. Nassau police say they're taking appropriate action.