The 'Long Island Express' hurricane: 83 years ago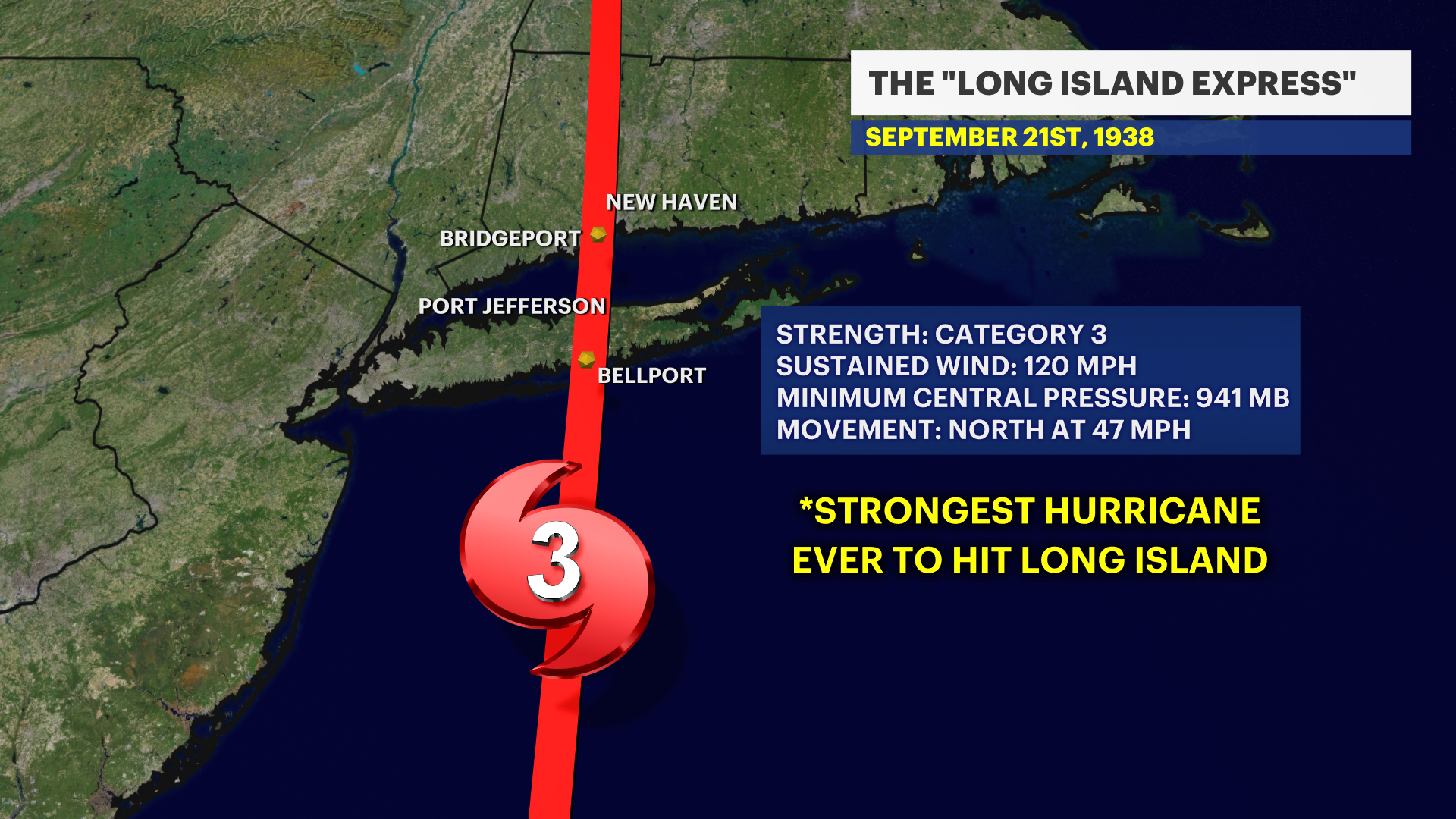 2021 has been yet another busy hurricane season. Long Island has seen a direct hit from Tropical Storm Elsa, a close call by Hurricane Henri, and the remnants of once Hurricane Ida.
Active hurricane seasons don't always mean that you will see a storm, however. And that is exactly what happened to Long Island eighty-three years ago.
A modest nine tropical cyclones formed that year, four of which became hurricanes. Of those four, two reached major status, one of which made it all the way to a Category 5. Unfortunately for Long Island, that just so happened to be the only storm that came anywhere near the Northeast.
Of the nine tropical cyclones that formed in 1938, only one came remotely close to the Northeast United States - a landfalling Category 3 storm that wreaked havoc on Long Island and New England.
"The Great New England Hurricane" - better known locally as the "Long Island Express" - made two landfalls across the tri-state area on September 21, 1938. The first was near Bellport a little after 2 p.m. It then crossed the Long Island Sound and into Connecticut between Bridgeport and New Haven around 4 p.m. It wasn't a Category 5 when it hit; the storm fortunately weakened to a 4 and then a 3 several hours before, otherwise the devastation would have been even worse. It was still the strongest storm ever to hit Long Island.
Winds were sustained around 120 mph when the hurricane first struck, with gusts likely 20-30 mph higher - compare that with wind gusts from Sandy in 2012 (near 90 mph) and Isaias last year (near 80 mph). Incredible storm surges of 15 feet on the South Shore and 8 feet on the North Shore ravaged fishing fleets and farms. Thousands of homes were destroyed, and 60 people lost their lives. Hundreds of others were injured. In all, it caused around $620 million in damage, which would equate to near $50 billion today.
The storm practically traversed the William Floyd Parkway, with the eye making landfall between Bellport and Mastic and then riding north over Yaphank and Upton (and ironically over what is now the National Weather Service) before heading into the Long Island sound near Shoreham. 
Long Island has fortunately not seen a major hurricane ever since, but weather researchers and forecasters believe it's only a matter of time before we will be faced with one again. Something else to keep in mind: in 1938, we were not nearly as densely populated as we are today. The damage a comparable storm would do to Long Island in present times is unthinkable and should serve as a call to action to put in place a plan for such an event.