'Grateful': Bellone says Suffolk EMS and fire agencies will sound sirens in salute to health care workers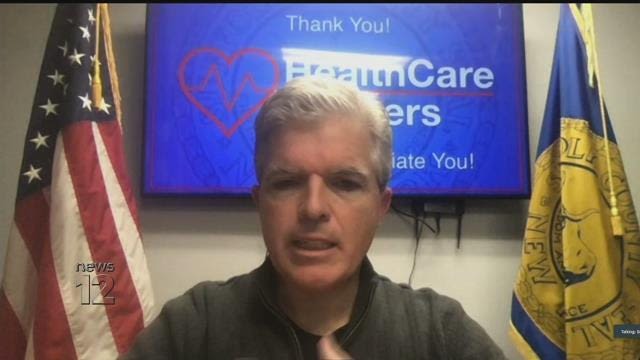 County Executive Steve Bellone held a news conference with the latest on the coronavirus pandemic in Suffolk County Sunday afternoon.
BRIEFING NOTES:
-The county executive began by thanking health care workers, likening their work to a war zone and saying he is inspired by them. "They are putting themselves at risk, and they're putting the safety of their own family at risk too, and that's what makes them heroes," he said.
-Fire and EMS agencies in communities across Suffolk will be sounding their sirens in unison at 7 p.m. Sunday to express gratitude and support for health care workers. The county's Dennison building will also be lit in blue for the same reason.
-"We're grateful for all the work that they are doing," Bellone says of health care workers.
-Bellone is reminding residents to use only homemade face coverings, to make sure that the N95 masks that are for health care workers remain available for those who need them as they save lives. He says he will be wearing a face covering when he is out in public in alignment with
the recent guidance from the CDC. 
-Bellone says he spoke with Rep. Lee Zeldin recently and had a "very good conversation" on the county's needs for supplies. He says Zeldin has worked with the White House to secure a commitment that they will work to make sure Suffolk County has what it needs in the next 30 days for front line workers, hospital workers, first responders and others. "That is very important for the people of Suffolk County," he said, adding that Zeldin spoke with Jared Kushner at the White House to help secure the commitment.
-"Every level of government is working in unison and putting politics aside," Executive Bellone said.  Suffolk has been connected to a vendor to secure masks that are coming into the county today, he says.
-"Politics is completely irrelevant and it has absolutely no place in what's happening," Bellone says, adding that his experience that public officials across the county have put politics aside to face the crisis. He said he compliments and thanks his colleagues for their leadership and efforts in the crisis.
-Referencing criticism of Gov. Cuomo's order to re-allocate ventilators not being utilized upstate to downstate areas in need, Bellone said, "This epidemic is something that we have to fight together. We are one New York and one nation." He called on upstate lawmakers who released a statement on the matter to clarify their remarks. "Lives will be saved" by moving ventilators to Suffolk, and when they are no longer needed they will be re-distributed, Bellone says. "When upstate needs it, we will be there to support them."
-On reporting fatalities from COVID-19, Bellone says the county has been striving to be as transparent as possible, but says he can't strain health care workers on the front lines in terms of reporting data. He says the county will be reporting the most recent information received from the state. 
-Most data on fatalities from New York state: 175 coronavirus-related fatalities in Suffolk hospitals.
-Bellone says ICU bed availability has increased; currently 82 beds are available. 
-107 COVID-19 patients were discharged from hospitals in last 24 hours, Bellone says.
-Bellone says the county has been looking at the "economic crisis" that has resulted from the pandemic, and ways to help and inform small businesses. The county is also looking to help the arts sector which represents a critical part of the tourism industry and culture on Long Island.
-"Stay at home as much as you can over the next couple weeks," Bellone urged residents, adding that we're in a "critical stage" of the battle and that "everything we do" this week impacts how many people will become sickened next week and in the weeks ahead.
PHOTOS

: The world copes with the spread of COVID-19: