Man arrested on cockfighting charges; dozens of roosters seized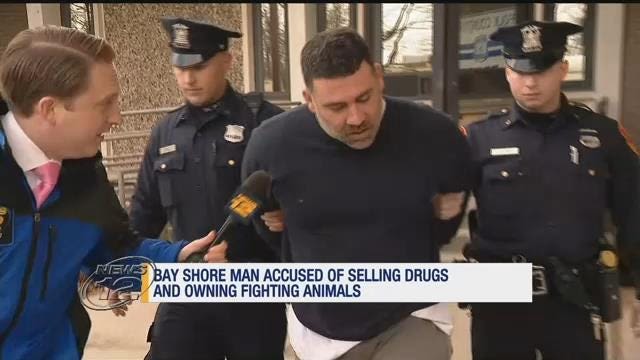 A Suffolk man is facing charges after he was allegedly found to have dozens of roosters that were trained for cockfighting.
According to the Suffolk SPCA, 40-year-old Reynaldo Bonilla had more than 60 roosters at his home on Fourth Street in Brentwood, along with hens and cockfighting paraphernalia. Among the cockfighting items allegedly found were fighting talons, which are sharp instruments that are attached to birds' feet.
Asked for comment by News 12 as he was being led out of a police precinct Saturday, Bonilla denied that he was running a cockfighting operation. He claimed to have "rescued" the birds. Asked why they had fighting talons, Bonilla claimed that "that's how they came" when he got the animals.
According to officials, the roosters will have to be euthanized because they can't be rehabilitated and were likely injected with steroids and other substances.
Authorities say they also found a neglected pit bull on Bonilla's property.
And investigators say they recovered a "significant quantity" of cocaine, marijuana, cash, scales and drug-packaging materials at a separate house in Bay Shore linked to Bonilla.
Prosecutors say he has a long rap sheet, including one felony drug conviction.
It marks Bonilla's second cockfighting arrest. The SPCA says 45 roosters were found inside his home back in 2015.
His bail Saturday was set at $80,000 cash.