Old Glory: WWII vet turns love for flag into mission of honor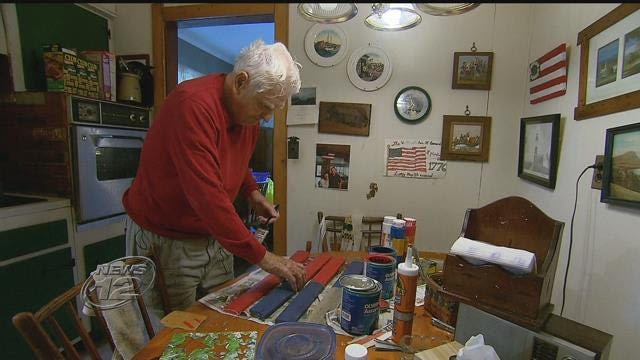 A World War II veteran from Bay Shore has turned his love for Old Glory into a mission of honor.
Every day, in a garage-turned-workshop on Abrew Street, 94-year-old Gerald Goldman creates American flags out of wood slats from old fences.
Goldman started his hobby 10 years ago, fashioning pieces of Americana - Betsy Ross-style - with 13 stars.
Goldman's love for this country began in a whole different place and time.
During World War II, he served as a machine gunner and radioman on a B-25 Mitchell bomber.
The 20-year-old Marine came home from the war unscathed - but not untouched by the courage of comrades who died fighting for the American flag.
"I feel sorry for all these young guys that never, you know, their life ended when they were all in their 20s. Very sad," says Goldman.
He has made it his mission to make sure people don't forget.
In the beginning, he handed the flags out to neighbors for free, but with one condition. "I said don't hide it. I said put it somewhere where it can be seen."
Nearly every homeowner on Abrew Street displays Goldman's gift with pride.
People driving by this neighborhood notice his flags and want one of their own. Now Goldman's pet project is a sought after work of art.
Lori Zegel, of Nook and Cranny in Islip, sells Goldman's flags on consignment. She says the rustic banners fly off the store shelves because customers love their unique charm.
Today, Goldman's flags hang in 14 states, as well as Germany, England and France.
He is now building flag number 556 and he says it won't be his last.
Goldman donates the profits from his flag sales to veterans' charities.