North Korea conducts 6th nuclear test, says it was H-bomb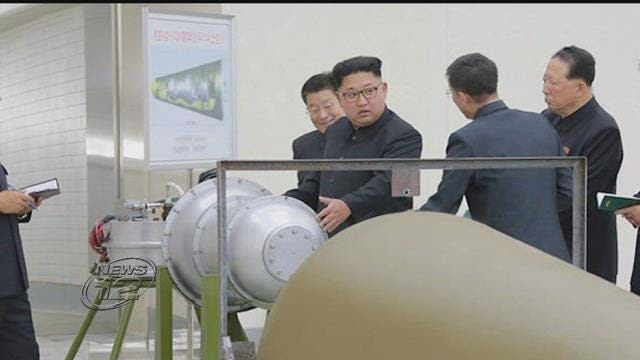 North Korea claims it successfully tested a hydrogen bomb that can fit on an intercontinental ballistic missile, and the news is drawing sharp rebukes from the U.S. and the international community.
According to the North Korean state media report, leader Kim Jong Un ordered the test, saying the warhead had "unprecedented" strength. The nation is calling the test a "perfect success."  
The United States Geological Survey measured a 6.3-magnitude artificial earthquake near the test site. Experts say the test marks North Korea's sixth and most powerful nuclear test since 2006.     
Defense Secretary Jim Mattis on shot back Sunday at North Korea's latest nuclear provocation with a blunt threat, saying the U.S. will answer any North Korean threat with a "massive military response - a response both effective and overwhelming." And while he said America does not seek the "total annihilation" of the North, he added somberly, "We have many options to do so."
Treasury Secretary Steven Mnuchin, said he would propose new sanctions for President Donald Trump to consider that would seek to cut off trade with North Korea.
Trump went further, writing on Twitter that his administration was considering halting "all trade" with any country that does business with North Korea. Asked by the press whether the U.S. would attack the North, the president responded by saying only, "We'll see."
The administration has emphasized its pursuit of diplomatic solutions, knowing the potentially horrific costs of war with the North. But the decision to have Mattis deliver a public statement seemed to suggest an escalating crisis.
Rep. Peter King (R-Seaford) says the international community should apply economic pressure on Pyongyang, and he says such efforts should start with an oil embargo.
"Any company, any country that does any business with North Korea, the United States should sanction them, refuse to do business with them in any way, and that includes the Bank of China," King says.
Associated Press wire services contributed to this report.