Jets' odds to win the Super Bowl plummet after Aaron Rodgers' injury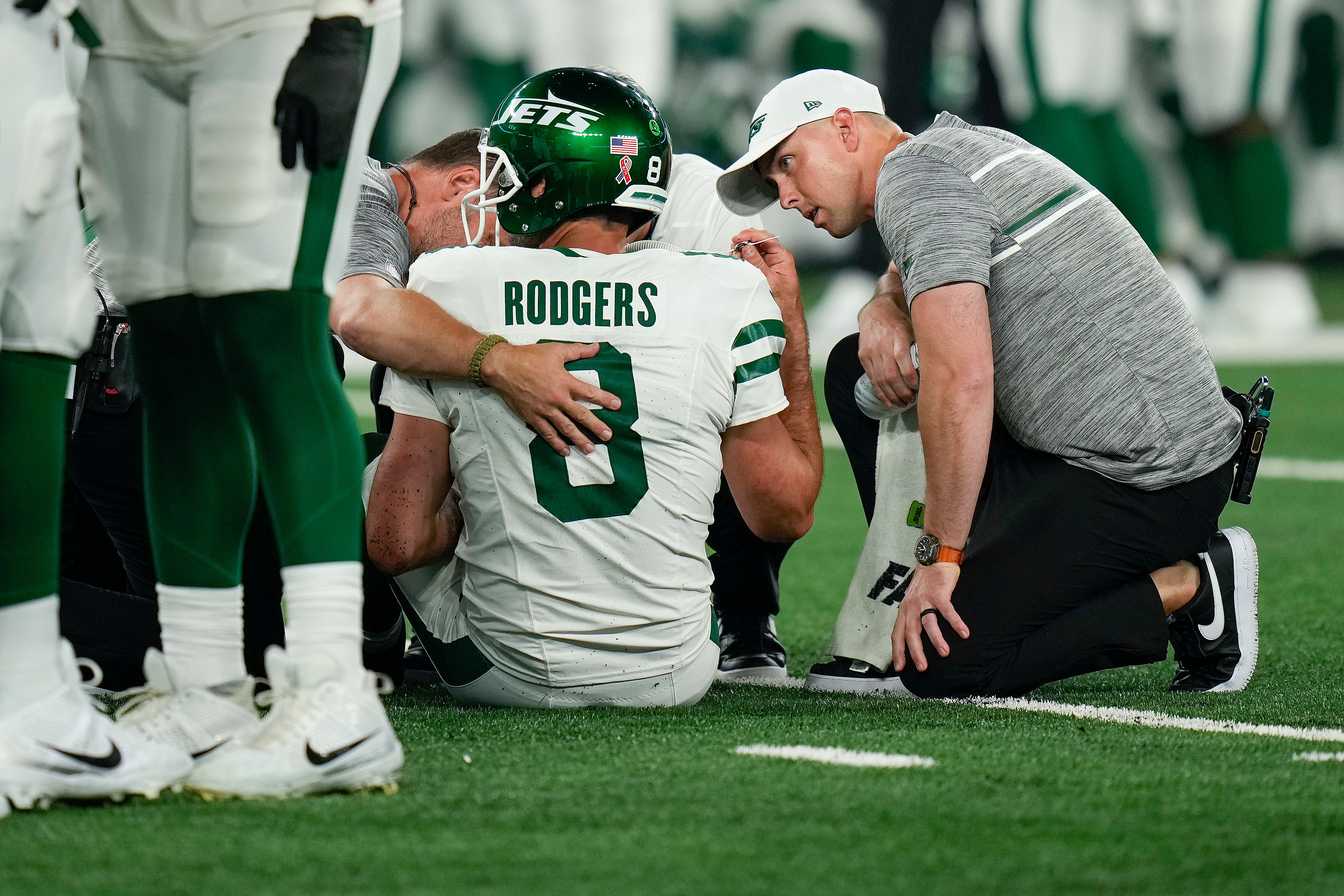 The New York Jets' odds to win the Super Bowl plummeted after quarterback Aaron Rodgers suffered a season-ending torn Achilles tendon in Monday night's 22-16 overtime victory over the Buffalo Bills.
New York's odds to win it all went from 16-1 to 50-1 at Caesars Sportsbook and 18-1 to 66-1 at BetMGM. The line movements at BetMGM were similar for the Jets to win the AFC championship (9-1 to 30-1) and AFC East (2.5-1 to 5.5-1).
"Since the Rodgers injury, bettors are not interested in backing Zach Wilson," said Seamus Magee, BetMGM trading team lead.
At Caesars, the Jets went from a 3 1/2-point underdog Sunday at Dallas to as high at 9 1/2 before being bet down to 8 1/2. Their win total dropped from 9 1/2 to 8 1/2 and went from minus-140 to make the playoffs to minus-250 to miss the postseason.
"I'm not willing to sell and say the Jets have no chance, however," Caesars assistant trading director Adam Pullen said. "We currently have them at 50-1 to win the Super Bowl and that seems right. ... People are understandably less bullish on them, but they have that defense, so we'll see."
The Jets drove much of the preseason NFL betting thanks to their trade for Rodgers from the Green Bay Packers. More money was bet on New York than any other AFC team at BetMGM, and the Jets were Caesars' biggest financial liability.
Season-ending injuries to quarterbacks have devastated many teams, including the Jets. Vinny Testaverde went down, also with an Achilles tendon injury, to open the 1999 season and ended New York's high hopes.
Washington missed the 1985 playoffs after Joe Theismann's broke his right leg in a Monday night game. The same fate awaited the Philadelphia Eagles in 1991 when Randall Cunningham tore an ACL and the Miami Dolphins two years later when Dan Marino tore an Achilles tendon.
But there is a strong history of teams overcoming losing their starting QB.
The 1972 Dolphins, 1990 New York Giants, 1999 St. Louis Rams and 2001 New England Patriots went on to win the Super Bowl. In the Dolphins' case, Bob Griese returned during the playoffs after Earl Morrall led them to a perfect regular season.