Nassau County Legislature District 1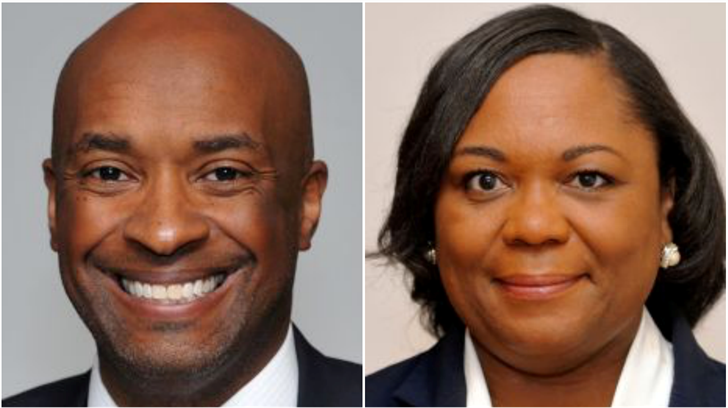 Abrahams, 43, of Freeport, is running on the Democratic, Working Families, Reform and Women's Equality lines. He has been the minority leader of the Nassau County Legislature since 2011 and has served as a county legislator since 2003. Abrahams has a bachelor's degree in political science from Queens College. He is a strategic planning project manager for North Shore-LIJ Health System in Great Neck and previously served as a legislative assistant and deputy district director for former Rep. Floyd H. Flake (D-Queens), and as a community liaison for former Rep. Carolyn McCarthy (D-Mineola). In 2014, he ran for Congress in the Fourth District, but lost a Democratic primary against then-Nassau District Attorney Kathleen Rice, who went on to win the seat. Abrahams is a ranking member of the Rules and Budget Review committees. He is married, with two children.

Abrahams is satisfied with the development at the Nassau Hub in Uniondale, where the Nassau Coliseum has been renovated and Memorial Sloan Kettering Cancer Center is building a $140 million outpatient treatment and research facility. But he wants to see money invested south of Hempstead Turnpike to redevelop Uniondale Avenue, Front Street and Jerusalem Avenue. Streetscaping funding for downtown Uniondale has been held up in a borrowing dispute with majority Republicans. "The community has been waiting for years for this beautification project," Abrahams said. The Democrat also wants reforms to the county's ethics policies in the wake of the indictments of several elected officials. Abrahams wants an independent inspector general to oversee county contracts and strengthened financial disclosure, but he does not support term limits for lawmakers.

Thompson, 51, of Baldwin, is running on the Republican and Conservative party lines. She is making her first run for elected office. She received a bachelor's degree in psychology from the College of William and Mary and a law degree from the Howard University School of Law. Thompson previously served as the program director of the Youth Civic Education Campaign for the New York Public Interest Research Group and was part of the team to successfully lobby in Albany and Washington, D.C., for passage of the Motor Voter Bill. In 1991, she was appointed to the New York State Voting Rights Commission. She currently serves as of-counsel at the law firm of Comrie & Coward in Freeport. Thompson is divorced, with three children.

Thompson wants to help more small businesses in her district, which has a higher rate of unemployment than other parts of the county, get certified to compete for county and state contracts. She also wants to renovate unused buildings in downtown Uniondale and convert them to businesses that can feed the Nassau Hub renovation, where the Nassau Coliseum has undergone a $165 million renovation and Memorial Sloan Kettering Cancer Center is building a $140 million outpatient treatment and research facility. "My concern is that the revitalization does not stop at Hempstead Turnpike," Thompson said. "It must flow to the rest of Uniondale." Thompson also wants to work with the Nassau County Land Trust to purchase and renovate abandoned "zombie" homes in the district and convert them to affordable housing. "This would get the homes back on the tax rolls and create affordable housing for young families and seniors," she said.