Giants and running back Saquon Barkley fail to reach contract extension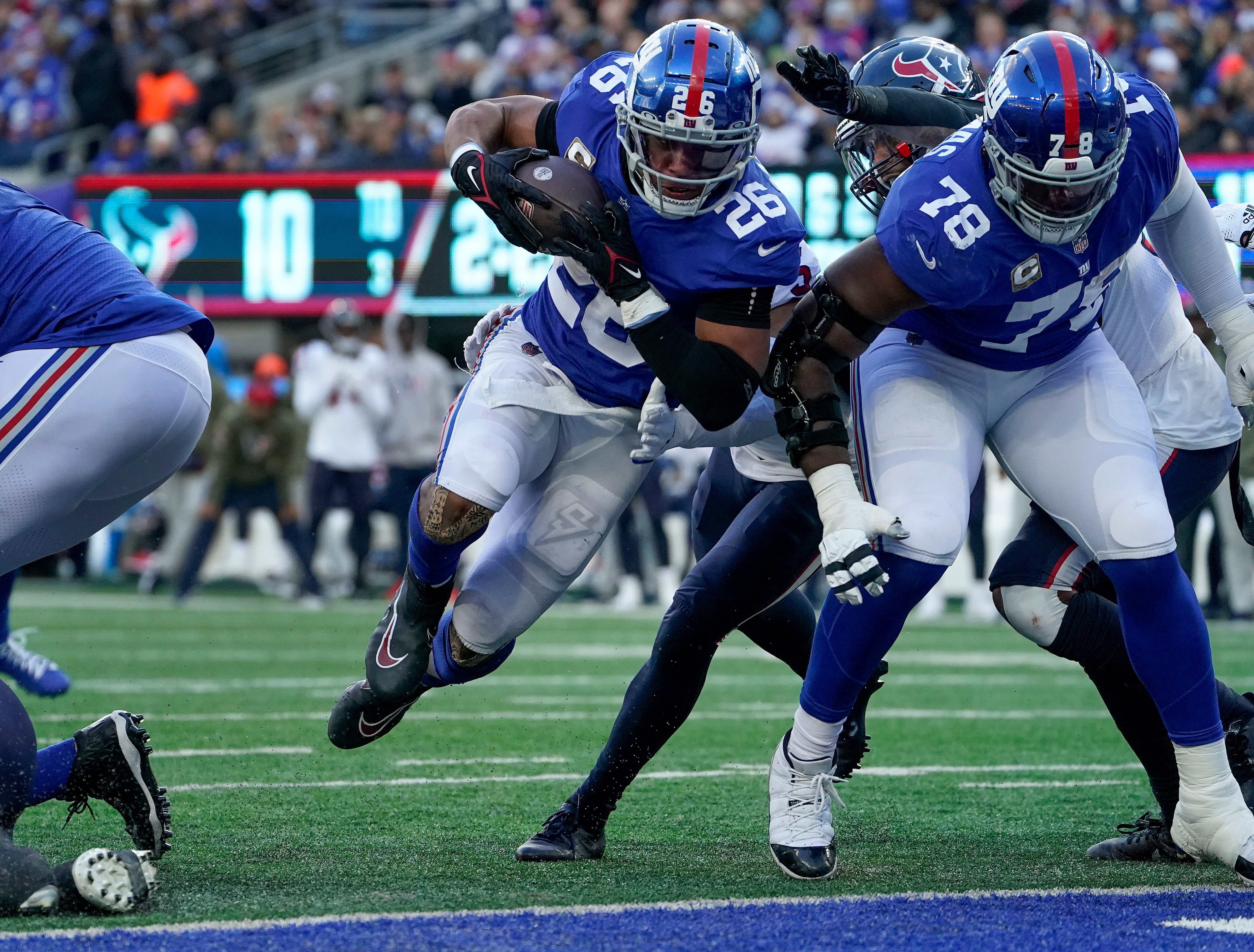 Saquon Barkley and the New York Giants failed to reach an agreement on a long-term contract extension by Monday's deadline for franchised players, leaving the star running back with the option of playing for the tag-mandated $10.1 million salary or maybe taking the season off.
The Giants gave the franchise tag to the 26-year-old Barkley in March, giving the two sides four months to reach an agreement on a new deal by the July 17 deadline at 4 p.m. Talks went down to the wire and an agreement was not reached.
The Giants had no immediate comment after the deadline.
"It is what it is," Barkley tweeted.
Barkley was not happy being tagged, especially after running for a career-best 1,312 yards and 10 touchdowns and sharing the team lead with 57 receptions last season in what was his second Pro Bowl season. It was a big reason why New York reached the playoffs for the first time since 2016.
The $10.1 million salary will leave Barkley among the NFL's highest-paid running backs, but the 2018 NFL Offensive Rookie of the Year felt it was a sign of disrespect after being one of the main faces of the franchise for the past five years.
San Francisco's Christian McCaffrey ($16 million) New Orleans' Alvin Kamara $15 million) and Tennessee's Derrick Henry ($12.5 million) and Cleveland's Nick Chubb ($12.2 million) are the top four earners among the NFL's running backs in average annual salary. Dalvin Cook, who was to earn $12.6 million with Vikings, was cut in a salary cap move and Joe Mixon of Cincinnati recently took a cut to stay in Cincinnati.
Giants players report to training camp on July 25 and there is a chance Barkley, who has not signed the tender the Giants gave him after being franchised, may sit out a major part of the camp.
Barkley had added agent Ed Berry of Creative Artists Agency to help Kim Miale of Roc Nation reach a deal last month, but the two sides never got it done.
The Giants and general manager Joe Schoen seemed content with the tag, possibly because of Barkley's history with injuries and the devaluation of the running back position in recent years.
During this past season, the Giants had offered Barkley a deal that would have paid $12 million to $14 million annually, but they withdrew it after the season ended to work on new deals for quarterback Daniel Jones and defensive tackle Dexter Lawrence and to help with signings in free agency.
Barkley's injury history is a concern. He was spectacular as a rookie out of Penn State, rushing for 1,307 yards and 11 touchdowns while catching 91 passes for 721 yards and four more TDs. An ankle injury caused him to miss three games in 2019, but he still ran for 1,003 yards and six touchdowns and caught 52 passes for 438 yards and two TDs.
An ACL injury against Chicago in the second game of the 2020 season ended that campaign and he wasn't the same player coming off the injury in 2021, rushing for 593 yards.
He returned to being the Barkley of old under Brian Daboll last season as the Giants posted a 9-7-1 record and beat Minnesota in the first round of the playoffs. New York was blown out by the eventual NFC champion Philadelphia Eagles in the second round.
Six teams franchised players this year with the Giants putting a non-exclusive tag on Barkley, meaning he was free to negotiate with other franchises but New York could match any offer or receive first-round draft picks as compensation.
The three non-running backs all received long-term deals. Baltimore quarterback Lamar Jackson got a five-year $260 million contract. Washington defensive lineman Daron Payne got $90 million over four years and Jacksonville tight end and former Giant Evan Engram received $41.25 million in a three-year deal.
Barkley and fellow running back Josh Jacobs of Las Vegas and Tony Pollard of the Dallas didn't get deals. Pollard signed his tender offer unlike Barkley and Jacobs.