Eagles' Super Bowl aspirations start vs. Giants in Philly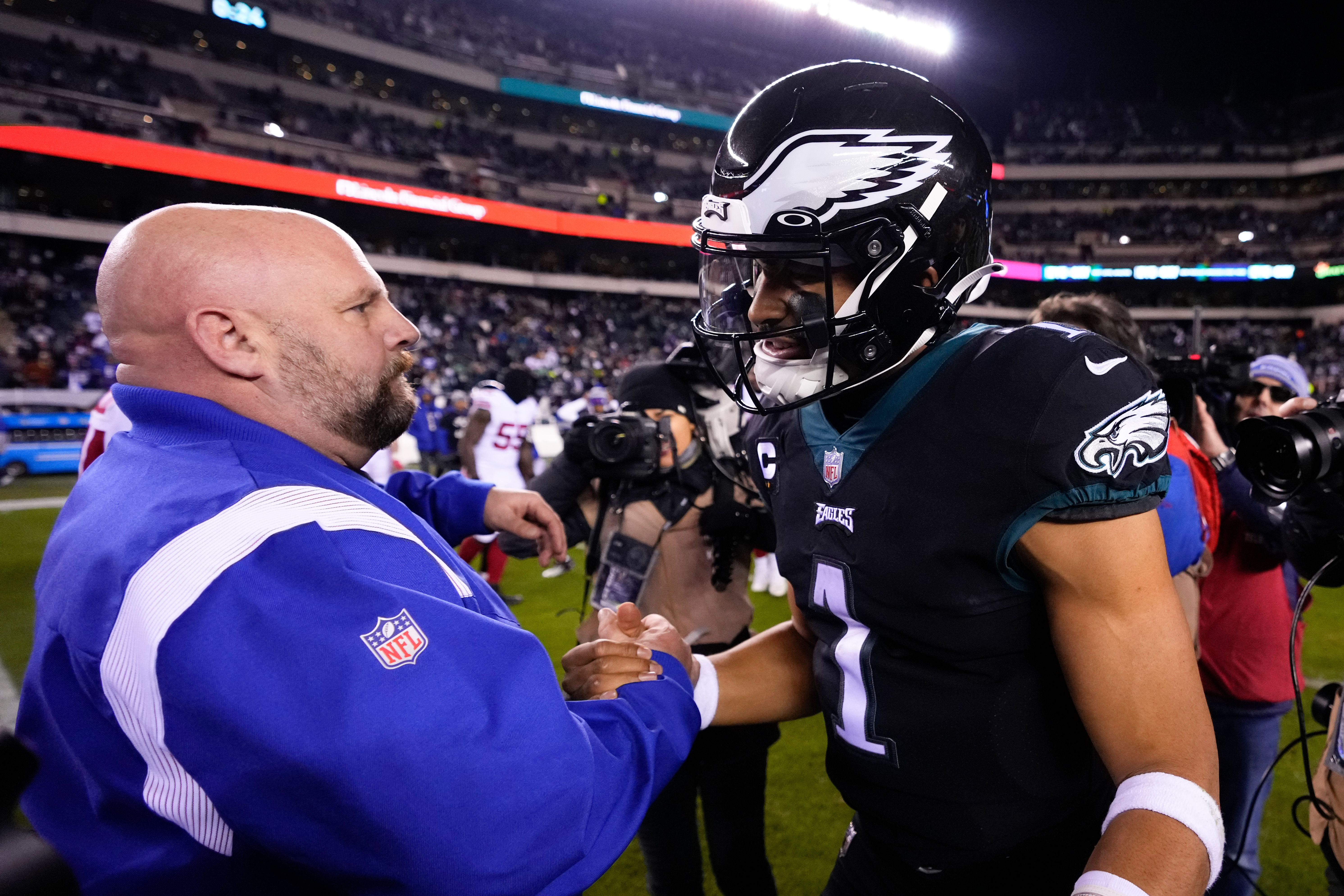 Take a look at all the good fortune the Philadelphia Eagles have enjoyed ahead of their postseason opener and it's no wonder they're feeling great about a Super Bowl run.
Jalen Hurts is healthy (enough) after the Pro Bowl quarterback missed two games late in the year with a sprained right shoulder. All-Pro right tackle Lane Johnson was left off the injury report Thursday for the first time since he suffered a torn adductor late last month. The NFC postseason runs through the Linc. The Eagles went 2-0 this season against the New York Giants, their NFC East rivals who will be visiting on Saturday night. And they are the No. 1 seed in the NFC.
Life is good in Philly.
"We know we put ourselves in this position by what we did all season," Hurts said.
Just a quick refresher on everything the Eagles did: They started 8-0 and 13-1 as Hurts surged into MVP contention. The Eagles finished 7-2 at home and even beat teams that featured key players in their last Super Bowl win, Doug Pederson and Carson Wentz.
After all the hand-wringing in Philly for decades over the Eagles (14-3) never having had won a Super Bowl, optimism runs as high as a Schwarbomb that they can make it two championships in five years.
The last No. 1 seed to win a Super Bowl? Yup, the Eagles in 2018 over the vaunted New England Patriots.
Comparisons are welcome.
"We're 17, 18 weeks into this and we should be playing our best football by now," coach Nick Sirianni said.
The Giants (10-7-1) have gone from a team that posted five straight losing seasons to one that made the playoffs in coach Brian Daboll's first year. New York is coming off a 31-24 win over Minnesota in the wild-card round.
For QB Daniel Jones and the Giants, the season is already a resounding success. For the Eagles, a postseason-opening loss in Sirianni's second year — after a dreadful defeat to Tampa Bay in last year's playoffs — would make this season a resounding bust.
The Eagles are a healthy 7 1/2-point favorite, per FanDuel Sportsbook, and the Saturday night start means fans will be buzzing — and buzzed from daylong tailgating — from pregame introductions.
"Their crowd is brutal and it helps when their team is as good as they are," Giants left tackle Andrew Thomas said.
Crazy things have happened in just one weekend of postseason football.
The Eagles don't want to be just another victim.
HURTS' HEALTH
Cal Ripken Jr. was on the horn to talk baseball but when Philadelphia was mentioned, the Baltimore Orioles great had a question about another sports bird. How is Hurts feeling?
"I knew he was going to play, but I'm just wondering the shoulder, how much it's lingered, how much it's bothering him," Ripken said.
The answer: seemingly not much.
Hurts was removed from the injury report this week and was described by Sirianni as "full go" against the Giants. In other words, no more vanilla offense. The Eagles took no chances with Hurts in the season finale and used a conservative game plan to ease him back into the lineup after his two-game absence.
"The consistency we had all season, the focus we had all season, I don't think anything changes in terms of the process," Hurts said. "The process remains the same throughout everything. But the standard rises."
GIANT KILLER
Hurts tied a franchise record with 35 total touchdowns. Wide receivers DeVonta Smith and A.J. Brown each topped 1,000 yards receiving. Miles Sanders rushed for 1,269 yards.
Sure, the Giants are worried about them.
But the real Giant slayer is running back Boston Scott. Scott had two of his three rushing touchdowns this season against New York — one in each game — and a whopping 10 of his 17 career TDs are against the Giants.
"It predates my time here," Giants defensive coordinator Wink Martindale said. "He's a good running back. They've got a stable of good running backs. I can't answer it. I know just because he scored, I don't think he's a Giant killer."
SEASONS MEETINGS
Let's take a look at the Eagles' sweep.
The Eagles clinched a playoff berth when they beat the Giants 48-22 on Dec. 11 at MetLife Stadium. Hurts threw for 217 yards and two touchdowns and he rushed for one. Sanders ran for 144 yards and scored on runs of 3 and 40 yards.
The Eagles' defense finished with seven sacks, including three by Brandon Graham.
Jones and Tyrod Taylor threw touchdown passes for the Giants.
The second game had lower stakes, though Hurts threw for 229 yards in a 22-16 win Jan. 8 in the regular-season finale in Philly. The Giants already had the No. 6 seed secured and rested the bulk of their players. Jones took a seat. So did Saquon Barkley and his 1,312 yards rushing.
Everyone is all in for the playoffs.
The Giants need all the help they can get. The four-time Super Bowl champion franchise has lost nine straight games in Philadelphia. New York's most recent win there came on Oct. 27, 2013.
COACHING BUDDIES
Sirianni was working his way up the NFL coaching ranks in Kansas City when Daboll joined the staff in 2012 as an assistant coordinator. The two developed a fast friendship. Sirianni considered Daboll one of his mentors. Daboll's circuitous route took him to the college ranks and then to Buffalo, where he helped turn Josh Allen into a franchise QB. Daboll showed no interest in the Eagles job after Doug Pederson was fired in 2021, and Philly hired Sirianni off Indianapolis' staff.
"A lot of my development as a coach came from him, so no surprise the Giants are playing the way they are because I know how good of a coach Brian Daboll is," Sirianni said.
Daboll knows Hurts well after having served as offensive coordinator/QB coach at Alabama in 2017 when Hurts was the starting QB there before transferring to Oklahoma.