Eagles hope home field helps them vs 49ers in NFC title game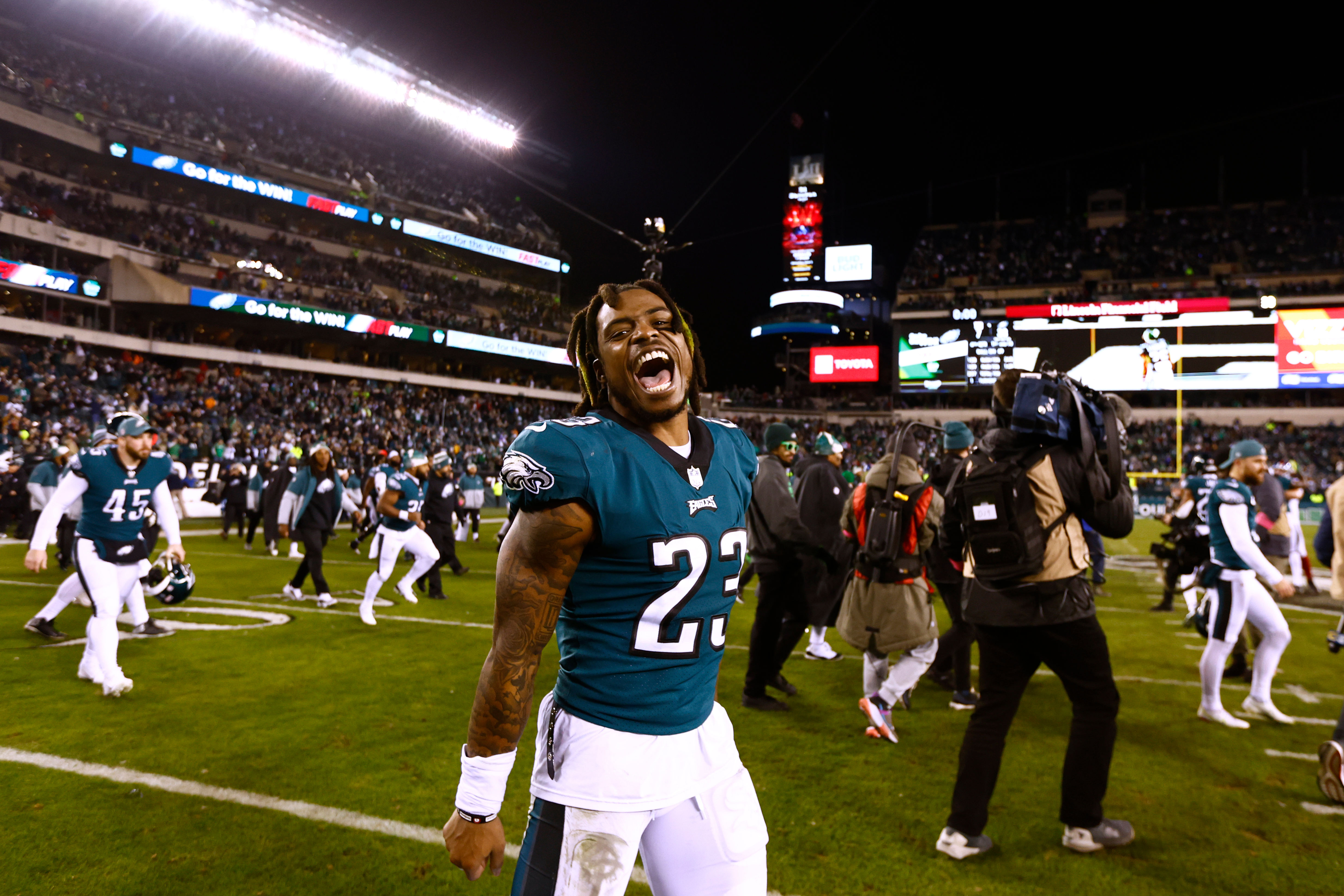 Nick Sirianni rocked a Meek Mill "Dream Chasers" chain in the midst of a raucous locker room celebration. Jalen Hurts sported a silver chain that read " Breed of One."
The Eagles have a knack for dangling their mottos on sparkling jewelry. There's one more piece of bling they're chasing: a Super Bowl ring.
The Eagles could have put NFC championship game tickets on sale at halftime of their blowout win over the Giants. The game was seemingly in hand on the first drive when Hurts put concerns about his banged-up right shoulder to rest and led a touchdown drive. The Linc was rocking. The Giants were reeling. Hurts and the Eagles looked every bit the Super Bowl contender they were when they raced to a 13-1 start. The outcome was a formality.
The 49ers are the next Super Bowl roadblock.
San Francisco has rallied behind QB Brock Purdy and won 12 straight games, hardly playing like a team that would be intimidated by the hostile Philly crowd. Or one that wouldn't feel confident it could slow Hurts and a running game that finished with 268 yards against the Giants.
The NFC title game pits the No. 1 vs. No. 2 seeds in the conference. The 49ers are playing in their third NFC title game in the last four seasons. The Eagles are playing in their first one since 2018.
"Our focus is, hey, we're climbing this mountain," Sirianni said. "We're close to the top. Don't look at the top yet though."
The Eagles can see the peak — and it's in Glendale, Arizona.
Hurts proved he wouldn't be limited by whatever still aches in the right shoulder he sprained late in the season when he delivered another fantastic all-around effort. He lofted a deep pass on the second play of the game and completed his first seven pass attempts. The Eagles called running plays for their fleet-footed QB and he never seemed rattled by any hard licks, especially when the shoulder was drilled on one hard sack. The Eagles improved to a whopping 15-1 in Hurts' starts this season.
But they have been heavy favorites in most games this season, and are just 2 1/2-point favorites at home against the 49ers, according to FanDuel Sportsbook.
That should say something about the stiffest challenge the Eagles will face in weeks.
There's no question that the Eagles will go as far as their Pro Bowl QB will take them. Hurts completed just 12 of 23 passes for 190 yards when the Eagles lost to San Francisco in their last meeting on Sept. 19, 2021. It was only Sirianni's second game. Hurts was still adjusting to his role as a starter. Jimmy Garoppolo started at QB for San Francisco. It's hard to draw much out of that matchup — though Nick Bosa sacked Hurts twice.
All that matters now is what's ahead.
"You work really hard for these opportunities. They're not a dime a dozen," Hurts said.
WHAT'S WORKING
Everything. But let's hand off the game ball to the running backs. Philadelphia's offensive line opened big holes for Miles Sanders and Kenneth Gainwell as the Eagles finished with 268 yards on the ground. Gainwell finished with 112 yards on 12 carries, including a late 35-yard touchdown. Sanders had 17 rushes for 90 yards.
WHAT'S NOT
Hurts needs to be nimble against the 49ers. Bosa led the NFL with 18 1/2 sacks, safety Tashaun Gipson had five interceptions and safety Talanoa Hufanga had four. Hurts threw two interceptions only once this season, in a win against the Bears. He hasn't really faced a defense as stout and hungry as the 49ers all season. The offensive line was strong against the Giants. They can't give Bosa any room to operate.
STOCK UP
Giants QB Daniel Jones tore up the Vikings a week earlier in a wild-card victory and could never get anything going against the Eagles. James Bradberry had an interception and Hasson Reddick had 1 1/2 sacks on consecutive plays.
"We're the best in the world," Eagles cornerback Darius Slay said. "It's a whole group thing. We have a mindset to go out there and dominate."
STOCK DOWN
It should come as little surprise that everything clicked against the Giants.
INJURIES
C Jason Kelce said he suffered a quad injury against the Giants.
KEY NUMBER
7 — The Eagles are in their seventh NFC championship game since Jeffrey Lurie bought the team in 1994. All seven have come since 2001 and are the second-most in the NFL over that span behind only New England (13).
NEXT STEPS
The 49ers are the only NFC team that has never played a postseason game in Philadelphia. The teams have met only once in the postseason, San Francisco's 14-0 win over the Eagles in a 1996 wild-card game. Ty Detmer went 14 of 21 passing for 148 yards before he was injured and replacement Mark Rypien went 5 of 12 for 77 yards and an interception. Philadelphia was shut out for the first time in a postseason game.