Chaim Topol, Israeli actor known for Fiddler's Tevye, dies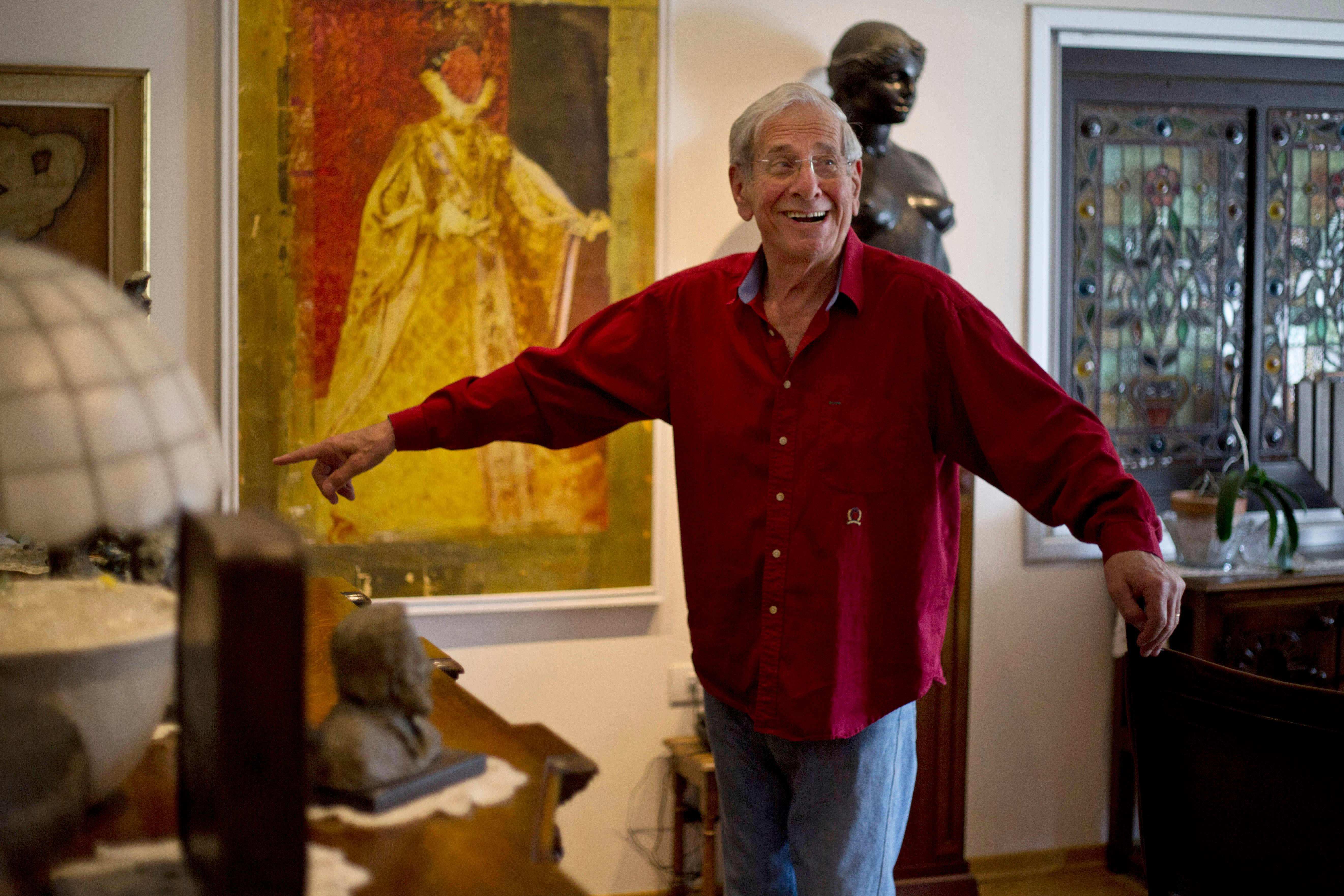 Chaim Topol, a leading Israeli actor who charmed generations of theatergoers and movie-watchers with his portrayal of Tevye, the long-suffering and charismatic milkman in "Fiddler on the Roof," has died in Tel Aviv, Israeli leaders said Thursday. He was 87.
The cause was not immediately released.
Israeli leaders on Thursday tweeted their memories and condolences to Topol's family.
Israel's ceremonial president, Isaac Herzog, hailed Topol as "one of the most outstanding Israeli actors," who "filled the movie screens with his presence and above all entered deep into our hearts."
Israeli Prime Minister Benjamin Netanyahu said Topol's "contribution to Israeli culture will continue to exist for generations."
Benny Gantz, Israel's former minister of defense, praised Topol for helping Israelis connect to their roots.
"We laughed and cried at the same time over the deepest wounds of Israeli society," he wrote of Topol's performance.
Yair Lapid, head of Israel's opposition, said Topol taught Israelis "love of culture and love of the land."
Topol's charity, Jordan River Village, also announced his death, paying tribute to him as an "inspiration" whose "legacy will continue for generations to come."
A recipient of two Golden Globe awards and nominee for both an Academy Award and a Tony Award, Topol long has ranked among Israel's most decorated actors. More recently in 2015, he was celebrated for his contributions to film and culture with the Israel Prize for lifetime achievement, his country's most prestigious honor. Up until a few years ago, he remained involved in theater and said he still fielded requests to play Tevye.
Topol got his start in acting in a theatrical troupe in the Israeli army in the 1950s, where he met his future wife Galia. His first major breakthrough was the lead role in the 1964 hit Israeli film Sallah Shabati, about the hardships of Middle Eastern immigrants to Israel. The film made history as the first Israeli film to earn an Academy Award nomination and also gave Topol his first Golden Globe Award.
Two years later, he made his English-language film debut alongside Kirk Douglas in "Cast a Giant Shadow." But the role of his life arrived in the long-running musical "Fiddler on the Roof," in which he played the dairyman protagonist, Tevye, a Jewish father trying to maintain his family's cultural traditions despite the turmoil gripping their Russian shtetl.
With his rich voice, folkish witticisms and commanding stage presence, Topol's Tevye, driving his horse-drawn buggy and delivering milk, butter and eggs to the rich, became a popular hero in Israel and around the world.
After years of playing Tevye on stage in London and on Broadway, he scored the lead role in the 1971 Norman Jewison-directed film version, winning the Golden Globe award for lead actor and being nominated for a best actor Academy Award. He lost out to Gene Hackman in "The French Connection."
Topol played the part more than 3,500 times on stage, most recently in 2009. With the help of heavy makeup and costume work, he first portrayed the much older, burlier dairyman in his 30s and quite literally aged into the role.
Topol faced tough competition securing the role in Jewison's hit film - scores of talents have played Tevye in over a dozen languages since "Fiddler on the Roof" first appeared. Topol has said his personal experience as the descendant of Russian Jews helped him relate to Tevye and deepen his performance.
In an interview with The Associated Press from his Tel Aviv home in 2015, on the occasion of accepting the Israel prize for lifetime achievement, Topol traced his meteoric rise from modest beginnings to worldwide fame.
"I wasn't brought up in Hollywood. I was brought up in a kibbutz," he said. "Sometimes I am surprised when I come to China or when I come to Tokyo or when I come to France or when I come wherever and the clerk at the immigration says 'Topol, Topol, are you Topol?"
Topol also starred in more than 30 other movies, including as the lead in "Galileo," Dr. Hans Zarkov in "Flash Gordon" and James Bond's foil-turned-ally Milos Columbo in "For Your Eyes Only" alongside Roger Moore.
But he became synonymous with just one role - Tevye. Pouring his heart out about his impoverished Jewish community over the years, Topol made audiences laugh and cry from Broadway and West End stages.
"How many people are known for one part? How many people in my profession are known worldwide?" he told the AP. "I'm not complaining."
Yet Topol said he sometimes needed to look outside of acting to find meaning in his life. He devoted much of his later years to charity as chairman of the board of Jordan River Village, a camp serving Middle Eastern children with life-threatening diseases.
"I am interested in charities and find it more fulfilling than running from one (acting) part to another," he said. "When you are successful in a film and the money flows, yes, obviously, it is very nice. But to tell you that is the most important thing, I am not sure."
Topol is survived by his wife and three children.