Yankees rookie outfielder Jasson Domínguez has torn elbow ligament, needs Tommy John surgery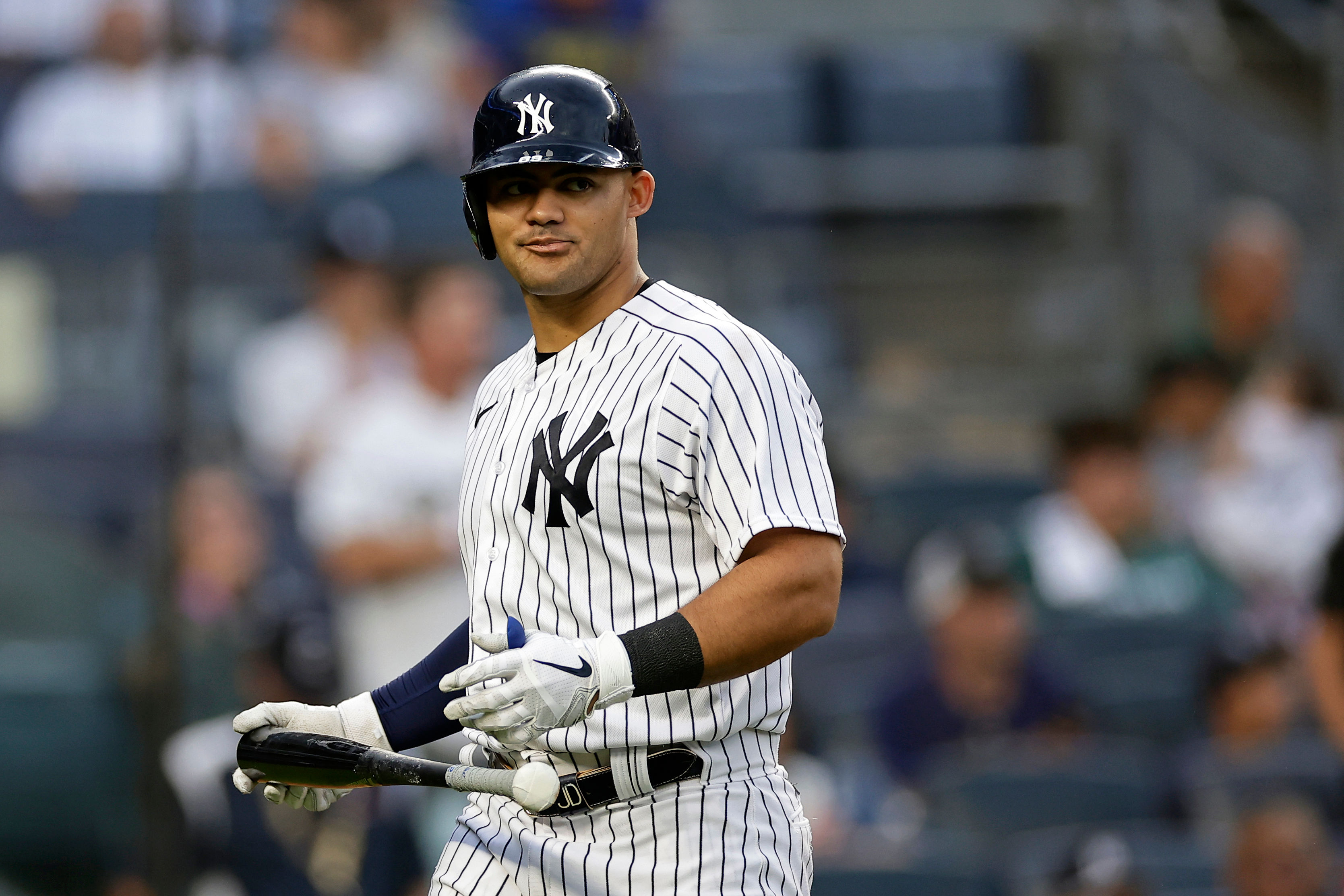 Yankees rookie Jasson Domínguez has a torn ligament in his throwing elbow and needs Tommy John surgery, interrupting an impressive start to his major league career that included four home runs in his first seven games.
The prized 20-year-old center fielder was scheduled to bat third for New York in Sunday's series finale against Milwaukee but was scratched about 15 minutes before the first pitch.
"Definitely very shocking news. You're never expecting for this to be the result," Domínguez said through a translator.
Signed for a $5.1 million bonus as a 16-year-old, Domínguez made his big league debut on Sept. 1 in Houston and was hitting .258 with four homers and seven RBIs in eight games.
"Crushed for him," manager Aaron Boone said, "At the same time, he's a young man and these things resolve themselves, so it's a moment in time in the grand scheme of things in what we feel like has a chance to be a long, excellent career. So it's about taking care of it now."
Domínguez's right elbow limited him during batting practice Sunday, causing concern.
"He couldn't pop the ball or really hit it hard," Boone said, "so we brought him up and he went and got testing during the game."
Domínguez said he first felt pain on Sept. 3 in Houston but couldn't recall a specific throw or swing that caused the injury.
"I felt like something wasn't right, but not preventing me to play," he said. "We had a day off on Monday, so Tuesday felt about the same. But warming up and getting loose for the game, that's the point where I could play. And then Wednesday, that's when I told the trainers that I was feeling some kind of discomfort that wasn't going away. And since Wednesday it has gotten progressively worse."
While pitchers usually need 12 to 18 months to recover from Tommy John surgery, the projection for position players is nine to 10 months, according to Boone. Philadelphia star Bryce Harper returned this May after 160 days.
"The plan is to go through surgery as soon as possible and try to recuperate as soon as possible," Domínguez said.
The switch-hitter launched a two-run homer Friday, becoming the youngest player since at least 1901 to homer four times in his first seven games.
Domínguez reached base in each of his first seven games before going 0 for 4 with three strikeouts in Saturday's 9-2 loss to the Brewers.
"A really good experience," he said. "Fortunate to be here, to be able to play these eight games and really see how it is inside this clubhouse in the big leagues," he said.
New York placed Gold Glove center fielder Harrison Bader on waivers last month, opening center field for Domínguez when Bader was claimed by Cincinnati. With Domínguez sidelined, the Yankees must evaluate a free-agent center field market this offseason that includes Cody Bellinger.