White House DACA decision triggers protest at Trump Tower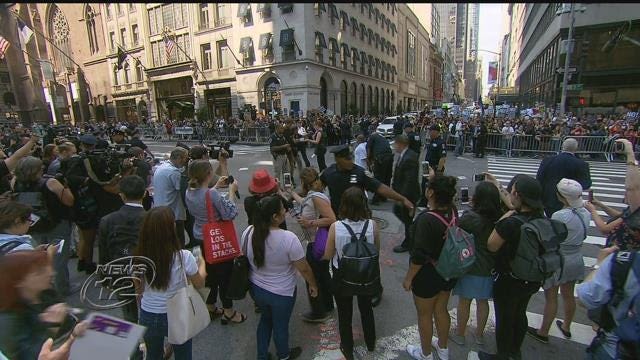 The decision to rescind the Deferred Action for Childhood Arrivals, or DACA program, triggered protests outside Trump Tower in Manhattan Tuesday afternoon.
Immigrants and their supporters stood together – holding hands and shouting "undocumented, unafraid." Some protesters sat down and blocked traffic.
U.S. Attorney General Jeff Sessions announced the Trump administration is rescinding DACA, which was implemented in 2012. It allowed children brought illegally into the U.S. by their parents to stay, work and go to school. Congress will now have six months to figure out a solution for the 800,000 recipients. 
Nelson Melgar, a DACA recipient from Glen Cove, helped organize the protest and sit-in.
"The one thing we've learned in this movement, in any movement, there is no victory without some sacrifice," says Melgar. 
Melgar came from Honduras at the age of 13. He's since graduated college and works in state Assemblyman Charles Lavine's office. 
"I'm going to lose my job, my car, my health insurance, you name it," he told News 12. 
  
Elmont civic leader Pat Nicolosi wants Congress to work fast to find a solution. He says he doesn't want the so-called "Dreamers" deported, but he doesn't want more coming to the U.S.
"My children are dreamers, my grandchildren are dreamers, I'm a dreamer," he told News 12. "We all dream for a better way but we can't have a two-tier system, we can't treat one group differently."