Volunteers load Texas-bound trucks with donations in Long Beach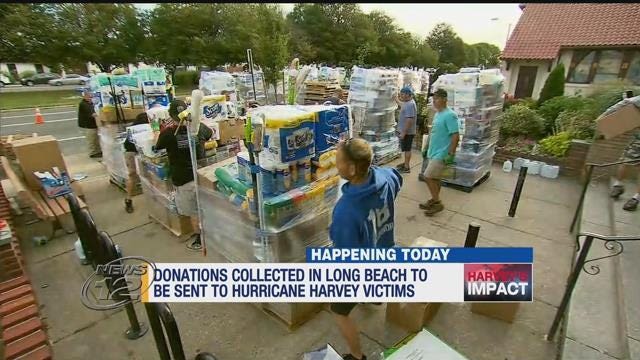 In communities across Long Island, volunteers are hard at work to get donations to those hit hardest by Hurricane Harvey in Texas and Louisiana.
In Long Beach on Saturday, a small army of people worked together to load donations up for those impacted that the storm that struck 1,500 miles away. At St. Mary's Church, the gym was transformed into a warehouse, filled with stacks of boxes of donations.
PHOTOS:
Organizers say an estimated 100 volunteers helped to load $1 million worth of donations. Each box of supplies was covered in messages of compassion.
Many of those who were helping out in Long Beach say they were moved to pitch in because of what the area went through when Superstorm Sandy struck five years ago.
Once the 53-foot trucks are packed up, they will set out on the journey to a YWCA in a hard-hit area of Houston. They are expected to arrive on Tuesday.
And efforts will continue after the trucks arrive -- organizers say they are working to get each of Houston's public school students $100 in gift cards.