Stony Brook Medicine identifies key protocols to fight COVID-19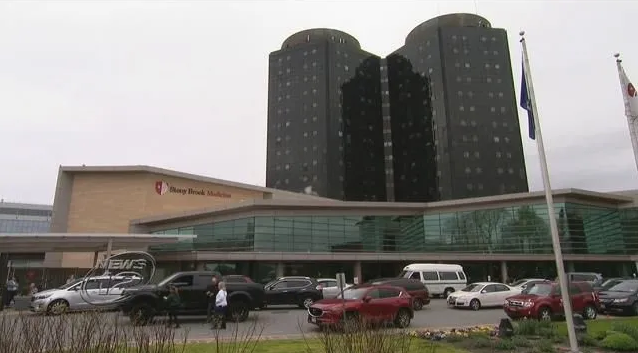 Stony Brook Medicine has announced it has developed two protocols during the fight against COVID-19 for patients.
More than 1,200 patients have been hospitalized for the treatment of COVID-19 since the beginning of the outbreak. Among these patients, more than 25% have required admission to the ICU, and the vast majority of those required mechanical ventilation.
More than half of the COVID-19 intensive care unit patients being hospitalized at Stony Brook Medicine are being cared for by surgical faculty and surgical residents, with the core team monitoring this disease around-the-clock from the very start.
According to Dr. Mark Talamini, the surgical team has been able to save more lives and significantly reduce mortality rates by identifying issues early in the pandemic and quickly pivoting to protect those at highest risk.
Stony Brook Medicine's COVID-19 team developed an anticoagulation protocol in mid-March, which was first introduced with a clinical trial and now is implemented hospital wide. Anticoagulants are medicines that help prevent blood clots.
"Our team developed an aggressive protocol for anticoagulation treatment that would escalate based on D-dimer levels," said Dr. Apostolos Tassioupoulos. D-dimer levels are measurements of the protein fragments produced in the body when a blood clot gets dissolved in the body.
"A significant increase in D-dimer levels has been noted in hospitalized COVID-19 patients and there are early reports that have linked higher D-dimer levels to worse outcomes," said Dr. Tassiopoulos. "We believe that the increase in D-dimer levels reflects a more severe prothrombotic state — which means there is an increase in the risk of dangerous blood clots forming in the large or small blood vessels of the body."
Blood clots can lead to life-threatening conditions, such as end-organ function deterioration; deep vein thrombosis (DVT) leading to fatal pulmonary embolism (PE); and life- or limb-threatening thromboses in the arteries causing strokes, heart attacks or amputations in otherwise low-risk patients.
Dr. Tassiopoulos says most patients at Stony Brook enrolled in the anticoagulation clinical trial protocol have been able to come off the ventilator and many have been released from the ICU and are now home recovering, including one patient who was severely immunocompromised with multiple risk factors.
The team has now extended the protocol further into the post-discharge period so that patients are protected from blood clot formation with anticoagulants until they are fully recovered from their infection.
In addition, the team found there is a potential sloughing of the tissues in the lungs of COVID-19 patients on a ventilator for several days.
According to Dr. Rubano the secretions become so tenacious that they can create an obstruction in the endotracheal tube that connects the patient's trachea to the ventilator. His team found early identification of impending complete obstruction can prevent serious consequences and allow for immediate improvement in oxygenation and ventilation. This obstruction occurs, they found, much more commonly in COVID-19 patients.