Southold Town Council Member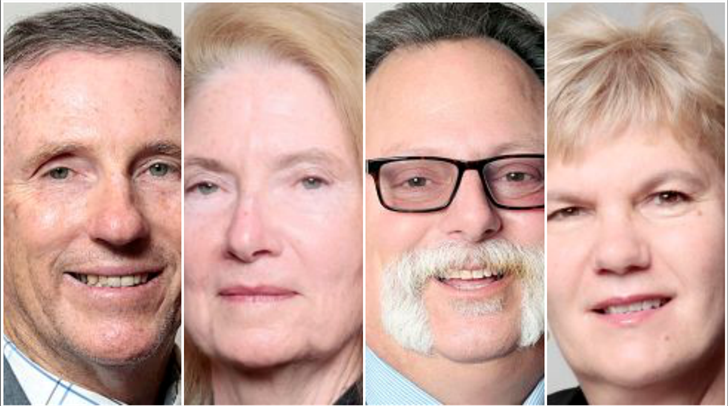 Dinizio, 53, of Greenport, seeking his second term, is running on the Republican, Conservative and Independence party lines. A graduate of Greenport High School, he runs a lawn company and Sterling Communications, a business alarm company. He served on the town's Zoning Board of Appeals for 25 years until he was appointed to fill a vacant town board position in February 2013. He is married and has two children.

Dinizio said he would continue to focus on improving processes to increase efficiency. After helping to overhaul the dispatch room and radio system in police headquarters as the town board's liaison to the police advisory committee, he said his main goal is to get the police department accredited by the state Division of Criminal Justice Services. It's a voluntary process that requires a lot of paperwork to show proper training and procedures are in place, he said. "I find we need to do it. We have a top-notch organization and we need to protect them." Completing the town's master plan also is a priority, he said. "We're 10 years into it and it's got to be completed. It's scheduled to get done next year, and I will make sure it gets done."

Eisenstein, 68, of Mattituck, making her second bid for a town board seat, is running on the Democratic and Independence party lines. She owns Melmar Enterprises, a communications strategy company, and has volunteered as a mediator in Southold Justice Court in a mediation program she introduced there. She earned an associate degree at Suffolk County Community College and holds certifications in mediation and conflict resolution. Eisenstein helped start the Mattituck-Laurel Civic Association and is the group's past president. She is married and has a daughter.

Eisenstein said she would work to maintain the rural character of Southold and plan with strategic growth in mind, as well as looking for ways to help businesses thrive. To deal with the town's traffic issues, she said she would reach out to the state, county and town transportation departments and civic groups to find solutions. "We have a great opportunity to solve that problem in creative ways. We need to bring experts to the table with the community, get some ideas and get them implemented," she said. She pointed to the Mattituck-Laurel Civic Association's participation in a traffic calming project for a problem intersection and suggested that a holistic approach could be applied townwide, with the town, county and state participating in compiling a traffic report, along with public hearings for community input.

Ghosio, 54, of Greenport, is seeking his second term. He is running on the Republican and Conservative party lines. He earned a bachelor's degree in zoology at SUNY Oswego and did graduate work in divinity at Drew University. He is a member of Ducks Unlimited, Peconic Bay chapter, and is president of the church board at Our Redeemer Lutheran Church in Aquebogue. Ghosio was a trustee from 2006 to 2013. He is married and has two children.

Traffic management and adequate parking remain challenges for the town, he said. "The North Fork has always been a destination during harvest season, but now the season is May to Christmas. We're doing the best we can to keep the agricultural feel and small-town ambience," Ghosio said. "We have to keep focused on how to get people here and in and out safely." Among the quality of life issues he would continue to address are controlling the town's deer population — something he said the town's new wildlife manager can work on with area groups — and figuring out ways to deal with noise from helicopters, which he said is among the top complaints to Town Hall from residents.

O'Kane, 61, of Orient, is running on the Democratic and Women's Equality party lines. She is office administrator at a medical office and program director for the North Fork Environmental Council. She has a bachelor's degree in English and French literature from Drew University and attended Columbia Business School's Institute for Not-for-Profit Management's Leadership Development Program. O'Kane is president of the North Fork Audubon Society, a member of the Southold Rotary and a member of the Southold Housing Advisory Commission. She is making her second bid for a seat on the town board. She has a daughter.

O'Kane sees quality of life and environmental issues as key to maintaining Southold's uniqueness. "I'm prepared to help advance that because I served as a community leader for 20 years in the environmental community," she said. She would also focus on making affordable housing available to make living in town manageable for working families, and on finding solutions to transportation concerns. "With the intense traffic delays, it's hard for locals to get around on the weekend," O'Kane said. She likes a model adopted in Maine where there's a public-private partnership with eco-friendly buses to transport visitors and residents, and would look at various models to find a solution that works for the town.