Phillies won't put Harper on 60-day IL; Dbacks lose catcher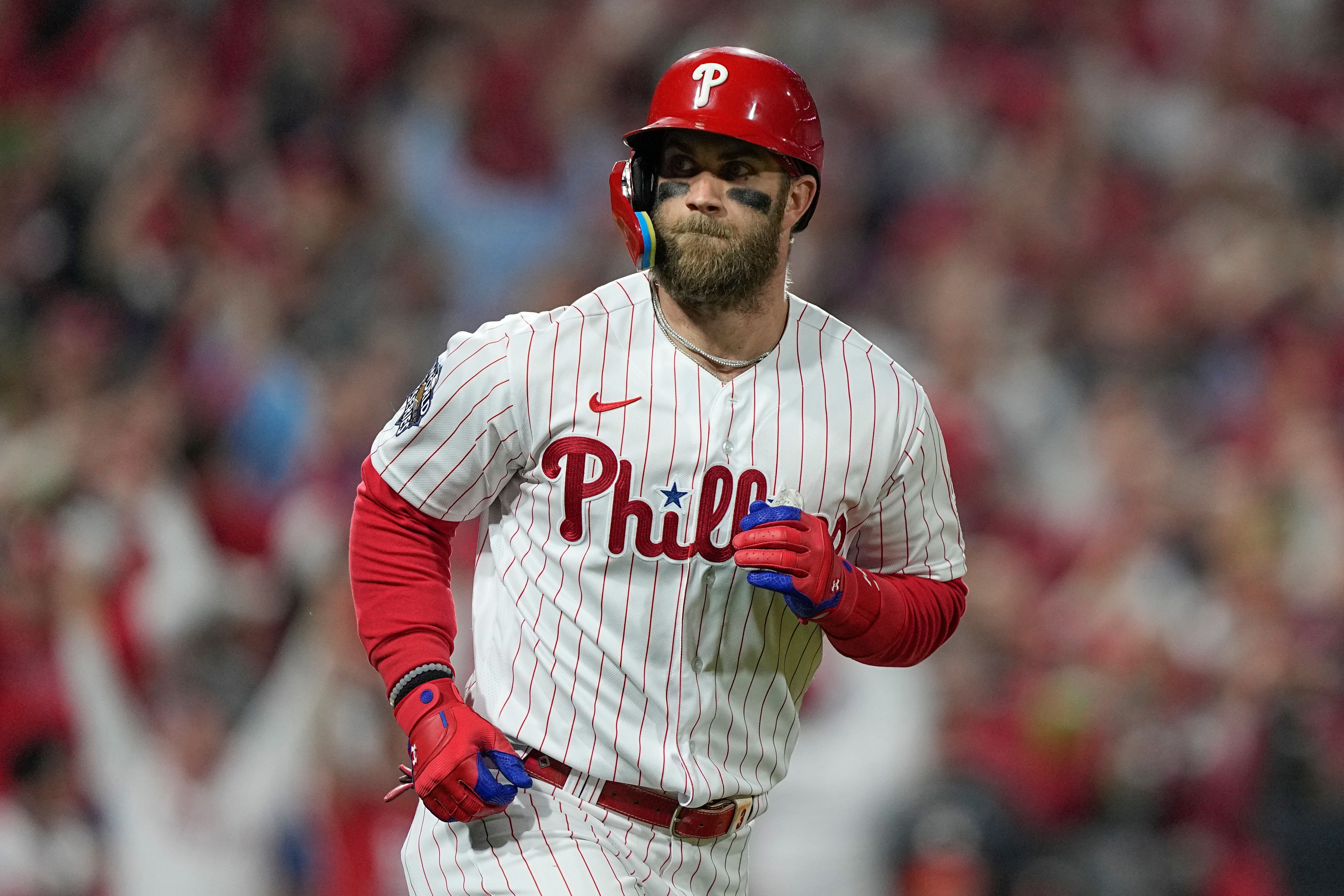 The Philadelphia Phillies are leaving open the possibility for Bryce Harper to return to their lineup much sooner than the All-Star break, but that doesn't necessarily mean a quicker-than-expected return for the slugger from reconstructive right elbow surgery.
While Harper will begin the season on the injured list, Phillies president of baseball operations Dave Dombrowski said Tuesday that the two-time National League MVP will not, for now, be placed on the longer 60-day IL that would mean he couldn't be activated before the end of May.
"I'm not setting any dates, but I'm just keeping that option open rather than closing an option," Dombrowski said from the team's spring training facility in Clearwater, Florida.
After Harper had Tommy John surgery in November, the National League champions said they expected him back in the lineup as their designated hitter by the All-Star break in July. The slugger indicated the same when he got to camp last month, adding that they were going to be smart about his recovery and rehab.
Dombrowski said the timetable hasn't really changed, and that the Phillies could still use the 60-day IL if they need to open a spot on the 40-man roster and know then Harper wouldn't be back before the end of May.
"So it's really not a great revelation other than to just say the reality is, I'm going to just keep our options open, because who knows what happens," Dombrowski said.
Going into the fifth season of a $330 million, 13-year contract with the Phillies, Harper hasn't played right field since last April 16. He had a platelet-rich plasma injection on his elbow in May and became a full-time designated hitter to finish the season, helping lead the Phillies to their first World Series appearance since 2009.
Dombrowski said Harper, who for now is still hitting soft toss in the batting cages every other day, is feeling great and has no pain.
"All I've said, and all I'll continue to say, it'll be before the All-Star break is our hope," Dombrowski said. "But I'm also going to keep the option open that we'll see what happens."
DIAMONDBACKS CATCHER OUT
The Arizona Diamondbacks will go into the season without catcher Carson Kelly, who has a broken bone in his right forearm after getting hit by a pitch in a Cactus League game.
Kelly will likely miss several months, though manager Torey Lovullo wasn't ready to discuss a potential timeline for the catcher's return when announcing the diagnosis Tuesday.
"I always hope for a miracle and that there's going to be an unbelievable recovery," Lovullo said a day after Kelly got struck by a pitch from Chicago White Sox right-hander Gregory Santos.
Gabriel Moreno, the 23-year-old catcher the Diamondbacks acquired in a trade with Toronto during the offseason, could now become their starter. He made his big league debut last season hitting .319 in 25 games for the Blue Jays.
The Diamondbacks also still have Jose Herrera, their backup last season, and P.J. Higgins in their spring training camp.
"We've got to have our conversation and just watch these guys play. So to me, there is no leg up. Everybody's neutral," Lovullo said. "We're throwing everything back into the pool and we're going to start to figure out what to do. We've got some really good options."
SORE CUETO
The Miami Marlins are being cautious with veteran right-hander Johnny Cueto, who is dealing with arm soreness just over a week before the start of the regular season.
First-year manager Skip Schumaker didn't seem concerned Tuesday when explaining why Cueto didn't do his scheduled work on a back field the previous day. Cueto had been set to throw about 70 pitches while simulating four or five innings.
"This is a time where there's no reason to push through this general soreness," Schumaker said. "If he needs another extra day, you give people extra days and that's the value of spring training. You're allowed to do that."
Cueto, back in camp with the Marlins after making a start for the Dominican Republic in the World Baseball Classic, is scheduled for a bullpen session Wednesday. If all goes well, he could pitch in a game for the Marlins on Friday.
The 37-year-old Cueto is going into his 16th big league season. He pitched last year for the Chicago White Sox before his deal with the Marlins that will pay him $6 million this season and includes a $10.5 million team option for 2024 with a $2.5 million buyout.
Cueto allowed 11 runs over 3 2/3 innings in his two spring starts for the Marlins before going to the WBC, where he allowed three runs over two innings in his lone start.
NOLA AND SOTO
San Diego Padres manager Bob Melvin said Tuesday that there is "still a chance" catcher Austin Nola, who two days earlier was hit in the face by a pitch while batting, will get in another spring training game and be able to start the regular season with the team.
Melvin said Nola has a slight fracture to his nose, but no black eye or excessive swelling. The catcher could resume some mild baseball activity by Wednesday or Thursday.
"It's remarkable to me," Melvin said. "I'm shocked."
Melvin also reported that Juan Soto got an MRI on his strained left oblique that has bothered him since a "B" game on Sunday.
"We're thinking it's fairly mild," Melvin said of Soto.
DODGERS OPENER
Julio Urías is lined up to start on opening day for the Los Angeles Dodgers and that's OK with teammate Clayton Kershaw.
Manager Dave Roberts hasn't announced his scheduled starter for March 30 at home against Arizona. But Urías will pitch Friday in a Cactus League game against Milwaukee as he returns to Dodgers camp from participating in the World Baseball Classic with Mexico.
That would put the left-hander on regular rest for the opener and set Kershaw for the second game of the year.
Kershaw, a three-time NL Cy Young Award winner, has made a franchise-record nine opening-day starts for the Dodgers.
"I'm excited for Julio to get to do it," Kershaw said Tuesday. "I'm assuming Julio gets to do it. He deserves it. It is a special thing to get to do it. I think it should be whoever pitched the best the year before and he did that."
The 26-year-old Urías went 17-7 with a 2.16 ERA in 31 starts last season. He was 20-3 with a 2.96 ERA in 2021.
Kershaw, who turned 35 on Sunday, is a nine-time All-Star with five ERA titles. But he's been troubled by injuries in recent years. The left-hander was 12-3 with a 2.28 ERA in 22 starts covering 126 1/3 innings last season.
LORENZEN UNCERTAINTY
The Detroit Tigers are unsure if right-hander Michael Lorenzen will pitch in another spring training game, making his availability for the start of the season uncertain.
Lorenzen, who joined the Tigers on a $10 million, one-year deal during the offseason, is dealing with a left groin strain. He was scratched from his scheduled start Monday.
"Day to day, it's all we know," Tigers manager A.J. Hinch said Tuesday. "We'll see how he feels the next few days. Can't make an assessment until that time goes by and he gets his treatment and we see where he's at."
STEP FOR SOROKA
Michael Soroka is set to make his Grapefruit League debut for the Atlanta Braves on Wednesday, though the 25-year-old right-hander won't be ready to be in their rotation at the start of the season.
Soroka hasn't pitched in the majors since tearing his right Achilles in August 2020 and having three different surgeries. He then had hamstring tightness at the start of spring training.
After being an All-Star as a rookie in 2019, when he was 13-4 with a 2.68 ERA in 29 starts, Soroka tore his right Achilles three starts into the pandemic-impacted 2020 season. He tore that Achilles again the following summer, then was sidelined until throwing in six minor league games last year.