NYPD says it is building rape case against Harvey Weinstein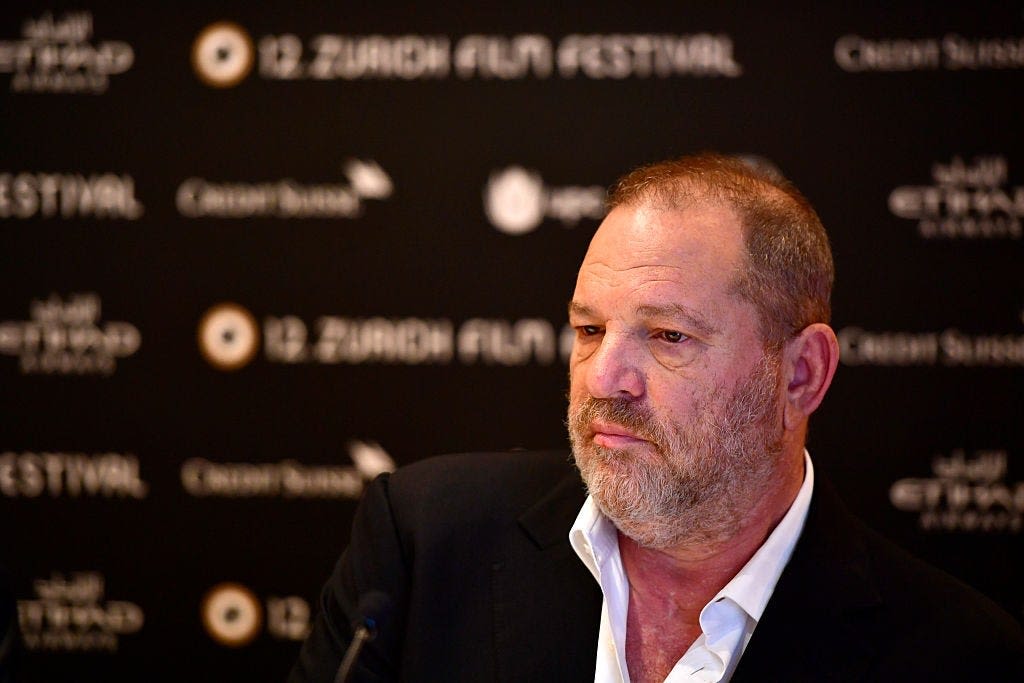 By COLLEEN LONG
Associated Press
NEW YORK (AP) - New York City police said Friday that an actress' rape allegations against Harvey Weinstein are credible, and if the movie mogul were in the state and the accusation more recent, they would move to arrest him immediately.
Chief of Detectives Robert Boyce said investigators have interviewed actress Paz de la Huerta. She has publicly accused Weinstein of raping her twice in her apartment in 2010 and called police about it on Oct. 26.
Boyce said detectives found the "Boardwalk Empire" actress' story believable and that two people corroborated portions of her account. They have subpoenaed people in the case.
"If this person was still in New York, and it was recent, we'd go right away and make the arrest. No doubt," Boyce said of Weinstein. "But we're talking about a 7-year-old case. And we have to move forward gathering evidence first."
The factors that made her story credible included: "The ability to articulate each and every minute of the crime, where she was, where they met, where this happened and what he did," he said.
An email message sent to Weinstein representative Sallie Hofmeister was not immediately returned. Weinstein, 65, has previously denied all allegations of non-consensual sex.
The investigation comes a month after The New York Times published an expose of sexual harassment allegations against Weinstein, leading to his firing from the company he co-founded and his expulsion from the organization that bestows the Academy Awards. Since then, dozens of women have come forward to tell similar tales of harassment or assault.
Investigators in London and California were also looking into allegations made by women, but no other department has suggested allegations could result in criminal charges. New York doesn't have a statute of limitations on rape.
De la Huerta told CBS News that the first rape occurred in October 2010 after Weinstein gave her a ride home from a party, insisted on having a drink in her apartment and forced himself on her. She said the second rape occurred in December 2010 after Weinstein showed up at her apartment. She had been drinking and was not in a condition to give consent, CBS reported the actress said.
Police said she didn't come forward earlier because she was afraid of damaging her career and wasn't sure anyone would believe the allegations against such a powerful Hollywood player.
Weinstein has an apartment and had an office for his production company in New York City, but his exact whereabouts Friday were unknown. Boyce said Weinstein knows police wish to speak with him. Weinstein's representatives have not responded to media inquiries about where he is, but TMZ on Friday posted a photo of a man it said was Weinstein in disguise eating at a Phoenix restaurant.
A person who answered the phone and said he was a manager at the Chestnut Fine Foods & Provisions restaurant in Phoenix said Weinstein dined there Thursday night. The person declined to give their name.
New York City investigators could seek an arrest warrant, which requires a court order, or hand the evidence over to prosecutors to put the allegations to a grand jury to seek an indictment. Either way, they need collaboration from Manhattan prosecutors, who put the brakes on a 2015 investigation into Weinstein.
Ambra Battilana Guiterrez told police the movie magnate touched her thigh, grabbed her breasts and asked "are these real?" during a meeting in his Manhattan office on March 27, 2015. Police investigated it as a possible case of forcible touching, a misdemeanor with a two-year time limit for bringing charges under New York law.
Investigators conducted a sting, listening to a call between the two and getting the Italian model to record an in-person encounter in which Weinstein alternated between trying to persuade her to come into his hotel room and apologizing for his conduct at his office.
No charges were brought, because the district attorney concluded they were not supported.
After the recent flood of allegations against Weinstein brought new scrutiny of that decision, Manhattan District Attorney Cyrus Vance's top assistant prosecutor said that police had arranged the 2015 sting without prosecutors' knowledge and that there were other "proof issues." The NYPD pushed back, saying it had used established investigative techniques to present prosecutors with a recording that corroborated Gutierrez's complaint, plus other statements and information.
But Boyce said detectives were working collaboratively with the district attorney's office on this case. Vance's office said a senior prosecutor has been assigned but didn't comment further.
The Associated Press does not typically identify people who say they are victims of sexual assault unless they speak publicly, which de la Huerta and Guiterrez have done.
On another front, a New York City AIDS charity, amfAR, confirmed on Friday a report that it has received a subpoena from federal prosecutors investigating Weinstein's involvement in 2015 fundraising event.
The New York Times reported that authorities are trying to find out if fraud occurred when $600,000 raised at the auction went to a theater that had staged a musical produced by Weinstein. A spokeswoman for Weinstein declined to discuss the inquiry, but said he had raised tens of millions of dollars for amfAR in the past several years, the newspaper said.
The charity said in statement that it is not a target of the probe and is cooperating with investigators.
The U.S. attorney's office in Manhattan declined to comment to The Associated Press.
___
Associated Press Writer Jennifer Peltz and Tom Hays in New York and Anthony McCartney in Los Angeles contributed to this report.
(Copyright 2017 The Associated Press. All rights reserved. This material may not be published, broadcast, rewritten or redistributed.)