North Shore residents lament water rate hike amid shortage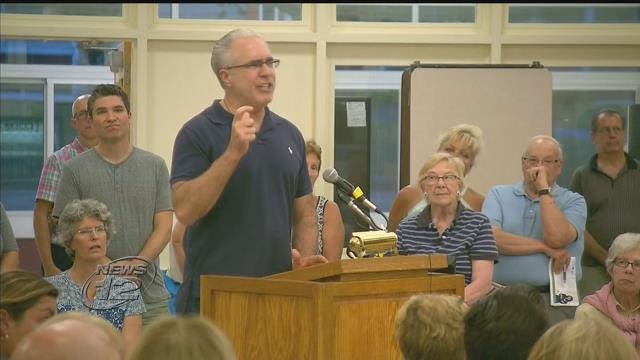 New York American Water customers on the North Shore say their bills have gone up after they were recently warned about a possible water shortage.
Residents in Sea Cliff, Glen Head, Glenwood Landing and Old Brookville are being asked to refrain from watering their lawns, washing their cars and filling their swimming pools.
Upset water customers packed a meeting in Glen Head Wednesday night to voice their frustrations to New York American Water and local lawmakers. Among them was 90-year-old Janet Pucciarelli, of Glen Head, who says her latest water bill came to a whopping $750, which she says she can't afford.
"At age 90 you live on little pension, you live on Social Security," she said to applause.
Fellow Glen Head resident Agatha Nadel says her June bill was almost $707 and that there's no way her family used that much water.
As News 12 has reported, residents say New York American Water raised rates by 62 percent in June. The company says the increase was due to skyrocketing property taxes.
"Only about 28 percent of what they're paying is going towards us operating, maintaining and investing in the system and the other 72 percent is going toward property taxes," says Carmen Tierno, of New York American Water.
Community leaders say they're looking at possible solutions that include buying out New York American Water and outsourcing to another municipality. They're also asking legislators in Albany to work on a bill to eliminate the high taxes and surcharges they pay.
"Our local, county, state politicians need to step up to the plate; rectify this mess that was created decades ago," Nadel says.
Local and state lawmakers say they will work on the water bill problem, but they warn there's no easy fix, and it may take years to resolve. Residents say they cannot afford to wait.