Suffolk County Legislature District 9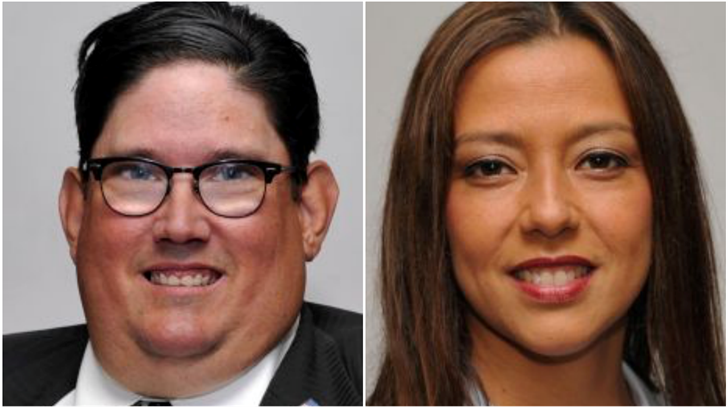 King, 45, of Central Islip, is running on the Republican and Conservative party lines. He is an advocate for the disabled, serving on the Suffolk County Disabilities Advisory Board and the Town of Islip Disability Advisory Board. King received a bachelor's degree in social work from SUNY Empire State College. He is the first disabled graduate of the Suffolk County Police Department Civilian Academy, and is the second vice president of the academy's alumni association. He is married.

King said he would seek to rescind fees levied by the county for various offenses, especially tickets for traffic violations caught by red light cameras. King said he believes the primary purpose of the cameras is not to promote safety but to bring in revenue for the county. "Those cameras are,in my eyes, a moneymaker," he said, comparing the program to a form of taxation. King said he would also like to expand the Police Department Civilian Academy to make it or programs like it available to young people, as well as to Spanish speakers through a Spanish-language version. The purpose of the expansion would be to create more dialogue and understanding between the police department and the communities in which they work. King said he would like to see stiffer enforcement of handicap parking rules to ensure that those using handicap spots without the requisite permit are ticketed. "It just seems like people are parking wherever they want to," he said. Additionally, King said he would like to make more facilities in the county compliant with the Americans with Disabilities Act. "Just make it equal and fair for everybody," he said, "Both people with disabilities and able-bodied people."

Martinez, 40, is running for re-election on the Democratic, Independence and Women's Equality party lines. She is chair of the legislature's Education and Human Services Committee, vice chair of the Budget and Finance Committee, and a member of the Health, Public Safety, Ways and Means and Veterans committees. She received a bachelor's degree in history from Binghamton University in 1999, a master's degree in secondary education from New York University in 2000, and an administrative degree in school and district leadership from Stony Brook University in 2008. She lives in Brentwood.

Martinez said she would like to improve the resources available to her constituents and make them more accessible. She cited a resource center in Central Islip that she helped establish, where residents can meet with representatives from various government agencies, which she would like to expand to address issues faced by more groups, such as seniors and veterans. She also said she would like to expand summer and after-school youth programs, and increase funding for summer youth employment opportunities in county offices. To address gang violence, Martinez hopes to add police officers and patrols, and increase funding for anti-violence programs in schools. If re-elected, Martinez said she would introduce legislation to turn an executive order into a law requiring a range of county offices to have interpreters available to help non-native English speakers navigate county government. Noting the many languages spoken in Suffolk County, Martinez said such a law "would just allow those individuals to feel a little more comfortable in speaking either to county workers or in any county office."