Suffolk County Legislature District 4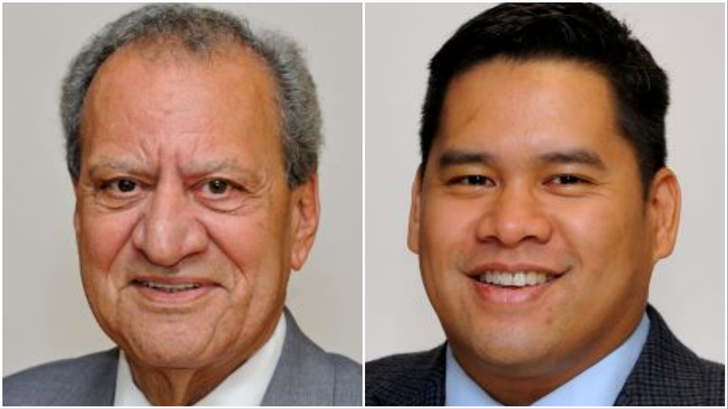 Thomas Muratore - C, IN, R

Muratore, 72, seeking his fifth term as a county legislator, also is running on the Conservative and Independence Party ballot lines. He spent 34 years as a Suffolk County police officer, retiring in 2007. During that career, he was vice president of the Suffolk Police Benevolent Association for 19 years. He graduated from Central Islip High School and received a bachelor's degree from New York Institute of Technology in 1963. He and his wife live in Ronkonkoma.

Muratore said the county needs to cut spending to reduce the structural budget deficit, roll back unpopular fees and suspend the red light camera program until an independent review determines whether the program is working at intersections where data show accidents have increased. He said Suffolk needs to work to combat gangs and opioid abuse and should initiate education programs in middle school to keep youngsters from getting involved.

Pascual, who is making his first run for elected office, is running on the Democratic, Working Families and Women's Equality party lines. A lifelong Suffolk resident, Pascual, 36, was raised in Dix Hills and has lived in Farmingville for two years. He graduated from Binghamton University and received his law degree from Vermont Law School. He worked for five years as a New York City administrative law judge hearing Section 8 rent and fraud cases. He works for J.P. Morgan-Chase Bank on investigations into financial crime, money laundering and terrorism financing. In the New York Army National Guard, Pascual has risen through the ranks from specialist to first lieutenant over the past six years. He is married.

Pascual wants to bring his law enforcement experience to the Suffolk County Legislature to support and improve police efforts to gather intelligence in the fight against gangs, drugs and terrorism. He also said the county must provide improved access to drug treatment. Pascual said Suffolk must work with its industrial development agencies to spur more business, and with the community college and local universities to provide courses to create a workforce that can develop new technologies so the county can avoid raising fees and taxes. Pascual also called for increased penalties for illegal waste dumping and better planning to reduce storm water runoff.