Suffolk County Legislature District 18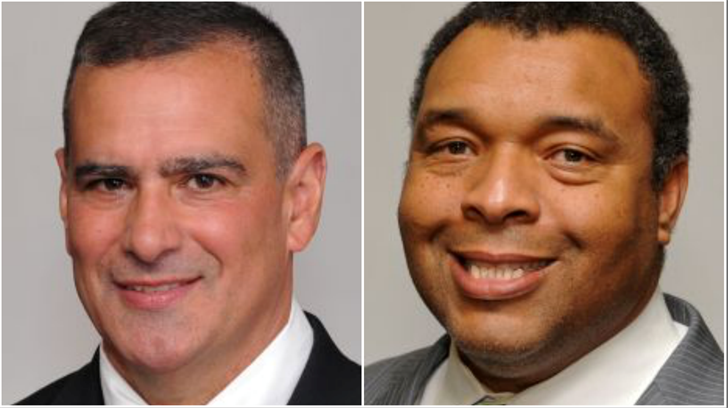 Florio did not respond to requests for an interview.

Spada, 55, of Huntington Bay, is running on the Republican, Conservative, Independence, Reform and Stop the Fees party lines. Spada is deputy mayor of the village of Huntington Bay and serves as police commissioner. He is also an assistant chief with the Halesite Fire Department. A graduate of Adelphi University with a degree in journalism and communications, he is a technical director for the Madison Square Garden Networks. He is married and has two children.

Spada said it's critical to stop rising taxes and fees, which make it harder to live comfortably on Long Island. One of the "biggest issues would be repealing the $92 million in fees that the county legislature put in the last two years," Spada said. "We need to stop spending money we don't have." As deputy mayor of a village, he said, he has been part of a team that has introduced no tax increases to residents over the past five years, while at the same time increasing services and completing infrastructure projects.

Spencer, 50, of Centerport, seeking his fourth term since first being elected in 2011, is running on the Democratic, Working Families and Women's Equality lines. He is a pediatric ear, nose and throat surgeon, who also treats adults. He holds a bachelor's degree in chemistry and religious studies from Wesleyan University and a medical degree from the University of Connecticut. Spencer is chairman of the legislature's Health Committee and vice chairman of the Ways and Means Committee. He is past president and an executive board member of the Suffolk County Medical Society. He is married, with three children.

In office, Spencer has focused on several issues for the county, including the opioid problem, gang violence and water quality issues in the Long Island Sound. "The biggest thing that I'm just profoundly saddened by is the MS-13 and opioid gang and drug issues," Spencer said. "I want to continue to bring in more federal and state resources" for those problems. Spencer worked to spread the Narcan program countywide to combat drug overdoses, but he said the next step is a program that would help opioid overdose survivors access treatment programs to fight addiction. "There's way too many repeat victims," he said. Spencer said it's also critical to rein in budget spending and reduce the county's deficit. Both are quality-of-life issues for the community he serves, he said. "My overall vision is to continue to build economic prosperities for families and young people," Spencer said. "To build affordability so young people can come back here and live here and find a profitable job."