Suffolk County Legislature District 17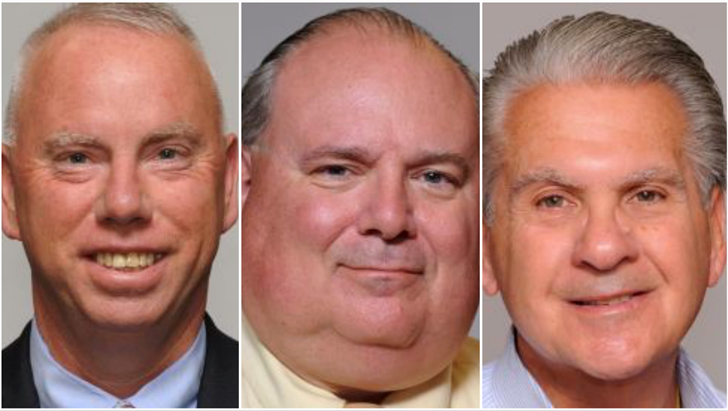 Background
Donnelly, 51, of Deer Park, is running on the Democratic, Conservative, Working Families and Independence party lines. He is a two-term Babylon Town councilman, and served on the town planning board from his appointment in 2009 to his election to the town board in 2011. He has been with the Deer Park Fire Department for 33 years, previously serving as captain of Engine Company 2 and fire commissioner for 10 years. He was also a NYPD officer for three years. Donnelly received a bachelor's degree in general studies and public administration from St. Joseph's College. He is married, with three daughters.
Issues
Donnelly said he wants to continue addressing quality of life issues that he's taken on while on the town board, including gang issues and zombie houses. He also said it's critical to create a business-friendly environment and policy that will attract industries to the Route 110 corridor. He said he wants to help create long-term solutions to reduce the county's deficit. "I'm a fiscal conservative," he said. "The most important thing is meeting the tax cap and working toward deficit reduction."

Schuon, 55, of North Babylon, is running on the Reform Party line. He is a web developer who has lived in Suffolk County for 19 years. He also worked for many years in the printing industry doing electronic troubleshooting. He studied computer science at SUNY Potsdam. Schuon is married, with one child. 

Schuon said he is running on a platform of government accountability and the need for independent oversight of county government. "The current Suffolk political structure does not serve the people of Suffolk County, it only serves the two 'major' political parties that have a stranglehold on Suffolk's politics and elections," he said in an email. "This is completely unacceptable. Our people are leaving, due to the high costs, taxes, regulations, and fees that the legislature has imposed, because it keeps spending without limit." If elected, Schuon said he would focus on re-establishing the credit of Suffolk County by ensuring the government spend no more than it takes in. He said this would stabilize taxes. "We need to stop harassing the people of Suffolk with more fees," he said. Schuon also called for treating drug addiction as a medical issue rather than a criminal one, and for a two-year term limit on all elected county offices.
Background
Troetti, 63, of Melville, is running on the Republican Party line. He is the president of Galanz Americas Limited Corp., a subsidiary of a Chinese appliance company. He has worked in consumer electronics for most of his career, including 23 years with Panasonic and five years with Sharp. He graduated from Hofstra University with a bachelor's degree in business administration. Troetti is married, with two children. 
Issues
Troetti said he is concerned about urbanization, and made the theme of his campaign preserving the Suffolk County lifestyle. He said, if elected, he would support legislation that would help create jobs on Long Island. He opposes the county's current spending trajectory. "We are in deficit," he said. "We're heading in the wrong direction the way we're spending money." Troetti also said he opposes the current fiscal approach of using taxes and fees to make up for waste. He said he would like to put an end to the red light camera system in Suffolk County, saying the contract was flawed and drafted in favor of the manufacturer of the red light cameras to the detriment of the county and its taxpayers. He is opposed to other fees, including the costs the county imposes on residents for refinancing their mortgage. "It's a combination of fees and it's a combination of foolish contracts," he said.