Giants trade, move up to 24th overall, take CB Banks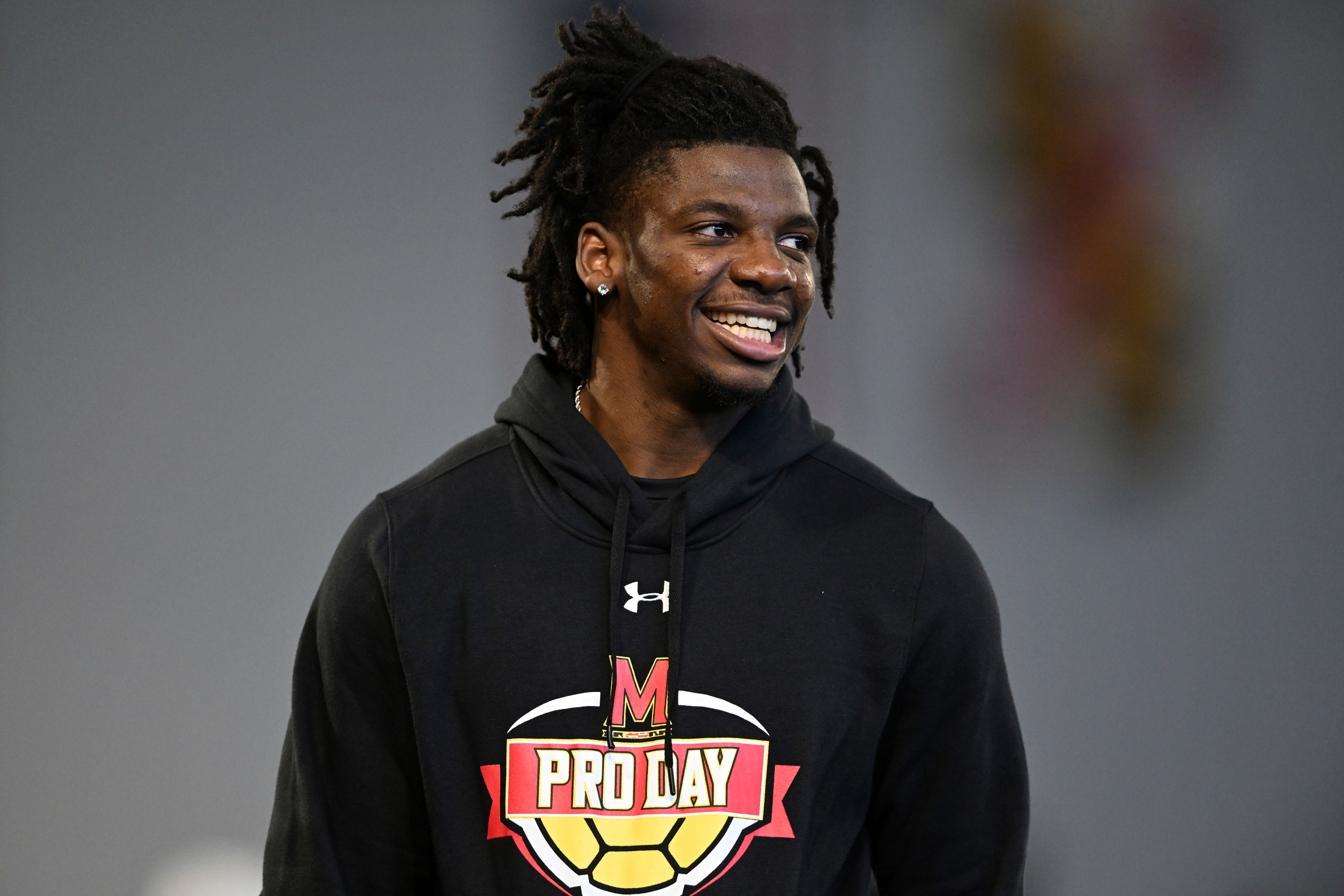 Growing up in Baltimore, Deonte Banks got to see a lot of Wink Martindale's defenses watching the Baltimore Ravens.
Banks is going to get a first-hand look at the intricacies of Martindale's aggressive schemes after being taken by the New York Giants with the 24th pick overall in the NFL draft on Thursday night.
After a run on wide receivers and cornerbacks, the Giants made a late deal with the Jacksonville Jaguars to move up from 25th to 24th and grabbed Banks, one of the last cornerbacks general manager Joe Schoen felt comfortable taking in the round.
"It got a little tense," Schoen said of seeing four straight receivers and two cornerbacks taken between the 16th and 23rd picks.
Banks is a physical corner who likes to mix it up and get involved against the run. He will get an opportunity to start right away opposite shut-down cornerback Adoree Jackson.
"He's played a lot of press and man to man," coach Brian Daboll said. "We play a variety of defenses with our system. But we play a heavy amount of man-to-man coverage and press. He's strong, got good length and quickness and speed."
In other words, he'll fit the system.
Banks met with the Giants coaching staff several times before the draft and had dinner with them. He said he understands the system and he believes he will be able to fit in his first season.
"I like it, I love it," Banks said of the system, adding "Yes, I did. Yes, I did," when asked about seeing the Ravens use Martindale's game plans.
Banks said he felt at home with the Giants in meeting with them. He added after the run of wide receivers he felt closer to wearing a blue jersey.
"I knew if I made it to No. 25 it was going to be the Giants," said Banks in a telephone interview from Maryland.
Banks said he modeled his game after Jalen Ramsey and Marshon Lattimore.
"I'm a lockdown corner," he said.
Banks had nine pass breakups and an interception, while not allowing a reception of more than 30 yards when targeted during his redshirt junior season in 2022. An Big Ten honorable mention, Banks had 38 tackles (25 solo) for a defense, which allowed its fewest number of points per game and total touchdowns since 2010. Banks was outstanding at the NFL Combine, running a 4.35 40-yard dash and posting a 42-inch vertical jump and a broad jump of 11 feet, 4 inches.
"The Giants are getting a truly special player and person," Maryland coach Michael Locksley said in a statement posted on the school's website. "I know Deonte has been dreaming of this moment ever since being a kid growing up in Baltimore. I've seen firsthand the hard work and tireless effort he's put into becoming a great player and teammate. I'm so proud of him and elated for his entire family."
The Giants (9-7-1) made the playoffs for the first time since 2016 last season. They beat the Minnesota Vikings in the wild-card game before losing to the Philadelphia Eagles in the divisional round.
___