Garland scores 32, Cavs beat Knicks 107-90 to even series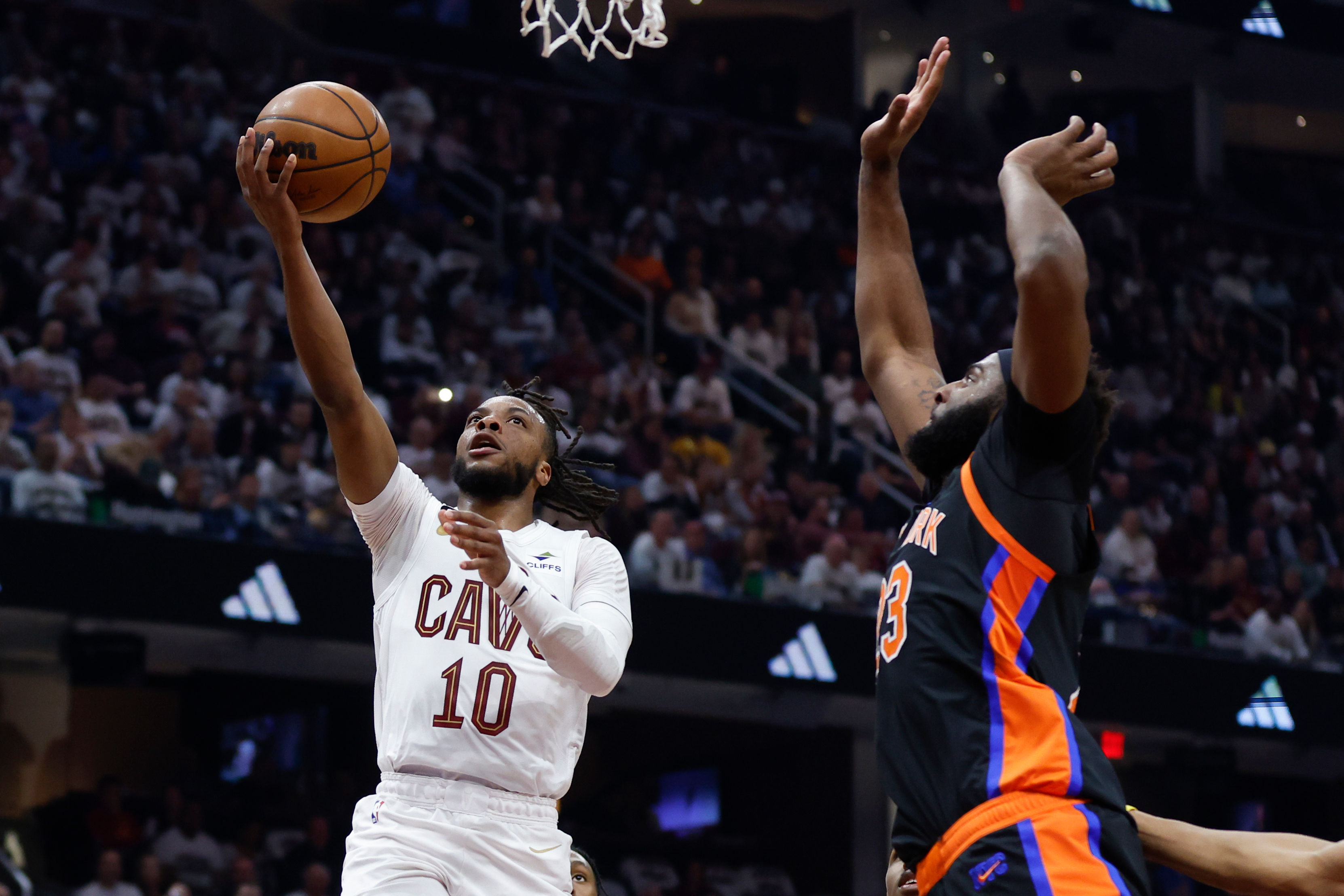 Darius Garland scored 32 points, 26 while setting an aggressive tone for Cleveland in the first half, and the Cavaliers evened their Eastern Conference playoff series against New York at one game apiece with a 107-90 victory over the Knicks on Tuesday night.
Garland scored 15 points in the second quarter, when Cleveland tightened down defensively and dominated New York, forcing nine turnovers on the way to opening a 20-point halftime lead. The Cavs pushed their lead to 29 in the fourth.
Cleveland's blowout ended with a hard foul.
New York was still down 23 and playing its starters when Julius Randle was hit in the air by Cavs center Jarrett Allen on a dunk with 2:22 left. Randle fell hard to the floor, and after getting up, exchanged words with several Cavs players and coach J.B. Bickerstaff.
Caris LeVert scored 24 points off the bench and Donovan Mitchell added 17 and a career playoff-high 13 assists for the Cavs, who were much more physical than in Game 1 and went toe to toe with the Knicks.
Randle scored 22 points and Jalen Brunson added 20 for New York, which got the split it needed in rowdy Rocket Mortgage FieldHouse to head home for Game 3 at Madison Square Garden on Friday night.
The Cavs matched the Knicks' physicality from the outset, winning the 50/50 balls that went to New York in the opener. And if handling Cleveland's new-found toughness wasn't enough of a challenge, the Knicks bashed each other.
During one sequence in the second quarter as the Cavs were beginning to pull away, Randle turned to run up the floor and accidentally smacked Brunson in the face, causing his teammate to recoil in pain.
Garland inflicted his own damage.
The 23-year-old was timid in his playoff debut, failing to take a shot in the fourth quarter and finishing with just one assist in 43 minutes on Saturday. Following practice Monday, he had a deep conversation with Mitchell, who urged his young teammate to be more forceful.
Garland got the message.
He drained a pair of 3-pointers during a 13-4 run in the second quarter and then showed no fear when he drove to the basket and tried to dunk over 7-foot Knicks center Isaiah Hartenstein, who got away with goaltending while fouling Cleveland's guard.
The Cavs bench erupted at seeing Garland's bravado, and Mitchell slapped his hands before urging the sellout crowd to recognize him. The moment seemed to rattle the Knicks as New York's Josh Hart was called for a technical foul.
After the Cavs were pushed around and badly outrebounded in Game 1, Bickerstaff wanted his team to be the early aggressor.
"I'd like to see our guys being the ones that are putting a body on somebody and creating some contact and making some collisions happen and then see what happens from there," he said.
Cleveland fell behind by eight early, but sparked by Garland's two 3-pointers, the Cavs went on a 15-3 run and took a 25-22 lead after one.
TIP-INS
Knicks: Didn't score a field goal in the first 5:13 of the second quarter. ... Randle had two extended conversations in the second with referee Tony Brothers. ... Josh Hart was ineffective while playing on a sprained left ankle. He scored just 5 points after getting 17 in Game 1.
Cavaliers: Scored 19 points off turnovers in the second quarter. ... F Danny Green made his first appearance in the series, scoring 3 points in 20 minutes. His 315 career playoff 3-pointers are ninth most in NBA history. ... F Isaac Okoro picked up two early fouls and played just three minutes. ... Garland's 26 points in the first half were three shy of the club playoff record for a half held by LeBron James (2018). ... Cleveland snapped a five-game playoff losing streak.
UP NEXT
The Knicks host their first playoff game since June 2, 2021, on Friday. New York is 3-1 at home in the playoffs against Cleveland.