Dog Day Fridays for April 27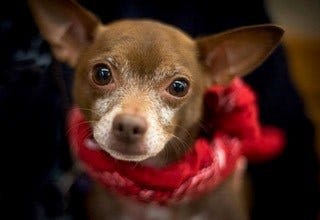 Little Miss Clara
is an independent sweetheart. She is a chi/terrier mix, about 3-4 years old and house trained. She loves her walks and she plays well with others, especially her foster sister Montana. She loves to sit with you and just relax. She is quiet and low maintenance yet also a fire ball of energy.
Montana
is a lab Sheppard mix and approximately 2 years old. She is truly a gentle giant. This funny girl thinks she is a little dog. She plays well with others, big and little dogs and is house trained. Montana loves long walks and to rest her head on your lap. 
Olivia
is a chi terrier mix. She's approximately 6 years old. She's fairly low energy and very sweet.
Pita
is an adult chi mix approximately 5 years old. She is about 8 pounds, housebroken, sleeps through the night and crate trained. Pita is low energy and loves to cuddle, she is always looking for a lap to snuggle on. She also loves to run around and play with her foster brother and sisters. Pita is good with children, other dogs and cats.