DA Sini announces 'largest opioid seizure in Suffolk history'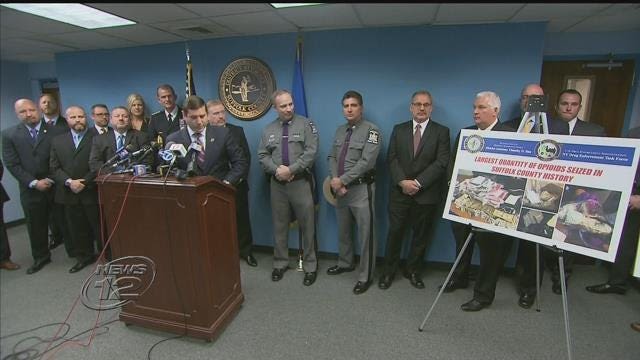 Suffolk District Attorney Tim Sini says officials have made the largest opioid seizure in the county's history.
U.S. DEA officials say they seized nearly 90 pounds of opioids, including fentanyl and heroin, along with $80,000 in cash Wednesday in Wyandanch. Sini says the operation was part of a joint investigation involving state and Suffolk police.
William Velasquez, 38, was arrested in the drug bust and charged with drug trafficking. Officials say the drugs and cash were found on Velasquez, in his Wyandanch apartment and in his car.
Officials say police received word that a drug deal was going down on Merritt Avenue in Wyandanch Wednesday afternoon. When police arrived they say they saw Velasquez talking on his cellphone. When they approached him, police say he ran.
"This is not an individual who's selling drugs to customers. He's a drug dealer who's selling to other drug dealers," says Sini.
Sini says more than 1 million doses of fentanyl were seized.
"The number of lives that were potentially saved by this operation is tremendous," says the district attorney.
Officials say Velasquez is from El Salvador and is in the U.S. illegally. They say they will be looking into any possible gang ties he may have.
Velasquez was held on $2.5 million bail.