Couple frees raccoon from peanut butter jar with cooking oil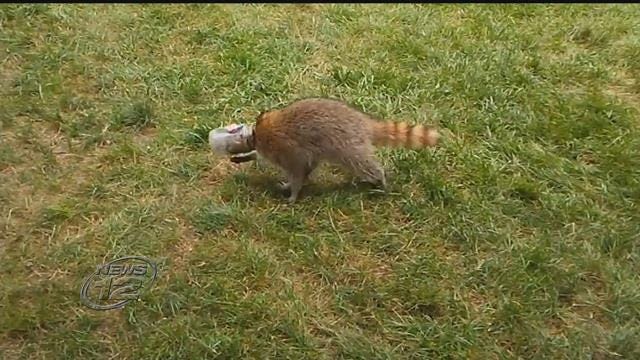 A hungry raccoon got into a jam Sunday after getting his head stuck in a peanut butter jar while scavenging for food in Farmingdale.
The homeowner noticed the critter blindly running around his backyard and called for help.
Cathy Horvath and her husband, Bobby, are both wildlife rehabilitators from Massapequa who have 25 years of experience rescuing animals from sticky situations.
"It was in a tight spot under some bushes," Bobby says. "I used a piece of equipment called a snare pole. It's piece of equipment with a noose on the end of it and I was able to safely pull him out from under the hedges."
While Bobby restrained the animal, Cathy poured cooking oil over the raccoon, which helped free the peanut jar from its head in a jiffy.
"It popped right off. He was crying in the jar and he was so upset and his head was all wet because he was sweaty in there," Cathy says. "It was sad but it came off really easy, and then he was just able to run away, and hopefully he won't go in the garbage anymore."
The Horvaths say it's not uncommon for raccoons and other scavenger animals to get stuck in food jars because people often toss them in the garbage without lids on.
"When an animal sees a good meal, an opportunity for a good meal, he sticks his head in there," Bobby says.