Celtics remove interim tag, name Joe Mazzulla head coach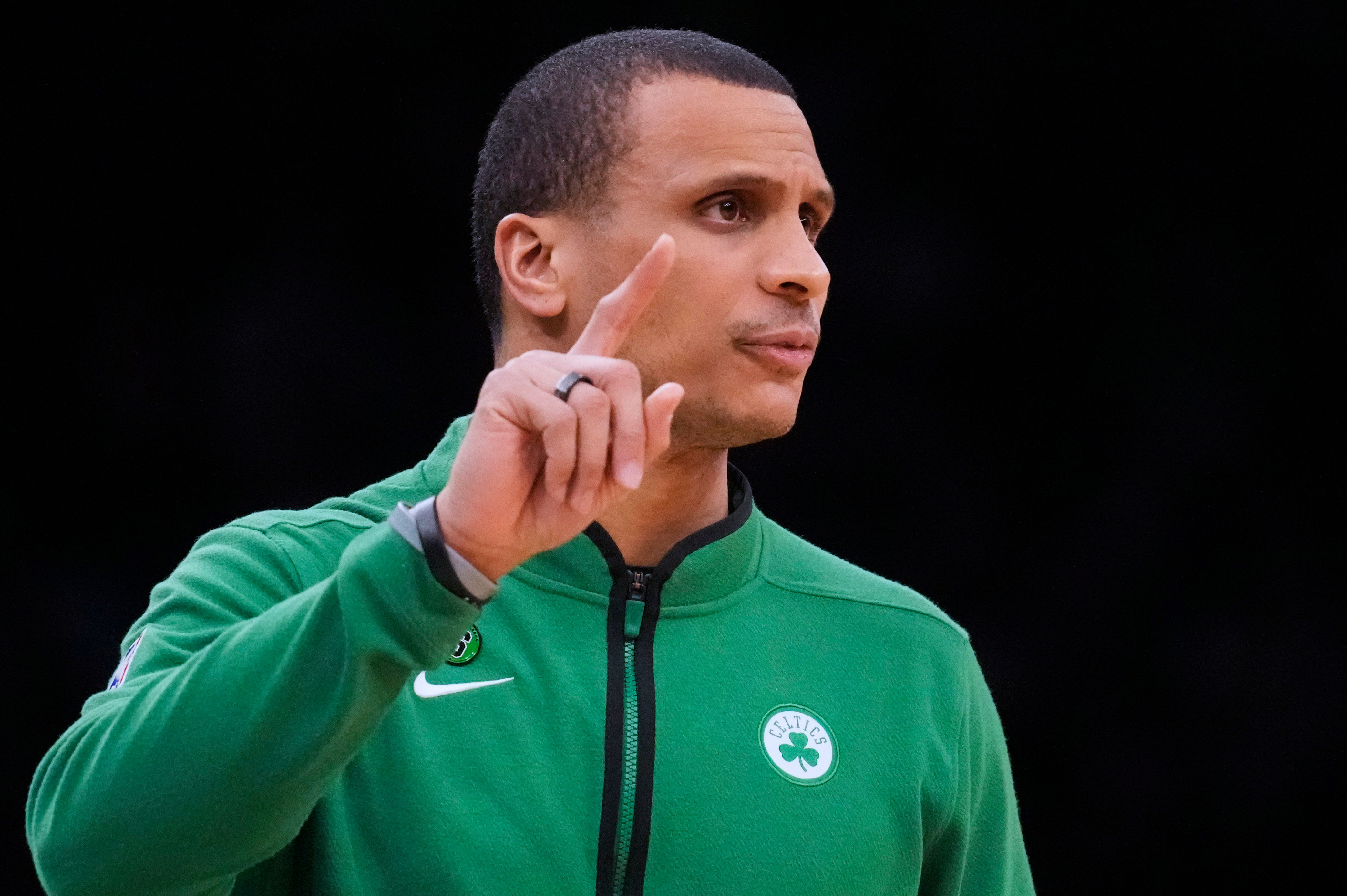 The Boston Celtics named Joe Mazzulla their full-time head coach on Thursday, removing the interim tag he has held throughout the season after stepping in for Ime Udoka.
Udoka initially was given a yearlong suspension before training camp for having an inappropriate relationship with a woman in the organization. The 34-year-old Mazzulla, an assistant under Udoka last season, will now replace his former boss, who will not return. Mazzulla is the NBA's youngest head coach.
Terms of his new deal were not immediately released, but the team said his promotion does include a contract extension.
"As he has shown, Joe is a very talented coach and leader," Celtics president of basketball operations Brad Stevens said in a statement. "He has a unique ability to galvanize a room around a mission. We are thankful for the work he has done to help get us to this point and excited that he has agreed to lead us into the future."
The Celtics beat the Pistons 127-109 on Wednesday night and head into the All-Star break leading the Eastern Conference with a 42-17 record. Mazzulla and his staff of assistants will coach Team Giannis — the team that will be captained by Milwaukee's Giannis Antetokounmpo — in the game Sunday at Salt Lake City. Jayson Tatum and Jaylen Brown also garnered All-Star selections.
Mazzulla, who is from Johnston, Rhode Island, was recognized as the Eastern Conference Coach of the Month for games played in October and November after leading the team to a league-best 18-4 record (.818).
He said Wednesday night that being on top of the East at the unofficial halfway point of the season is something he would take the time to appreciate over the All-Star break — enjoy it while also keeping an eye toward finishing the second half just as strongly.
"It's there, you can't run away, you can't ignore it," he said. "I do think there is a comfort level knowing that. But that was kind of my message to the guys. That at the same time you can't be too comfortable because when we get back, it picks right up. We have a responsibility to the work we put in to this point of the season to raise our level and play even better than we have been. So that's not the ultimate goal, but it's there and you have to acknowledge it and you have to embrace it."
Udoka, a longtime assistant who had been in his first NBA head coaching job, led Boston to a 51-31 record last season — going 26-6 in the final 32 games. The Celtics then beat Brooklyn, Milwaukee and Miami on the way to the NBA Finals, where they lost to the Golden State Warriors in six games.
But before training camp, the Celtics banned Udoka for a full season over what two people with knowledge of the matter said was an improper relationship with a member of the organization. The people spoke to The Associated Press on condition of anonymity because the team did not reveal that detail publicly.
Despite what Mazzulla and the team have acknowledged have been extraordinary circumstances, Boston has emerged from that preseason cloud with the NBA's best record and as a team looking capable of capitalizing on its current championship window.
"All things considered, everything that we've went through this season as a team with coaching changes and guys getting injured, missing games and being in and out of the lineup. ... Overall, it's been a hell of a start," Tatum said after the Pistons' win.