Bruins reclaim home-ice edge, top Panthers 4-2 in Game 3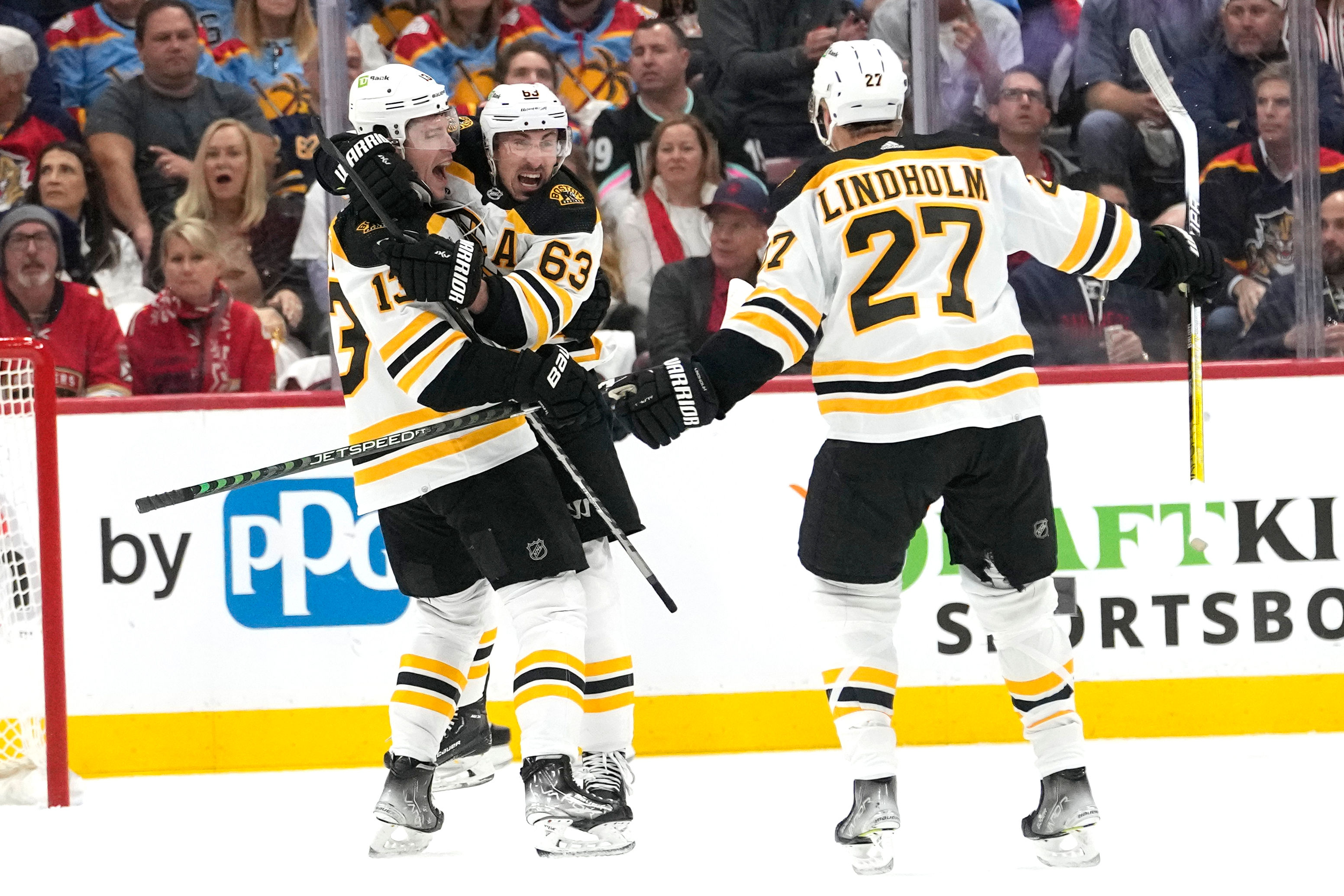 Taylor Hall had a goal and an assist, Linus Ullmark stopped 28 shots and the Boston Bruins topped the Florida Panthers 4-2 in Game 3 of their Eastern Conference first-round series on Friday night.
Charlie Coyle, David Pastrnak and Nick Foligno also had goals for Boston, which reclaimed home-ice advantage and took a 2-1 lead in the series. Dmitry Orlov had a pair of long outlet passes that became assists for the Bruins.
Alex Lyon stopped 23 of 26 shots for Florida, the Pastrnak goal with 11:28 remaining chasing him and having Florida send in Sergei Bobrovsky. And that suggests the Panthers have a big decision to make on a starting netminder before Game 4 in Sunrise on Sunday afternoon.
Gustav Forsling and Sam Reinhart had goals for Florida, which didn't get anything past Ullmark until 5:19 remained. Boston improved to 50-3-0 this season when allowing no more than two goals.
The Bruins were again without captain Patrice Bergeron, out with an upper-body injury. He won't play in Game 4 either, with the Bruins believing he will be ready to play when the series returns to Boston for Game 5 next week.
Florida is built to let shots fly. There have been three teams in NHL history to take more than 3,000 shots in a season - the 1970-71 Bruins are one of them, and the other two are the 2021-22 Panthers, and the 2022-23 Panthers.
That makes what Boston did even more impressive than it looked on the stat sheet.
The Bruins held Florida to four shots in the second period - matching the Panthers' fourth-lowest total for any of their 254 periods this season to that point. And while completely clamping down on the defensive end, Boston turned a 1-0 lead into a 2-0 edge.
Marchand sent a wobbling puck toward the net from the right point, and Coyle - positioned in front of the net - chopped down at it as it sailed toward the goal. The puck bounced off the ice and past Lyon at exactly 6:00 of the second.
Pastrnak got the second of the long Orlov assists after getting behind the defense to beat Lyon for a 3-0 lead, and Foligno made it 4-0 by tipping a pass by Bobrovsky with 8:15 left.
The Bruins - as would be expected from a No. 1 seed coming off a big home loss - came out flying and controlled long stretches of the opening period.
But it was a rather innocuous-looking play that gave Boston a 1-0 lead after the opening 20 minutes. Hall was along the right boards when he took a long clearing pass from Dmitry Orlov, controlled the puck and fired a shot from just inside the blue line.
It got over Lyon's glove, and just 2:26 into the contest Boston had the lead.