Biden: Republicans show 'phony populism,' 'fake nationalism'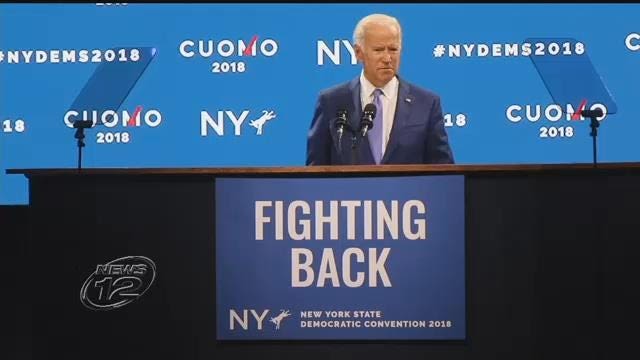 (AP) - In a forceful rebuke to President Donald Trump and other Washington Republicans, former Vice President Joe Biden told fellow Democrats in New York on Thursday that the GOP has abandoned traditional American values in the name of "phony populism" and "fake nationalism."
Speaking at the party's New York state convention on Long Island, Biden urged his party to stand for tolerance and efforts to expand education and economic opportunity.
"This is not your father's Republican Party," Biden told the audience. "They are not who we are. They are not who America is. What they are doing is sending a vision of America around the world that is distorted. That is damaging. That is hurting us... this phony population, this fake nationalism.... It's time to say 'no more.'"
Biden's remarks came during a speech endorsing Gov. Andrew Cuomo's bid for a third term. Cuomo easily won his party's nomination Wednesday but still faces a likely primary challenge from "Sex and the City" star and liberal activist Cynthia Nixon. Dutchess County Marc Molinaro won the GOP nomination for governor at that party's convention Wednesday in Manhattan.
Cuomo, who like Biden is considered a potential White House contender, followed Biden with his own scorching criticism of Trump and the Republicans, but he also leveled some criticism at his own party's handling of the 2016 election. He said voters want leaders who deliver "practical progress for people in need" and not "pontification from an ivory tower."
"We have to take a long look in the mirror and face some hard truths," said Cuomo, the son of the late Gov. Mario Cuomo. "We lost the connection with who we are. ...  It's a national problem and the Democratic Party all across the country is still searching for its way forward."
In a speech that effectively kicks off his re-election bid, Cuomo laid out his administration's work to pass same-sex marriage, raise the minimum wage to $15, enact new gun control laws and make in-state tuition to public colleges free for eligible middle class students.
"This is real life. It matters how much food is on the table, or whether they can pay the rent, or whether they can pay for medicine ... or whether their child can afford a college education," he said of New Yorkers.
Molinaro and Nixon have both attacked Cuomo as a political insider who has failed to address chronic corruption and who has been on the job too long.
"The truth is the governor isn't a progressive and he knows it," Nixon told reporters Wednesday. She was not invited to address the convention. "I won't be scared out of the room. New Yorkers deserve a choice."
Registered Democrats outnumber Republicans in New York state by more than  2-1, giving Cuomo a formidable advantage in what's already expected to be an election year favorable to his party. Skeptical members of his party's left wing could be a bigger problem for the governor, as Nixon's challenge shows. A small group of protesters briefly interrupted the convention during Cuomo's speech before they were shouted down by cries from Cuomo supporters who yelled "four more years!"
The convention attracted several prominent Democrats including Democratic National Committee Chairman Tom Perez and Hillary Clinton, the former secretary of state, U.S. senator and Democratic nominee for president. Clinton spoke at the convention Wednesday and also endorsed Cuomo, who served as federal housing secretary in the administration of former President Bill Clinton.