Emmy winner - Beyond the Broomstick: Witches on Long Island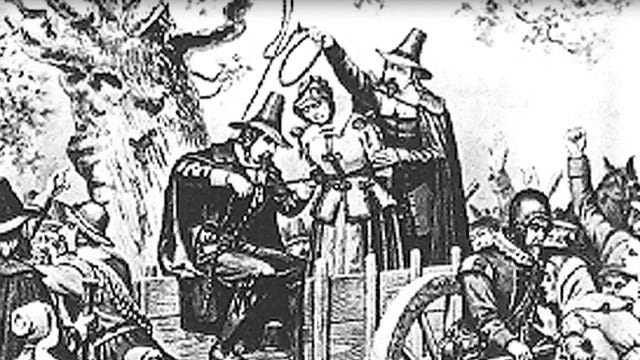 EAST HAMPTON - Years before the Salem Witch trails, there were allegations of witchcraft on Long Island.
One story involves the mysterious death of Elizabeth Gardiner Howell, the daughter of the East Hampton's most prominent citizen Lion Gardiner, in 1657.
When Gardiner Howell fell ill after giving birth, her father Lion rushed to her bedside. Historians say she then started screaming that she was being bewitched. She later died and was buried in East Hampton.
East Hampton historian Hugh King and his wife Loretta have researched the case and talk about it during their cemetery tours. The pair showed News 12 town records, including testimony from residents that Gardiner Howell shrieked that she was a witch and blamed her local herbalist, Elizabeth "Goody" Garlick, for her death.
"They needed to blame someone for something, they didn't have reasons," says King.
Garlick was sent to Connecticut to stand trial and was eventually found not guilty. Some witches were not as lucky, being burned at the stake, hanged or stoned to death if found guilty.
In the 300 years since these trials a lot has changed. According to the Unites States Census, the Earth-based religion known as Wicca is the fastest growing religion in the country, accounting for 1 million practicing wiccans and around 20 percent of them living in New York.
Lisa McGarrity is one of the many Long Island residents who openly practice witchcraft. She lives in Port Jefferson and owns Envision Crystal, where she does tarot card readings and sells everything a witch would need to connect to spirit.
"There are more witches than ever before, most are quiet, most are low-key, they really don't want a lot of attention," says McGarrity.
She says some witches are forced to practice in the so-called "broom closet" for fear of being judged or facing discrimination.
She says some people think that if you're a witch, you're a devil worshiper and you cast evil spells on people, which she says is the biggest misconception.
"The way I think about a spell is a very focused prayer and we use tools like symbolic things, stones or candles or incense to focus the energy that much more," she says.
Some witches practice in solitude, while others meet at a common place with other witches.
The Silver Broom Ministries in Sayville is the only pagan-witch church on Long Island.
Rev. Mark Lyons is the high priest of Eclectic Witchcraft at Silver Broom Ministries, offering his community of witches classes in everything from magick to mysticism.
"That's what we base the Silver Broom Ministries on, we are here to serve we are not here to harm," says Lyons.
Lyons says it has been his personal mission to take witchcraft and what he does at the ministry into mainstream media and take people "beyond the broomstick."