Bellone nominates Geraldine Hart as next Suffolk police commissioner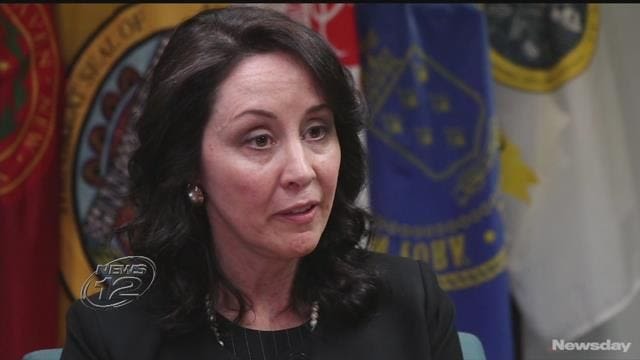 Geraldine Hart, the current head of Long Island's FBI Gang Task Force, was nominated Thursday by Suffolk Executive Steve Bellone as the county's next police commissioner. 
"She brings a depth of knowledge on the key issues and the key challenges that we are facing in this county," said Bellone. "Gang issues, drug issues, the opioid epidemic, violent crime – these are all things she has tremendous expertise [in]."
At a news conference Thursday, she said it was a privilege to serve the people of Suffolk County. She also said that her focus would be on the opioid crisis and eradicating gangs, such as MS-13. 
"My priority is to ensure the safety of the residents of Suffolk County. To do that, we have a very robust plan to eradicate gangs…we are going to leverage all of our relationships here on Long Island with the FBI Long Island Gang Task Force, with all our federal partners, with all our local partners." 
If approved, Hart will be running a police department of more than 2,500 members that's seen its share of turmoil. The U.S. Department of Justice began monitoring the department after the racially-motivated 2008 murder of an Ecuadorian immigrant.  Other incidents include former police chief James Burke's conviction of beating a suspect and covering it up and criticism of Hart's predecessor Tim Sini by some civil libertarians who say he has not been transparent about arrests in the Latino community that resulted in ICE detainment. 
Because of that history, immigrant advocates say they have concerns, no matter who the new police commissioner will be. 
"We want to make sure there will be clear guidelines for how people are charged with gang allegations and that they will have due process here in Suffolk County before they are handed over to federal authorities where many of the family members and own legal counsel cannot reach them for months," said Walter Barrientos, of Make the Road New York. 
Hart will still need to be confirmed by the Suffolk County Legislature. Those hearings will not happen until April, since Hart will need to retire first from the FBI. Hart would become the first woman to lead the Suffolk County Police Department, if approved.