AP source: Mike LaFleur out as Jets' offensive coordinator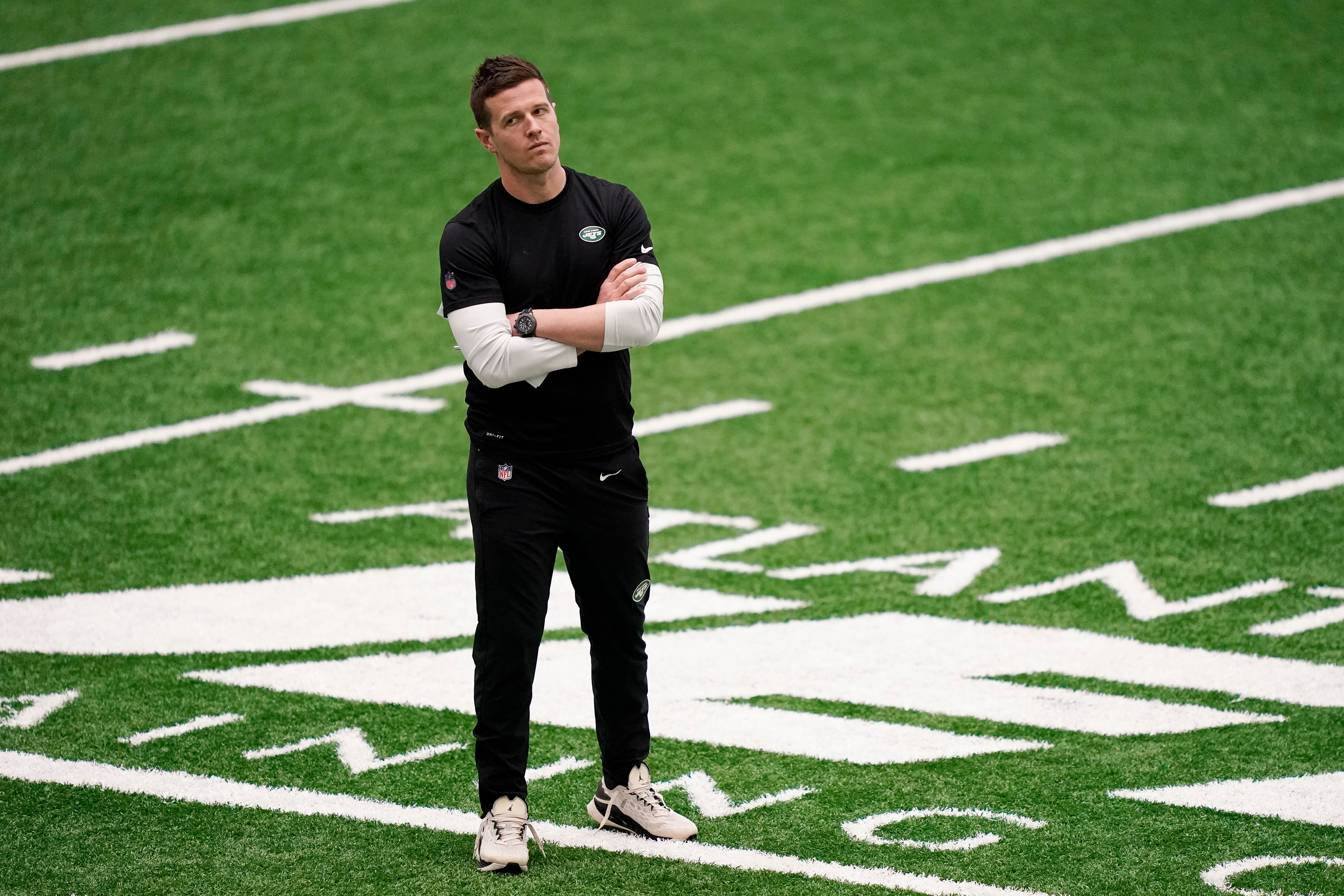 Mike LaFleur is out as offensive coordinator of the New York Jets after two disappointing and mostly non-productive seasons on offense, according to a person with knowledge of the decision.
LaFleur's future with the team was uncertain after Zach Wilson struggled mightily in his second season and the offense was among the worst in the NFL for two straight years. There was increasing speculation LaFleur could be on the way out after Robert Saleh's Jets finished 7-10 with a season-ending six-game losing streak.
On Wednesday, the Jets and LaFleur agreed to part ways after a few other teams inquired about the embattled offensive coordinator, the person told The Associated Press on condition of anonymity because the team didn't announce the move.
The 36-year-old LaFleur, the younger brother of Green Bay coach Matt LaFleur, was a first-time coordinator when he joined Saleh and the Jets in 2021. He was an offensive intern with Cleveland in 2014 before serving as an offensive assistant with Atlanta under coordinator Kyle Shanahan, who brought LaFleur with him to San Francisco when he was hired as head coach in 2017.
LaFleur was the 49ers' passing game coordinator for four seasons - while Saleh was the defensive coordinator - before leaving to join Saleh's staff as the Jets' offensive coordinator.
Saleh said Monday he "definitely" was planning to hire a senior offensive assistant to help improve the offense and to work with Wilson. Greg Knapp, who was hired in 2021 for that role, died before that season when he was struck while riding his bicycle at home in California. Saleh brought in Matt Cavanaugh and John Beck, Wilson's personal quarterback coach, last season but then chose to not have a veteran offensive assistant this season.
Saleh will now likely be looking to fill at least two roles on his offensive coaching staff.
Saleh and Matt LaFleur served as graduate assistants at Central Michigan in 2004 and the two would often stop by the LaFleur family's home during lunch breaks -- and Mike, then in high school, got to know Saleh through those visits.
Saleh brought Mike LaFleur with him from San Francisco when he was hired by the Jets two years ago, excited about having a friend and one of the NFL's top young offensive minds on his staff.
But New York's offense couldn't find any consistency - or the end zone at times - and Wilson didn't develop as expected after being the No. 2 overall pick in April 2021.
The Jets, who didn't score a touchdown in their final three games, missed the playoffs for a 12th consecutive year - and LaFleur's offense was a primary culprit.
Ultimately, LaFleur paid the price.
The Jets were among the league's worst offenses the past two years, but showed flashes at times in the middle of this season. Injuries to rookie running back Breece Hall and second-year offensive lineman Alijah Vera-Tucker were major blows, as was an injury-plagued O-line.
But the disappointing play of Wilson was a major issue, especially this year when he was benched twice.
That led to a revolving door at the quarterback position with Wilson, Mike White and Joe Flacco all starting games. None could provide consistent success on offense, and LaFleur didn't appear to do enough to compensate for the issues at quarterback.
The Jets' next offensive coordinator will come in with a major question at the game's most important position - "the head of the snake," as Saleh has called it.
Saleh has insisted the Jets will remain committed to developing Wilson "through hell or high water." LaFleur acknowledged "in hindsight" last week that Wilson would have benefited from sitting as a rookie behind a veteran.
It appears likely New York will pursue a vet this offseason to step in as a potential starter next season. Both White and Flacco are scheduled to be free agents.
Wilson has 15 touchdowns and 18 interceptions with a 55.2% completion rate and a 72.8 quarterback rating in 22 starts. He has shown flashes of athleticism and ability to make off-schedule throws and plays, but Wilson has been unable to consistently read defenses and has struggled with mechanics and fundamentals.
"In 2023 now, I guess you can say, people don't want to wait," LaFleur said last week. "They want the instant gratification of these rookies, these second-year guys to be superstars and understandably so. You get why - this is a highly competitive environment."