Devils acquire Timo Meier in blockbuster trade with Sharks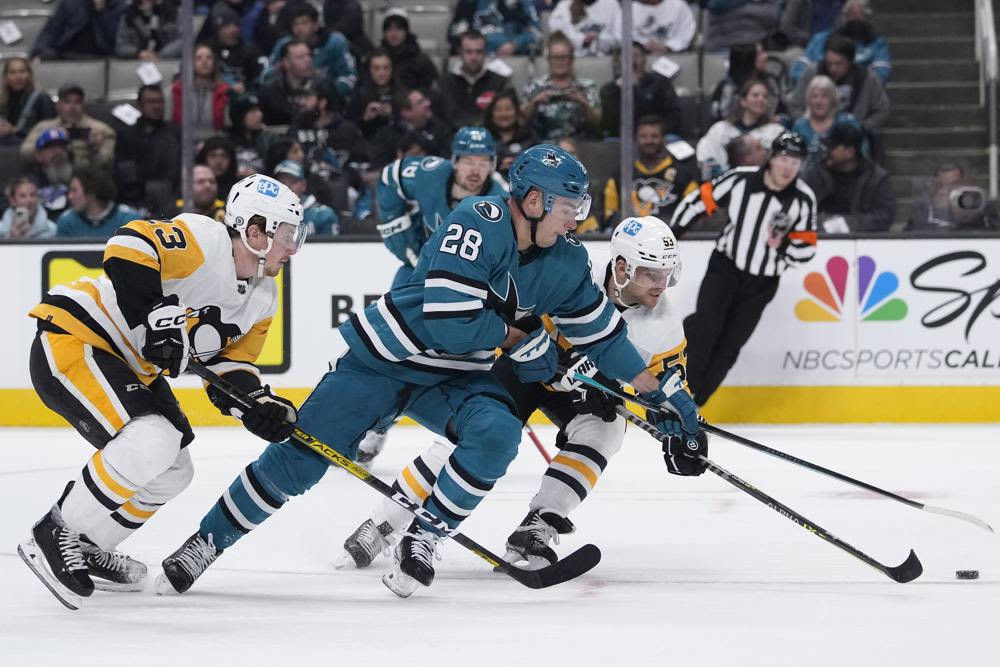 Timo Meier is going to the New Jersey Devils in the latest ante of the high-stakes poker game among Eastern Conference playoff contenders.
Meier joins the Devils after the New York Islanders made a big acquisition, the NHL-leading Boston Bruins got bigger and tougher and the Rangers added one scorer and could get another significantly productive winger before the deadline Friday.
New Jersey sent a 2023 first-round pick, a conditional 2024 first-rounder, forward Andreas Johnsson and prospects Shakir Mukhamadullin, Fabian Zetterlund and Nikita Okhotiuk to San Jose. In return, the Devils got Meier, defenseman Scott Harrington and prospects Timur Ibragimov, Santeri Hatakka and Zach Emond.
"I was just doing what I felt was best for the New Jersey Devils, not reacting because of what the Rangers did or what they may do again or what the Islanders did," Devils general manager Tom Fitzgerald said. "When you can add a player like Timo Meier to the lineup that you feel is growing and getting stronger each day, it really puts a smile on my face."
Meier is under team control for at least the next year. He's a pending restricted free agent with a $10 million qualifying offer for the 2023-24 season, and Fitzgerald expects to be able to sign Meier long term.
"One thing I am confident in is who we are, what we can sell - our team," Fitzgerald said. "I do believe New Jersey will sell itself. I think he will love it here. I think he will thoroughly enjoy it and want to stay here. That's my bet."
The 26-year-old Swiss winger has 31 goals and 21 assists in 57 games this season. Meier did not fit in with San Jose's long-term plans.
"There's realities at play here with the salary cap and the salary structure of our group," Sharks GM Mike Grier said. "To pay him the money he's looking for and wanted, it didn't seem to make sense and to line up where were are kind of headed as a franchise and where we're at. We don't want to keep spinning our wheels here. We're going to try and move this thing forward."
The opposite is going on in New Jersey, with a team perhaps a half-step ahead of schedule to make the playoffs. The Devils are in second place in the Metropolitan Division, and Meier is joining a young core that includes countryman and captain Nico Hischier.
"Having this new chapter coming my way, it's definitely very exciting," Meier said. "I'm just very excited to get this started."
The Devils are just getting started on their climb in the East. With some cap space left before the deadline Friday, this was undoubtedly their biggest move but might not be their last.
"We've been gearing for this for a long time," Fitzgerald said, referencing New Jersey's multiyear rebuild. "We have a lot of work to do. This is just part of trying to build success."