Advocates call on lawmakers to support Child Victims Act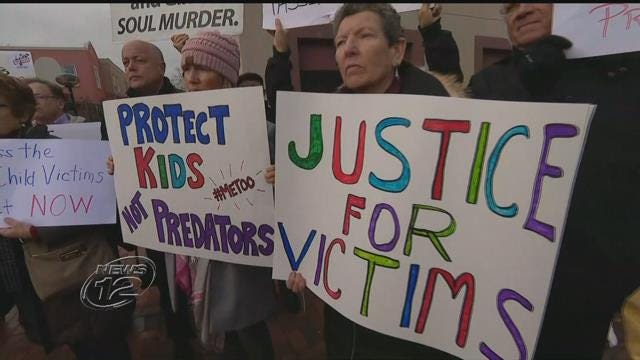 Advocates demonstrated outside of the office of state Sen. Carl Marcellino in Oyster Bay demanding his support of the Child Victims Act Monday afternoon.
Current New York state law does not permit victims of sexual abuse to file criminal or civil complaints after the age of 23. The Child Victims Act would extend the statute of limitations to 50 years old for civil claims and 28 for criminal prosecution.
Marcellino says he's "committed to protecting all victims of abuse," but he has not yet announced whether he'll support the bill.
News 12 is told the bill is in committee for review in the Senate.
The New Yorkers Against Hidden Predators group also demonstrated outside of Sen. Elaine Phillips' office earlier in the day. 
"My heart breaks for the victims of childhood sexual assault and I believe it is time the Legislature works to find solutions to support those who have been abused," Phillips responded in a statement. "Recognizing that most children do not disclose the abuse until they are much older, we need to lengthen the statute of limitations to protect any future victims."
Phillips also has not said whether she'll support the bill.
Meanwhile, the group is also asking for the support of Senate Majority Leader John Flanagan. Flanagan's office did not reply to emails and phone calls seeking comment.