8 die at Florida nursing home in Irma's sweltering aftermath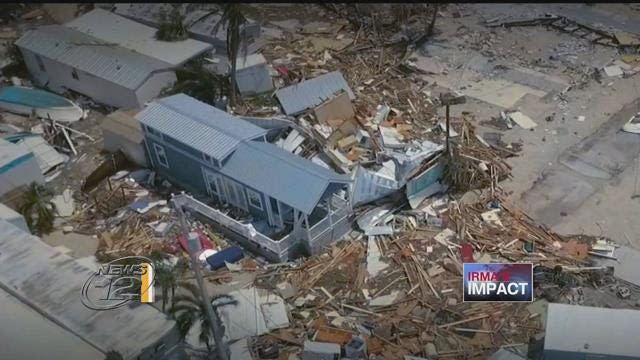 By TIM REYNOLDS and TERRY SPENCER
Associated Press
HOLLYWOOD, Fla. (AP) - Eight patients at a sweltering nursing home died after Hurricane Irma knocked out the air conditioning, raising fears Wednesday about the safety of Florida's 4 million senior citizens amid power outages that could go on for days.
Hollywood Police Chief Tom Sanchez said investigators believe the deaths at the Rehabilitation Center at Hollywood Hills were heat-related, and added: "The building has been sealed off and we are conducting a criminal investigation."
Gov. Rick Scott called on Florida emergency workers to immediately check on nursing homes and assisted living facilities to make sure patients are safe, and he ordered an investigation into the deaths.
"This situation is unfathomable," he said.
The home said in a statement that the hurricane had knocked out a transformer that powered the AC.
Exactly how the deaths happened was under investigation, with Sanchez saying authorities have not ruled anything out, including carbon monoxide poisoning from generators. He also said investigators will look into how many windows were open.
Across the street from the nursing home sat a fully air-conditioned hospital, Memorial Regional.
"It's a sad state of affairs," the police chief said. "We all have elderly people in facilities, and we all know we depend on those people in those facilities to care for a vulnerable elderly population."
The deaths came as people trying to put their lives back together in hurricane-stricken Florida and beyond confronted a multitude of new hazards in the storm's aftermath, including tree-clearing accidents and lethal fumes from generators.
Not counting the nursing home deaths, at least 15 people in Florida have died under Irma-related circumstances, and six more in South Carolina and Georgia, many of them well after the storm had passed. The death toll across the Caribbean stood at 38.
At least six people died apparently of carbon monoxide poisoning from generators in Florida. A Tampa man died after the chain saw he was using to remove trees kicked back and cut his carotid artery.
In Hollywood, three patients were found dead at the nursing home early Wednesday after emergency workers received a call about a person with a heart attack, and five more died later, police said.
Altogether, more than 100 patients there were found to be suffering in the heat and were evacuated, many on stretchers or in wheelchairs. Patients were treated for dehydration, breathing difficulties and other heat-related ills, authorities said.
Nursing homes in Florida are required by state and federal law to file an emergency plan that includes evacuation plans for residents. Any plan submitted by the Hollywood center was not immediately available.
Calls to the owner and other officials at the Hollywood home were not immediately returned, but the facility's administrator, Jorge Caballo, said in a statement that it was "cooperating fully with relevant authorities to investigate the circumstances that led to this unfortunate and tragic outcome."
Through a representative, Carballo told the SunSentinel newspaper that the home has a back-up generator but that it does not power the air conditioning.
The nursing home was bought at a bankruptcy auction two years ago after its previous owner went to prison for Medicare fraud, according to news reports at the time of the sale.
The Centers for Medicare and Medicaid Services, which regulates nursing homes, gives the Hollywood center a below-average rating, two stars on its five-star scale. But the most recent state inspection reports showed no deficiencies in the area of emergency plans.
Florida, long one of America's top retirement destinations, has the highest proportion of people 65 and older of any state - 1 in 5 of its 20 million residents. As of 2016, Florida had about 680 nursing homes.
As of Tuesday, the number of people without electricity in the steamy late-summer heat had dropped to 6.8 million - about a third of Florida's population. Utility officials warned it could take 10 days or more for power to be fully restored. The number of people remaining in shelters fell to under 13,000.
Elsewhere around the state, a Coral Gables apartment building was evacuated after authorities determined a lack of power made it unsafe for elderly tenants.
And at the huge, 15,000-resident Century Village retirement community in Pembroke Pines, more than half the residential buildings had no power Wednesday afternoon. Rescue crews began going door to door in the 94-degree heat to check on people and hand out water, ice and meals.
"These people are basically prisoners in their own homes," said Pembroke Pines City Manager Charlie Dodge. "That's why we are camped out there and doing whatever we can to assist them in this process. And we're not leaving."
Florida Sen. Bill Nelson called the six deaths in Hollywood "an inexcusable tragedy" and called on authorities to get to the bottom of it.
"We need to make sure we're doing everything we can to keep our seniors safe during this difficult time," he said.
In the battered Florida Keys, meanwhile, county officials pushed back against a preliminary estimate from the Federal Emergency Management Agency that 25 percent of all homes in the Keys were destroyed and nearly all the rest were heavily damaged.
"Things look real damaged from the air, but when you clear the trees and all the debris, it's not much damage to the houses," said Monroe County Commissioner Heather Carruthers.
The Keys felt Irma's full fury when the hurricane roared in on Sunday with 130 mph (209 kph) winds. But the extent of the damage has been an unanswered question for days because some places have been unreachable.
In Marathon Key, a Publix grocery store opened under police guard on Tuesday, but residents could buy only 20 items each, and no cigarettes or alcohol allowed, said 70-year-old retiree Elaine Yaquinto.
She said she had yet to see any state or federal agencies or utility companies working on the ground yet. Her home had no electricity or running water, apart from a trickle of cold water that was good enough for a shower.
"It made me feel like normal," she said.
President Donald Trump plans to visit Naples, on Florida's hard-it southwestern coast, on Thursday.
At the Hollywood nursing home, Jean Lindor, a kitchen worker, said through a Haitian Creole translator that the air conditioner had not been working since the storm and it had been hot inside.
Paulburn Bogle, a member of the housekeeping staff, said the place had been hot but manageable the past few days. The staff used fans, put cold towels and ice on patients and gave them cold drinks, he said.
Broward County Medical Examiner Dr. Craig Mallak said his office had received the bodies of at least three of the victims - two women age 71 and another who was 78 - for autopsies.
"They were sick already. It's going to be tough to tell how much was the heat and how much of it was they were sick already," Mallak said.
Flora Mitchell arrived at the home trying to find out what happened to her 58-year-old sister, Vonda Wilson, a stroke patient who lived there for about 10 years. She said she last heard from her sister two days ago and found out the air conditioning was not working.
"We need to know what happened to her," she said. "They haven't told us anything."
    
Associated Press writers Jason Dearen on Summerland Key; Brendan Farrington, Gary Fineout and Joe Reedy in Tallahassee; Jay Reeves in Immokalee; Terrance Harris in Orlando; Claire Galofaro in Jacksonville; and Jennifer Kay, Freida Frisaro, Curt Anderson and David Fischer in Miami contributed to this report.
(Copyright 2017 The Associated Press. All rights reserved. This material may not be published, broadcast, rewritten or redistributed.)