3 die as buses collide at New York City intersection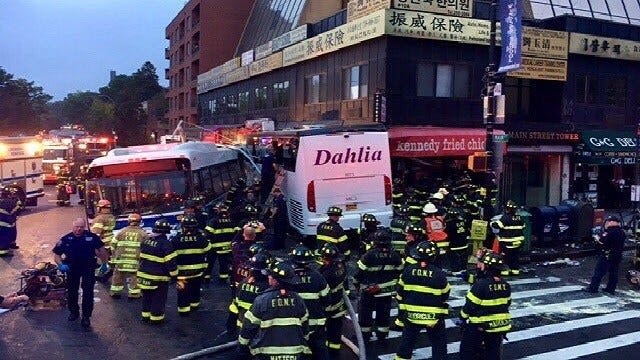 NEW YORK (AP) -- A city bus and a tour bus collided and spun around in a New York City intersection on Monday, leaving three people dead, including a pedestrian, officials said.
Mayor Bill de Blasio said he was shocked by the "sheer destruction," and noted that "one of those who was lost was simply walking down the sidewalk" as the crash came "out of nowhere."
The pedestrian was killed along with the tour bus driver and a passenger on the city bus. Sixteen other people were hurt, some of them seriously, in the crash at 6:15 a.m. in the Flushing, Queens neighborhood, city officials said at a briefing.
A building that houses a number of retail stores, including a fried chicken restaurant, also sustained a "very substantial" impact, and experts were working to make sure it was secure, de Blasio said.
The hospitalized city bus driver was being interviewed by investigators, Metropolitan Transportation Authority Chairman Joe Lhota said.
Though the investigation has just begun, "These buses spun around. That requires an enormous amount of speed," Lhota said.
"We want to make sure we understand what happened and prevent this from ever happening again," Lhota said.
Signage on the tour bus showed it was from the Dahlia Group, Inc., based in Flushing. A person answering the phone there declined to comment; there was no immediately response to an emailed comment request.
Federal Motor Carrier Safety Administration records show that a Dahlia bus was also involved in a fatal crash in Connecticut in February 2016.
One of the company's buses was driving through a snowstorm to reach the Mohegan Sun casino when it overturned on Interstate 95 in Madison, east of New Haven. Thirty-six people were hurt in addition to the person who died.
The company's drivers have been cited several times over the past 12 months for safety violations, including failing to obey a traffic control device, speeding and unlawful parking in the roadway.
Copyright 2017 The Associated Press. All rights reserved. This material may not be published, broadcast, rewritten or redistributed.