Yanks' Stanton on injuries: 'It's unacceptable this often'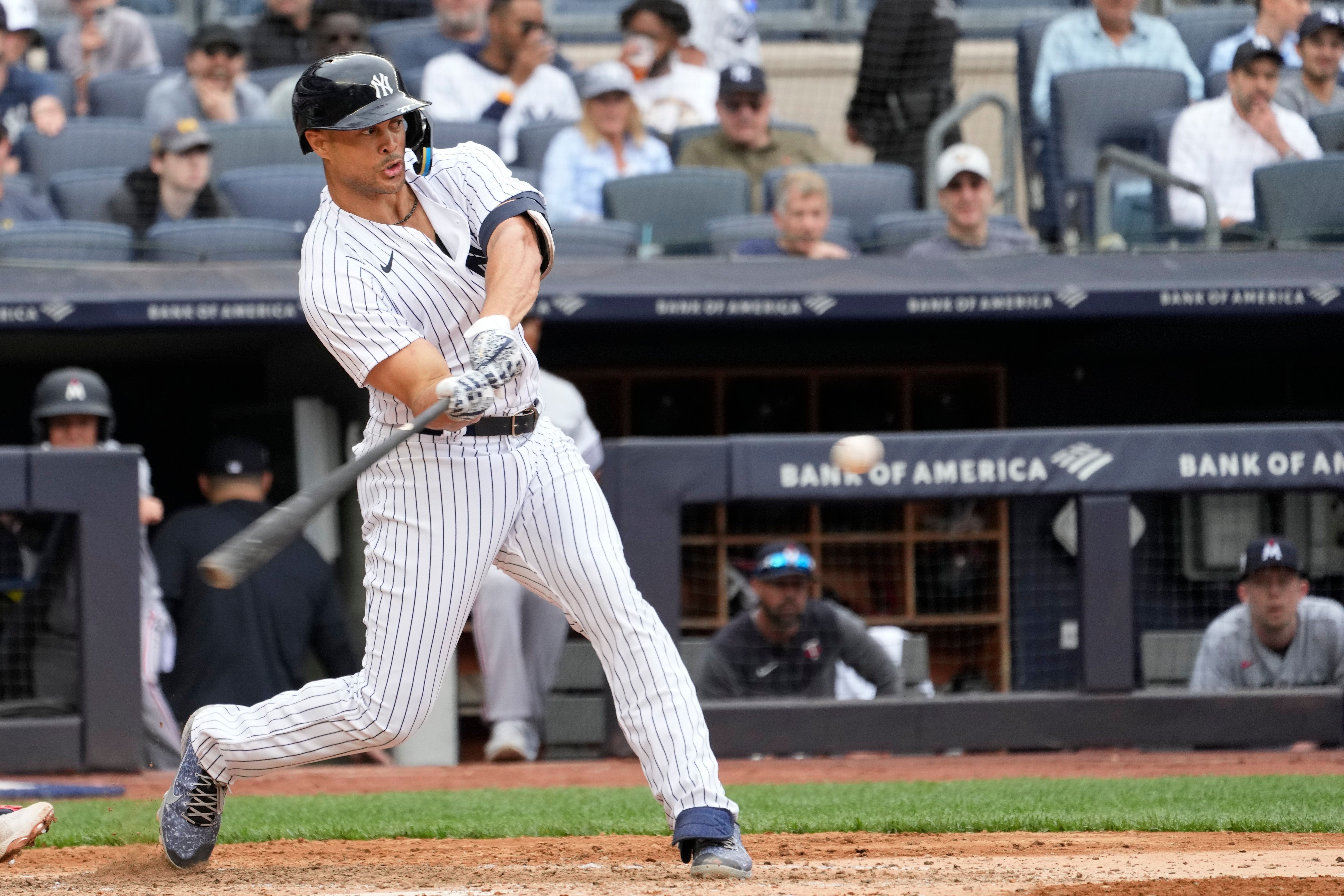 Sidelined with injuries for the 11th time in 14 seasons, Giancarlo Stanton is openly frustrated.
"It's unacceptable this often," he said Thursday, five days after straining his left hamstring during a game against the Minnesota Twins. "The team relies on me and I can't have this continue to happen and put us in a tough spot ... it's my duty and responsibility to be out there."
Stanton was hurt Saturday while pulling into second base with a two-run double in the seventh inning and went on the injured list the following day. Yankees manager Aaron Boone estimated Stanton will be sidelined for six weeks.
"It's a tightness. It's a grab," Stanton said. "It's not a normal feeling or a fun one."
A five-time All-Star, the 33-year-old has been on the injured list or disabled list seven times in five seasons with the Yankees. As he spoke to media for the first time since getting hurt, he pinched a cheek with his right hand, then rubbed his hands together.
"The disbelief and disappointment at this stage is hard to put into words and kind of comprehend," he said. "It's very frustrating."
Stanton missed 223 of 546 games in the previous four seasons because of a strained right biceps and strained posterior cruciate ligament in his right knee (2019), strained left hamstring (2020), strained left quadriceps (2021) and right ankle inflammation and left Achilles tendinitis (2022).
"The one thing I can say in Giancarlo's case is I don't question his professionalism and his commitment to doing all he needs to do to stay healthy and to be healthy," Boone said. "He feels a responsibility to this team, this organization to be the great player that he is but to be able to do it more and more often."
With the Marlins, Stanton sat due to right knee surgery (2012), a right hamstring strain (2013), broken left hand (2015) and strained left groin (2016).
"I can't control it. At the same time, it shouldn't be happening," Stanton said. "... I prepare my whole life. This is everything I've put in for."
Stanton is hitting .269 with four homers and 11 RBIs in 13 games this season; his career average is .264 with 382 homers and 982 RBIs.
NOTES: LHP Carlos Rodón, who's been out since his only spring training outing on March 5 with a strained left forearm, was to have a CT scan of his back, which has bothered him during the past week. "He's not going to throw for the next couple of days," Boone said. "Throws a wrinkle in and slows it, but I don't think it's going to be anything that prevents him from hopefully in the next several days building back up." ... CF Harrison Bader will start a minor league injury rehabilitation assignment on Friday at Double-A Somerset; he's been sidelined since March 10 by a strained left oblique muscle. ... RHP Luis Severino threw 20 pitches of live batting practice, then 15 more in a bullpen. Severino will have at least one more BP session at the team's complex in Tampa, Florida, followed by several minor league rehab outings. ... OF Kole Calhoun agreed to a minor league contract and was assigned to the Florida Coast League Yankees. The 35-year-old left-handed hitter batted .286 (10 for 35) with two RBIs in 13 spring training games with Seattle, then was released after exercising his right to opt out.