What's in the Water: How Much is Too Much?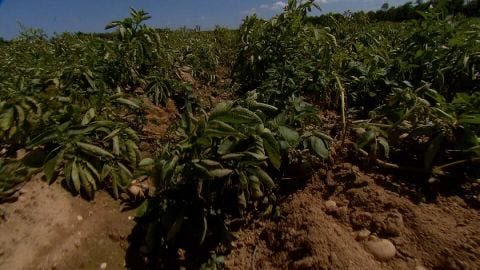 Pesticides are a crucial tool for the farmers on Long Island, but some of the same chemicals that ensure hearty, healthy crops have been turning up in Long Island's groundwater for decades.
Farmer Martin Sidor comes from a long line of potato farmers in Mattituck. He says his crops would be in trouble without pesticides, particularly an insecticide called imidacloprid, which wards off potato beetles, aphids and leaf-hoppers.
Imidacloprid is also used in lawn care and at nurseries, but studies show it causes reproductive problems in lab animals. It has also been shown to be toxic to bees, birds and fish. It's one of more than 100 pesticides that have been detected in Long Island's groundwater since the 1990s.
Traces of some pesticides that were banned as a threat to health years ago are still showing up in the water, as are the chemicals that result when those pesticides break down in the ground.
Technicians at the Suffolk County Water Authority conduct extensive testing of groundwater samples - more so, they say, than are required by state and federal law.
Out on the heavily farmed North Fork, about half the public water wells are equipped with filters. However, 40,000 homes still use private wells.
Mattituck homeowner Susan Sweeney is among the residents with a private well. She's battling breast cancer for a third time. A few months ago, the Suffolk County Department of Health tested her well water and found traces of nitrates and three pesticides. There's no scientific proof that the chemicals caused her cancer, but for Sweeney, it raises a red flag.
"There's many people on this block, many people within a one-mile radius that have cancer. And it's not only women," Sweeney says.
Environmental activist Adrienne Esposito believes the state should play it safe by banning pesticides that can easily enter the groundwater. "We shouldn't be drinking the same chemicals that we're using to poison something else," she says.
Many of the farmers who rely on pesticides to make a living say they're open to changing regulations, but only if the changes are based on scientific research.
"We are open to banning certain things provided there are economic alternatives that won't leave the agriculture industry in the lurch," says Joe Gergela, of the Long Island Farm Bureau. "We're not going to be irresponsible, or disrespectful of all of us that live here. We drink the same water. We all live here."
That sounds right to Sidor, the potato farmer. "I have my family. I live right on top of potato ground," he says. "We're all in this together."

Contact the decision-makers: 
Numbers and Links: