Trump: Would 'love to' face Mueller questions under oath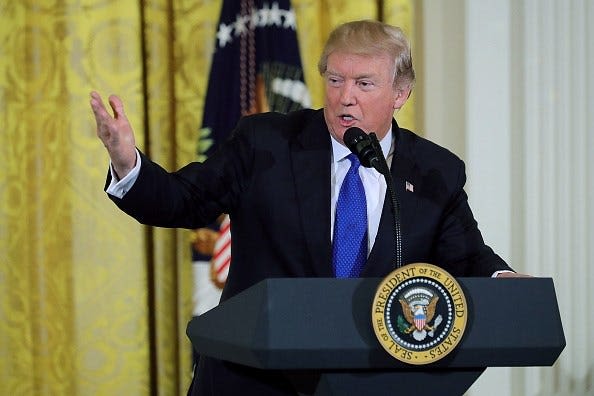 WASHINGTON (AP) - President Donald Trump declared late Wednesday he's "looking forward" to being questioned - under oath - in the special counsel's probe of Russian election interference and possible Trump obstruction in the firing of the FBI director.
Trump said he would be willing to answer questions under oath in the interview, which special counsel Robert Mueller has been seeking but which White house officials had not previously said the president would grant.
"I'm looking forward to it, actually," Trump said when asked by reporters at the White House. Ad for timing, he said, "I guess they're talking about two or three weeks, but I'd love to do it."
He said, as he has repeatedly, that "there's no collusion whatsoever" with the Russians, and he added, "There's no obstruction whatsoever."
The full scope of Mueller's investigation, which involves hundreds of thousands of documents and dozens of witness interviews, is unknown. And there have been no signs that agents aren't continuing to work on ties between Trump's campaign and a Russian effort to tip the 2016 election.
But now that Mueller's team has all but concluded its interviews with current and former Trump officials, and expressed interest in speaking with the president himself, the focus seems to be on the post-inauguration White House. That includes the firing of FBI Director James Comey and discussions preceding the ouster of White House National Security Adviser Michael Flynn.
The timing and circumstances of a Trump interview are still being ironed out. But soon it will probably be the president himself who will have to explain to Mueller how his actions don't add up to obstruction of justice. And that conversation will be dominated by questions tied whether he took steps to thwart an FBI investigation.
So far, witness interviews and the special counsel's document requests make clear Mueller has a keen interest in Comey's May 9 firing and the contents of Comey's private conversations with the president, as well as the ouster months earlier of Flynn and the weeks of conversations leading up to it.
A focus on potential obstruction has been evident almost since Mueller's appointment as special counsel. And recent interviews with administration officials, including Attorney General Jeff Sessions, have shown that Trump is dealing with prosecutors who already have amassed a wealth of knowledge about the events he'll be questioned about.
Prosecutors have interviewed numerous White House aides including Trump's closest confidants such as Counsel Don McGahn, former chief of staff Reince Priebus and the president's son-in-law, Jared Kushner.
Sessions, who had urged Comey's firing, was interviewed for hours, becoming the highest-ranking Trump administration official known to have submitted to questioning. Mueller also wants to interview former adviser Steve Bannon, who has called Comey's firing perhaps the biggest mistake in "modern political history."
The White House initially said the firing was based on the Justice Department's recommendation and cited as justification a memo that faulted Comey's handling of the Hillary Clinton email investigation. But Trump himself said later he was thinking of this "Russia thing" and had intended to fire Comey anyway.
Sessions, the target of the president's ire since he stepped aside last March from the Russia investigation, would have been able to offer close-up insight into the president's thinking ahead of the termination. He also could have been able to speak to the president's relationship with Comey, which Comey documented in a series of memos about conversations with Trump that bothered him.
In one memo, Comey described a January 2017 meeting over dinner at which he said the president asked him to pledge his loyalty. Separately, a person familiar with the conversation said this week that Trump in a meeting last year with Deputy Director Andrew McCabe brought up McCabe's wife's political background following the revelation that she had accepted campaign contributions during a state Senate run from the political action committee of then-Virginia Gov. Terry McAuliffe, a close Clinton ally.
The Washington Post reported Tuesday night that Trump had also asked McCabe whom he voted for in the presidential race. McCabe replied that he did not vote. Trump said Wednesday he did not recall asking that question.
Another of Comey's memos centered on a February conversation at the White House in which he said Trump told him he believed Flynn, the fired national security adviser, was a "good guy" and encouraged Comey to drop an investigation into him. The FBI had interviewed Flynn weeks earlier about whether he had discussed sanctions with the Russian ambassador during the transition period between the election and the inauguration. Flynn pleaded guilty in December to lying to the FBI during that interview.
Mueller has been investigating the events leading up to Flynn's dismissal from the White House, including how officials responded to information from former acting Attorney General Sally Yates that Flynn had misled them by saying that he had not discussed sanctions. Despite that warning, and despite an FBI interview days after Trump's inauguration, Flynn was not forced to resign until Feb. 13 - the night of media reports about Yates' conversation with McGahn.
Mueller will likely want to know what Trump understood, before asking Comey to let the Flynn investigation go, about Flynn's interview with the FBI - and whether he had made false statements - and about his conversation with the Russian ambassador.
Four people have so far been charged in the Mueller investigation, including Flynn and former Trump campaign chairman Paul Manafort. Flynn and former campaign foreign policy adviser George Papadopoulos have pleaded guilty to lying to the FBI.