Police: 5 suspects sought in armed robbery of Smithtown jewelry store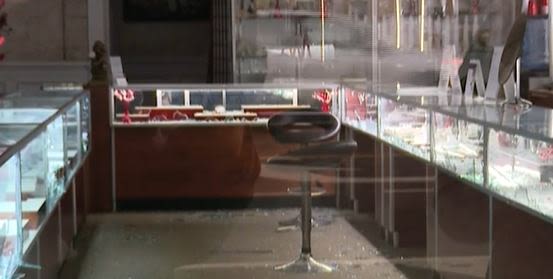 Suffolk County police are searching for five suspects wanted for an armed robbery of a Smithtown jewelry store that occurred on Wednesday.
The top corner of a security camera footage caught a woman wearing a face mask being buzzed into L.I. Gold Mine Jewelers, located at 135 West Main St., at approximately 5:15 p.m.
The woman held the door open as four masked men, two of whom displayed handguns, entered the store, police say.
Police say the owner and an employee were held at gunpoint while the robbers smashed display cases and stole assorted jewelry.
The owner of L.I. Gold Mine Jewelers did not want to talk on camera on Thursday. Friends said he is still recovering from the armed robbery.
Others who were in the building and heard the robbers come in and smash up the place said they're just as traumatized.
An upstairs office worker who did not want to be identified heard the commotion.
 Surveillance video shows the suspect running out with bags in hand.
Police say the robbers fled in a minivan, which they then dumped a short distance away, then got into two other vehicles. There were no injuries.
The building's owner, Bob O'Connor, said the robbers must have been watching the building carefully and struck once he left.
"They knew we have cameras on the other side of the building and cameras in front, so they were obviously waiting for me to leave in the truck," O'Connor said.
L.I. Gold Mine shares the building with a hair salon. Workers at Krisma Salon say they did not hear the robbery, but are now looking to increase their security.
"We were really shooken up 'cause it's like we're girls, were here and it's scary. Right here in the middle of Smithtown, you'd never think something like this would happen," said the salon's Suzanne Greenridge.
Workers who share the building said everyone is very close and all will work together to help each other out.
Detectives are asking anyone with information to call Crime Stoppers at 1-800-220-TIPS.