Suffolk drug dealer sentenced in fatal fentanyl overdose case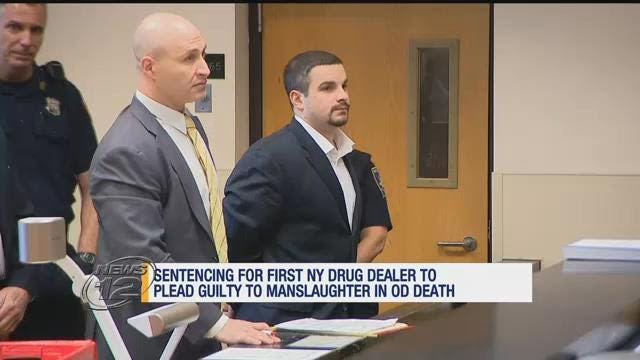 A Suffolk drug dealer who pleaded guilty to manslaughter in connection to a fentanyl overdose was sentenced Tuesday to four to six years in prison.
James Fava apologized to the family of Bryan Gallagher before he was sentenced in the Riverhead courtroom. He called him a "brother" who he never meant to hurt.
News 12
reported
that Gallagher, 27, had been struggling with heroin addiction. Prosecutors had said that they had multiple text messages from Fava to Gallagher warning him about the potency of the drugs.
The sentence handed down by Judge William Condon was less than the maximum sentence of five to 15 years.
"I'd like to think you are a changed person now, and once you're done doing your time, this will be the last thing you'll be thinking about – getting back into selling drugs," said Condon.
Fava, 30, became the first person in New York state to be sentenced for the overdose death of a customer. His attorneys did not comment on the sentencing.
Suffolk District Attorney Tim Sini says the case should be a warning to drug dealers.
"Make no mistake about it, we are going to send a crystal clear message to drug dealers in Suffolk County," said Sini. "If you're dealing drugs in Suffolk County and you kill someone, we will treat you as a murderer. You're on notice."