St. Louis protesters go to upscale malls, suburb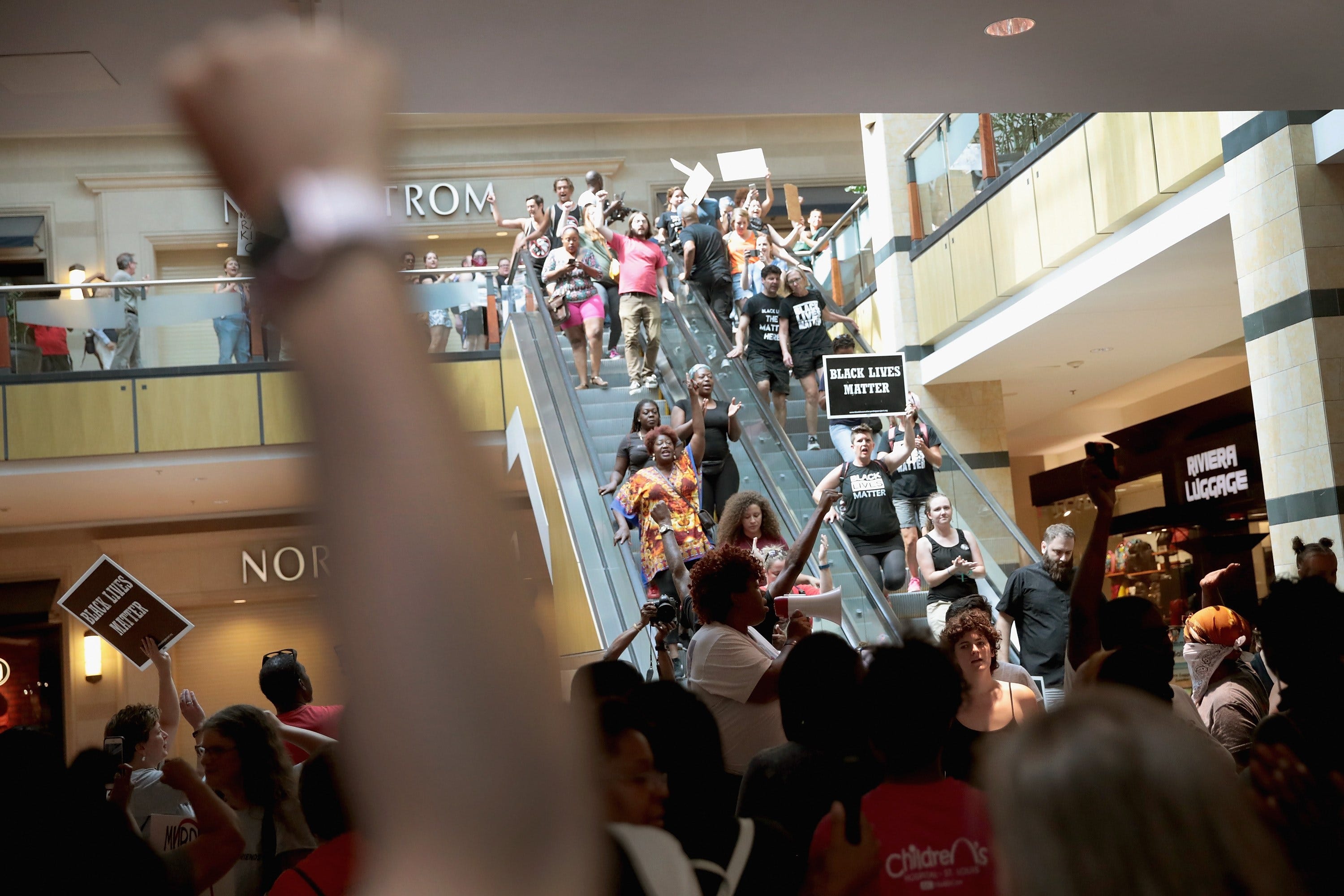 By JIM SALTER and SUMMER BALLENTINE
Associated Press
ST. LOUIS (AP) - Noisy demonstrators disrupted shopping at upscale suburban malls on Saturday and later marched through a popular district of bars and restaurant to protest a white St. Louis police officer's acquittal in the killing of a black man, marking a second day of mostly-peaceful opposition marred by sporadic incidents of vandalism and violence.
A few hundred people shouted slogans such as "black lives matter" and "it is our duty to fight for our freedom" as they marched through West County Center in Des Peres to decry the judge's verdict Friday clearing ex-officer Jason Stockley of first-degree murder in the 2011 shooting of Anthony Lamar Smith.
A short time later, a group demonstrated at Chesterfield Mall and a regional food festival. No arrests were reported at any of the demonstrations.
As dusk neared, hundreds of protesters gathered in the Delmar Loop of the St. Louis suburb of University City, known for concert venues, restaurants, shops and bars and including the famous Blueberry Hill where rock legend Chuck Berry played for many years.
The protests followed raucous Friday marches in downtown St. Louis and through the city's posh Central West End area during the night. Protesters wanted the entire region, not just predominantly black areas, to be upset with the verdict and feel its impact.
"I don't think racism is going to change in America until people get uncomfortable," said Kayla Reed of the St. Louis Action Council, a protest organizer.
Susanna Prins, 27, a white woman from University City, carried a sign reading, "White silence is violence."
"Not saying or doing anything makes you complicit in the brutalization of our friends and neighbors," Prins said.
Smith's death is just one of several high-profile U.S. cases in recent years in which a white officer killed a black suspect, including the 2014 killing of Michael Brown in nearby Ferguson that sparked months of angry and sometimes violent protests.
Federal prosecutors said Saturday they won't open a new civil rights investigation into the killing, as the NAACP requested. Justice Department spokeswoman Lauren Ehrsam said the department concluded in September not to prosecute, but didn't announce it then to avoid affecting the state criminal case.
Police were prepared for a second night of protests after Friday's demonstrations led to several clashes - including rocks thrown at a police car and objects tossed at officers in riot gear - and culminated when protesters broke a window and spattered red paint on the home of Mayor Lyda Krewson. Police eventually used tear gas to clear the area.
Reed said protesters went to Krewson's house because despite her support on social media, she was not in the streets with the people.
Nearly two-dozen people were arrested before dark Friday, police said, and more were taken into custody later.
Police said 10 officers were injured Friday, including a broken jaw and dislocated shoulder. Some journalists reported having equipment damaged and being threatened by protesters.
Democratic St. Louis Rep. Michael Butler said police were aggressive and antagonized protesters who were largely nonviolent. Both he and Reed said violence by a few was unfairly used to describe protests as a whole.
Gov. Eric Greitens, a Republican, was highly critical during last year's campaign of how Gov. Jay Nixon, a Democrat, managed Ferguson protests, suggesting the right leadership would have led to peace by the second night.
Greitens met with Smith's fiancée, black state legislators, black St. Louis faith leaders and law enforcement before the verdict in hopes of projecting a message that peaceful protest would be tolerated but violence wouldn't.
Greitens put the National Guard on standby, and some troops were deployed to guard fire stations and unspecified "critical infrastructure."
Anticipating more demonstrations, concerts Saturday by U2 and Sunday by English singer-songwriter Ed Sheeran were canceled because the police department said it wouldn't be able to provide its standard protection for the event, organizers said.
Police generally stayed a step ahead of protesters Friday, preventing efforts to block an interstate highway or storm the city's convention center.
The civil disobedience followed the acquittal of Stockley for fatally shooting Smith, 24, after the suspected drug dealer fled from officers trying to arrest him.
Stockley testified he felt he was in danger because he saw Smith holding a silver revolver when the suspect backed his car toward officers and sped away.
Prosecutors said Stockley planted a gun in Smith's car after the shooting. The officer's DNA was on the weapon but Smith's wasn't. Dashcam video from Stockley's cruiser recorded him saying he was "going to kill this (expletive)." Less than a minute later, he shot Smith five times.
Stockley's lawyer dismissed the comment as "human emotions" during a dangerous pursuit. St. Louis Circuit Judge Timothy Wilson, who said prosecutors didn't prove beyond a reasonable doubt that Stockley murdered Smith, said the statement could be ambiguous.
Stockley, 36, who left the force in 2013 and moved to Houston, told the St. Louis Post-Dispatch after the verdict that he understands how the video looks bad, but insisted he did nothing wrong.
"I know everyone wants someone to blame, but I'm just not the guy," Stockley said.
___
Sign up for the AP's weekly newsletter showcasing our best reporting from the Midwest and Texas:
http://apne.ws/2u1RMfv
.
Copyright 2017 The Associated Press. All rights reserved. This material may not be published, broadcast, rewritten or redistributed.