Police: Patchogue man ran illegal gun shop out of house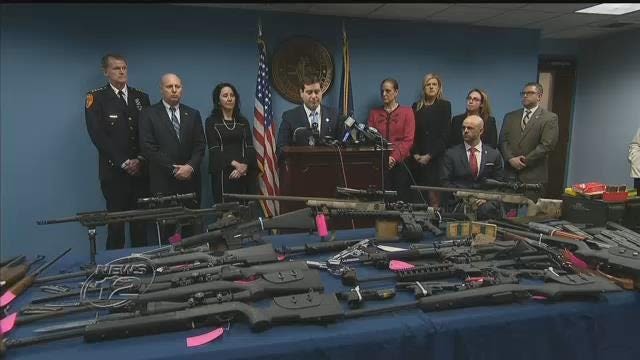 Police seized a firearms arsenal in Suffolk County Thursday that a Patchogue man was allegedly trying to sell out of his house, according to authorities.
"What we have here are military grade assault rifles, large-capacity magazines, assault weapons and 50-round drums," said Suffolk Police Commissioner Tim Sini. "These are killing machines."
Larry Guerrieri, 65, is accused of peddling illegal weapons from his Peekskill Avenue home for thousands of dollars. Prosecutors say he had them on display throughout his home as though it were a general store.
Police say they sent an undercover officer to the house after receiving a tip. Guerrieri allegedly sold him an assault rifle and four high-capacity magazines for $2,000.
"Not only is it illegal for the defendant to sell that weapon, because he's not licensed to do so -- the firearm itself, a high powered military grade assault rifle, is illegal under New York state law," Sini said.
Guerrieri faces a slew of weapons charges. He faces 37 years in prison if convicted.