NFL draft dominated early by QBs, including top pick Young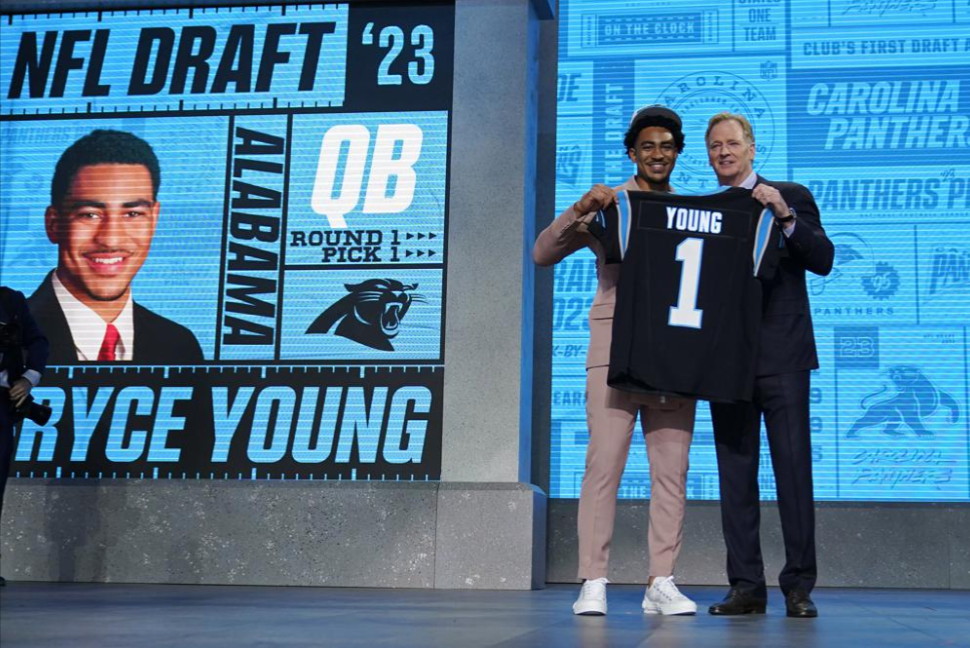 Finding a franchise quarterback is the quickest path to success so it's no surprise teams made them a priority in the NFL draft.
Bryce Young, C.J. Stroud and Anthony Richardson were among the top four picks Thursday night, an expected result in a rich draft class that's been anticipated since last year.
Young, the slender and dynamic Alabama quarterback, went No. 1 to the Carolina Panthers, seven weeks after the team made a blockbuster trade with Chicago to move up to get their choice.
The biggest question surrounding the 2021 Heisman Trophy winner is size. He measured at 5-foot-10 1/8 and weighed 204 pounds at the combine. Though he dominated the SEC, some scouts and coaches fear Young may not be able to physically withstand all the hits in the NFL.
"Those that doubt me are entitled to their opinion," Young said. "I think that is the beauty of sports. We all come together and have arguments on who you think is good or not. I choose to focus on what I can control."
Stroud didn't have to wait long despite speculation he may drop out of the top 10 after scoring poorly in the S2 Cognition test. He told the AP earlier in the day he didn't know where he would end up going but Houston snagged him at No. 2. The Texans then made a blockbuster deal with Arizona to acquire the No. 3 pick and selected Alabama edge rusher Will Anderson Jr.
"I can't wait to play with Will," Stroud said. "I hope he doesn't hit me too hard in practice."
Richardson was selected at No. 4 by the Indianapolis Colts, who will begin a sixth straight season with a different starting QB.
Richardson might have the most upside of the group but he has the least experience. Colts owner Jim Irsay is fond of Philadelphia Eagles QB Jalen Hurts and Richardson has similar playmaking ability.
He'll play for Shane Steichen, who was the offensive coordinator in Philadelphia when Hurts developed into an MVP runner-up.
"I know what he did with Hurts but I am excited to get to work with him," Richardson said. "He has told me we are going to do great things so I am looking forward to it."
Heading into the draft, there was no certainty beyond the No. 1 pick and even that wasn't a lock. Some thought Kentucky's Will Levis would be the second QB taken and he slipped out of the top 20.
New Panthers coach Frank Reich said earlier in the week that the organization only reached a consensus Monday after several weeks of deliberation.
"I learned so much in my short time there," Young said of his visit with the Panthers. "It is an amazing staff. You can tell there is an energy, focus, drive and will to win."
A dual-threat playmaker with a strong arm and an elite combination of instincts and intelligence, Young also possesses the intangibles and characteristics coaches desire, including leadership ability and a strong work ethic.
The Panthers have sought an answer at quarterback since moving on from Cam Newton, who was the No. 1 overall pick in 2011 and the NFL MVP in 2015 when he led the Panthers to a 15-1 record and a Super Bowl appearance.
Young had a spectacular career at Alabama and the Panthers are hoping he can deliver the franchise's first Lombardi Trophy. He played in a pro-style offense under offensive coordinator Bill O'Brien, the former Texans head coach who has returned to the NFL to run New England's offense.
Stroud, a finalist for the Heisman Trophy the past two seasons, goes to Houston to help the rebuilding Texans move past Deshaun Watson. It's the ninth time two QBs went 1-2 and the first time it was two Black QBs.
"I hope that inspired a lot of Black children," Stroud said.
After the run on QBs, defense-needy Seattle took Illinois cornerback Devon Witherspoon at No. 5 and the wheeling-and-dealing Cardinals moved up to No. 6 to select Ohio State offensive lineman Paris Johnson. Las Vegas then chose Texas Tech edge Tyree Wilson and Atlanta made Bijan Robinson the first running back taken in the top 10 since Saquon Barkley went No. 2 to the Giants in 2018.
NFC champion Philadelphia moved up one spot to take troubled Georgia defensive tackle Jalen Carter at No. 9 and Chicago went with Tennessee offensive lineman Darnell Wright with the 10th pick.
At No. 11, the Titans passed on Levis for Northwestern offensive lineman Peter Skoronski. Levis and Tennessee's Hendon Hooker had a chance to make it five QBs in the first round a year after Kenny Pickett (No. 20) was the only signal-caller to go in the first round.
The Tampa Bay Buccaneers also passed on Levis at No. 19, taking Pitt defensive tackle Calijah Kancey.
It took until the 20th pick for the first wide receiver to go. The Seahawks chose Jaxon Smith-Njigba. That started a run of four wideouts in a row. The Chargers then took Quentin Johnston, the Ravens grabbed Zay Flowers to team up with Odell Beckham Jr., and the Vikings added Jordan Addison to go with Justin Jefferson.
Two months after the hometown Kansas City Chiefs celebrated another Super Bowl title with a downtown parade, a sea of red-clad fans lined up in the streets where the century-old Union Station served as the backdrop for the draft.
Super Bowl MVP Patrick Mahomes and All-Pro tight end Travis Kelce walked on stage with the Vince Lombardi Trophy and riled up the crowd before turning it over to NFL Commissioner Roger Goodell.
Mahomes implored fans to scream louder — they did. Kelce asked if they wanted to trade up for the No. 1 pick.
But the Chiefs don't need a QB. Carolina, Houston and Indianapolis did.
If they got the right one, they might be set for a decade or longer.