New Suffolk buses irk disabled riders over accessibility, space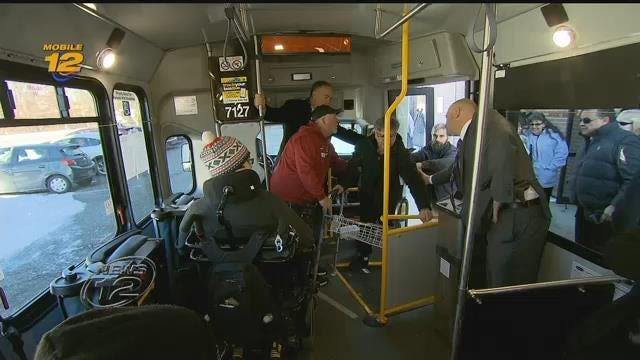 Some disabled bus riders say newly purchased Suffolk Transit buses are not accommodating to their needs.
Justin Ainsworth, who is disabled, told News 12 that it was difficult to board the bus and turn around in his wheelchair.
He said the narrowness of the bus led to other riders bumping into him. He said that he felt more "in the way" on the new buses, as opposed to the wider buses Suffolk used to offer.
Some other complaints include a steep and unstable ramp and poor lighting. Joseph Delgado, of the Suffolk Independent Living Organization, also says the buses need a ramp at the back of the bus.
The buses
are already in use on less congested routes, and county officials say they were approved under the guidelines set by the Americans with Disabilities Act.
However, officials say they will be reviewing the concerns and will see if they can be addressed. They say the current issues may be part of a learning curve for those who are not used to the new buses.
The county said all bus drivers are trained to assist any passengers who may need help boarding or exiting buses.