March Madness: Final Four set with Miami, SDSU, FAU, UConn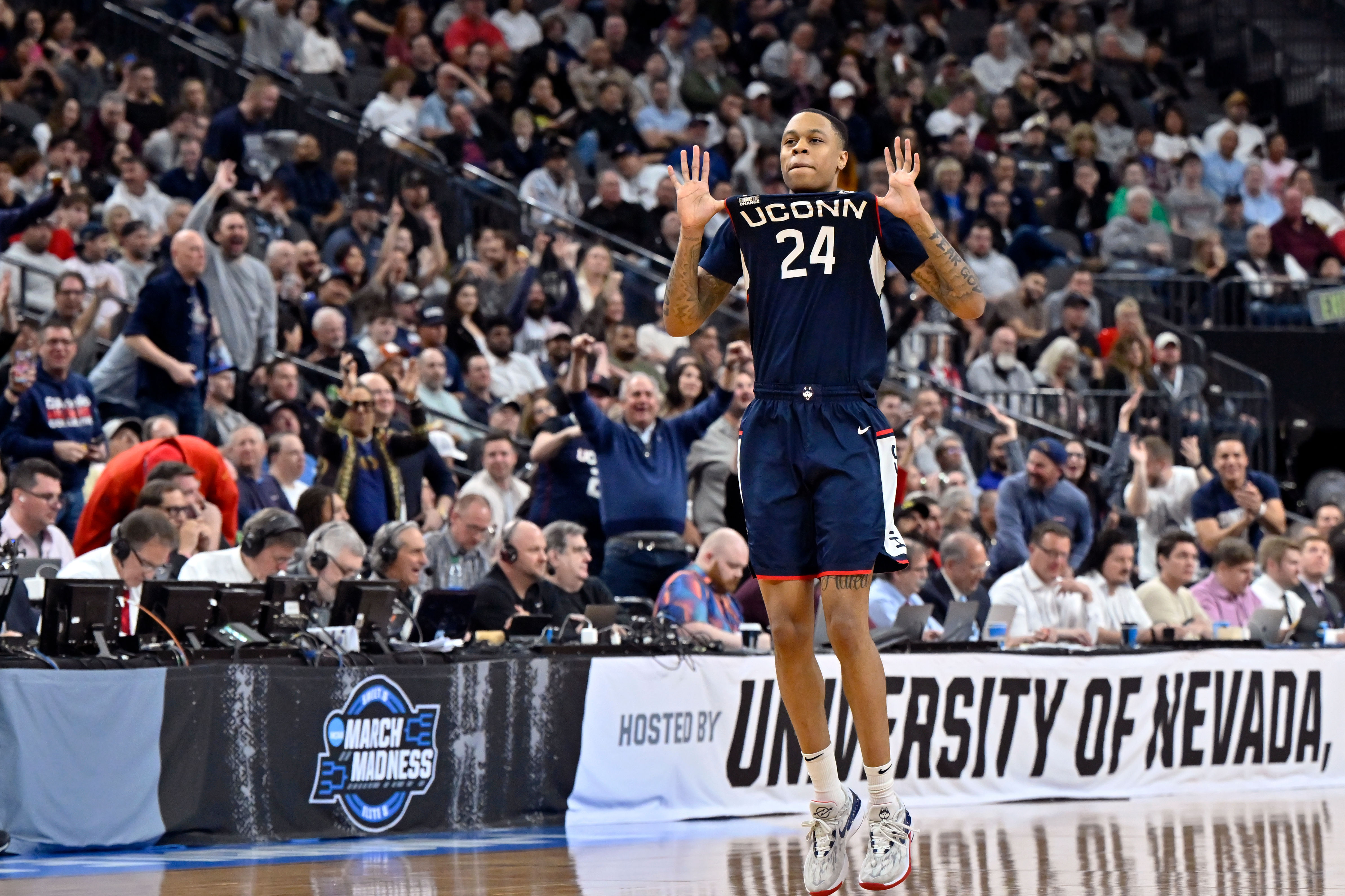 March Madness has rounded toward the Final Four, and No. 1 seeds are nowhere to be found. Instead, the Final Four will have no team seeded better than No. 4 for the first time since seeding began in 1979.
Florida Atlantic became the lowest-ever seed to make the Final Four after beating Kansas State. Miami and San Diego State are in the Final Four for the first time. And UConn's back for the first time in nine years. There've been millions of busted brackets and only three games remain. Here is what to know:
GAMES TO WATCH
No. 5 San Diego State (31-6) vs. No. 9 Florida Atlantic (35-3), Saturday, 6:09 p.m. EDT (CBS)
The Florida Atlantic Owls - Who? - extended their second appearance in the tournament with a 79-76 victory over Kansas State. The Conference USA champs are the winningest team in Division I and will face San Diego State in the national semifinals. The Aztecs beat Creighton when Darrion Trammell hit the second of two free throws with 1.2 seconds left. The Aztecs are the first Mountain West team to advance this far. The Owls are the lowest seed left in the field.
No. 5 Miami (29-7) vs. No. 4 UConn (29-8), Saturday, 8:49 p.m. EDT (CBS)
UConn has looked unstoppable since the NCAA Tournament began, winning its four March Madness games by at least 15 points. The Huskies put on a show in Las Vegas in the Elite Eight, overwhelming Gonzaga at both ends in an 82-54 rout. They figure to get a stiffer test against Miami. Jim Larrañaga's Hurricanes have plenty of experience after playing in the Elite Eight last season and reached the Final Four by beating No. 2 seed Texas 88-81.
TOP SEEDS
The top four seeds were Alabama, Houston, Kansas and Purdue. Expectations for a chaotic tournament were met quickly: The Boilermakers were ousted by Fairleigh Dickinson in a first-round stunner and the defending champion Jayhawks lost to Arkansas the next day. Alabama and Houston didn't survive the second weekend.
SHINING MOMENTS
Princeton used a late run to earn its first NCAA Tournament win in 25 years by ousting No. 2 seed Arizona and then beat Missouri to lock in its first Sweet 16 spot in 56 years. For Princeton and other teams, getting this far after pandemic-disrupted seasons was a milestone.
Furman celebrated its first tourney appearance since 1980 with a win over No. 4 seed Virginia on a deep 3-pointer by JP Pegues with 2.4 seconds left. Then came 16-seed Fairleigh Dickinson's win over Purdue as the 22 1/2-point underdog. The Knights joined UMBC in the record books as the only 16 seeds to knock out a No. 1.
All that happened before the Razorbacks and shirtless coach Eric Musselman celebrated their win over the Jayhawks.
BRAGGING RIGHTS
The SEC and Big Ten led the way by placing eight teams each in the 68-team field. The records for major and mid-major conferences through four rounds:
Atlantic Coast Conference (5 teams made tourney): 7-4. 1 remaining (Miami).
American Athletic (2): 2-2. 0 remaining.
Big 12 (7): 9-7. 0 remaining.
Big East (5): 10-4. 1 remaining (UConn).
Big Ten (8): 6-8. O remaining.
Mountain West (4): 4-3. 1 remaining (San Diego State).
Pac-12 (4): 3-3. 0 remaining.
Southeastern Conference (8): 9-8. 0 remaining.
West Coast (2): 4-2. 0 remaining.
PLAYERS TO WATCH
The NCAA Tournament is filled with great players and the AP All-America team is a good place to get familiar with the names. It's also an event where guys you've never heard of can take a star turn. There are some NBA prospects in the mix.
Bet on this, too: Some player - maybe more than one - will have a chance to join the mustachioed Doug Edert (remember Saint Peter's inspiring run last year?) and find a way to cash in on their celebrity.
Perhaps it will be Miami's Jordan Miller. He scored 27 points against Texas, making all seven of his shots and all 13 free throws. A remake of the board game Perfection?
HOW TO WATCH
Every game of the men's tournament will be aired - here is a schedule - either on CBS, TBS, TNT or TruTV and their digital platforms. CBS, which also has a handy schedule that includes announcing teams, will handle the Final Four and national title game.
The NCAA is streaming games via its March Madness Live option and CBS games are being streamed on Paramount+. Fans of longtime play-by-play announcer Jim Nantz should soak up every moment: It's his final NCAA Tournament.
BETTING GUIDE
Who's going to win the national championship? Among the remaining teams, UConn is the betting favorite, according to FanDuel Sportsbook.
MARCH MADNESS CALENDAR
Where is the Final Four? In Houston, on April 1, with the championship game on April 3. Basketball aficionados, take note: The women's NCAA Tournament will hold its Final Four in Dallas, a four-hour drive up the road from Houston.
Can't get enough March Madness? Well, there is talk about expanding the tournament despite a host of challenges. Enjoy the 68-team version for now!